Look Up! A quirky Queen Anne home with a colorful history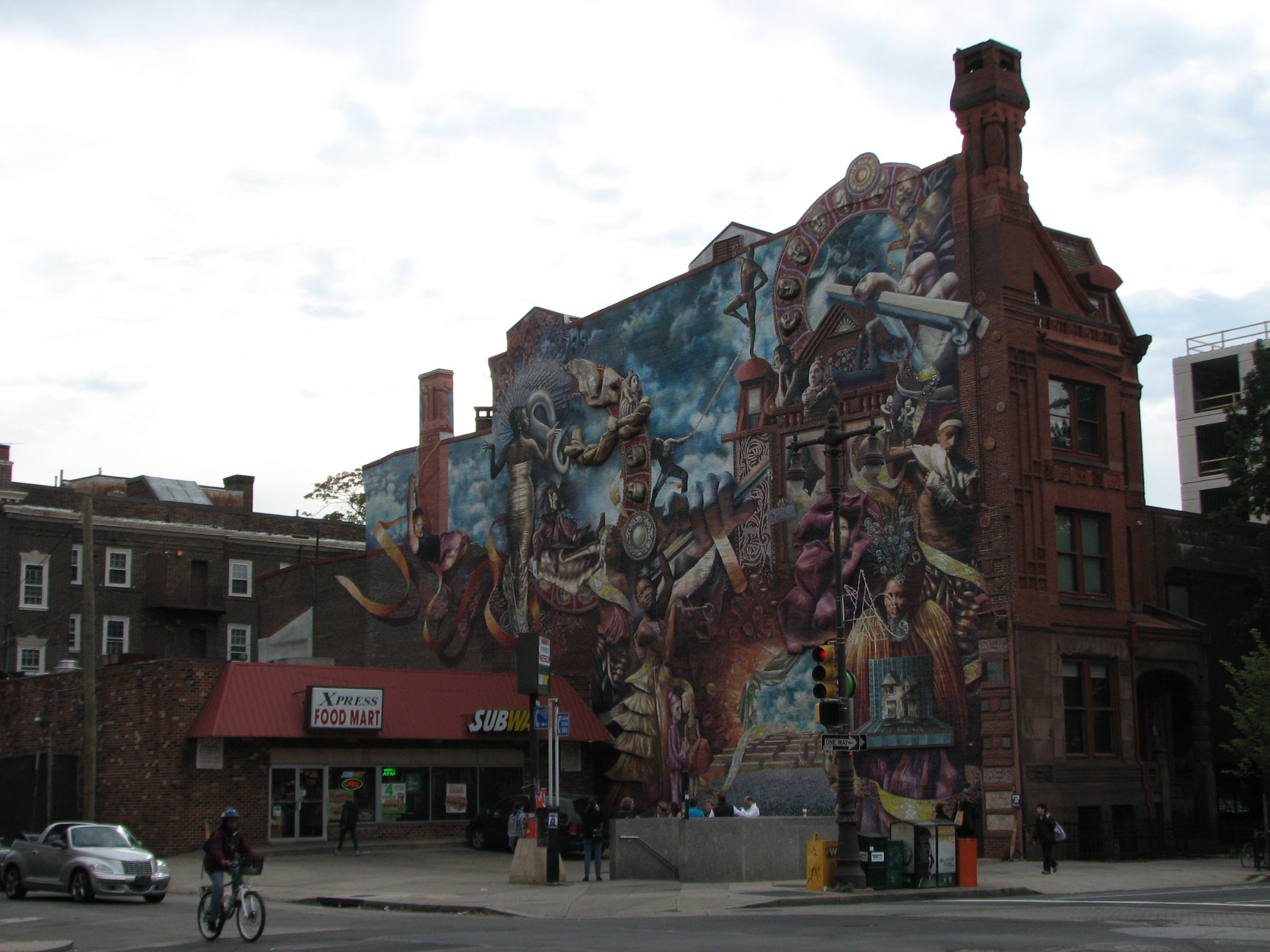 Once attributed to Frank Furness, the building on South Broad was actually designed by another creative residential architect.
"Look Up" is a PlanPhilly feature that encourages appreciation of our architectural and historical environment. Each week, the photo essay will focus on a different Philadelphia area neighborhood and its distinctive building styles and details, all of which make up the physical fabric of the city and region.
The southeast corner of Broad and Lombard Streets is mainly visited by customers of the local Subway shop and food mart and admirers of the inspiring, multi-dimensional mural added in 2002. The corner is also worth visiting for what stands on the other side of the painting – an architectural gem with a history as colorful as its façade.
The brick and brownstone building at 507 South Broad was the J. Dundas Lippincott House, named for a member of the great Philadelphia family. The building was long attributed to the firm of Frank Furness and Allen Evans, and it indeed shares many characteristics of that firm, including its rich red color, variety of construction materials, and ornamentation.
But the 2006 nomination of the building for its inclusion on the Philadelphia Register of Historic Places reveals its architect was George T. Pearson, who designed hundreds of residences in Center City, Germantown and Mt. Airy for the city's "mercantile and industrial capitalist elite."
The home he built for the Lippincotts reflects Pearson's penchant for the Queen Anne style, but with "dramatic asymmetries, surprising curves and angles," and elements borrowed from varied historical periods, the nomination explains.
The first-floor façade is carved brownstone with floral stone insets, while the upper floors are Flemish bond brick with belt courses of decorative terra cotta tiles. A rising sun peeks over the attic level, and turned vases support the towering chimney.
J. Dundas Lippincott and his wife never actually occupied the beautiful house at 507 S. Broad; they lived for a while at the building that once stood at 509. In 1895, the family leased the building to another well-known Philadelphian, Charles Cramp, of the shipbuilding dynasty. In the mid-20thcentury the building was known as the Peace Mission Fraternity Home and was owned by Father and Mother Divine.
The building, now part of the Avenue of the Arts, currently houses a purveyor of fine violins and vintage instruments.
The J. Dundas Lippincott House, 507 S. Broad St., was designed by George T. Pearson.  

A sun motif, found in many Frank Furness buildings, peeks out on the attic level of the building.  

Floral designs are echoed throughout the design of the late19th century building.

The entrance to the Lippincott House features elaborate ironwork and carved brownstone.  

The chimney rises another 12 feet above the roof of the Lippincott House.

Elaborate terra cotta tiles adorn the belt courses.