Logan CDC launches the first parklet outside of University City District
The term parklet – a small park created in former parallel parking spaces – is relatively new to Philadelphia, especially Philadelphia's low-income, less commercial neighborhoods. This week the Logan CDC and the Mayor's Office of Transportation and Utilities (MOTU) proved that parklets can indeed work in such areas.
Monday, the Logan CDC debuted the Logan Parklet in front of the Logan Branch of the Free Library of Philadelphia.
Three PhilaNOMA architects designed the space with "work, play, lounge" elements, including a stage with a chalkboard floor and both casual and formal seating areas, in hopes of providing flexible outdoor space that can accommodate multiple uses by various people.
This project is part of MOTU's parklet pilot program inspired by the successful parklets that MOTU and University City District, with funding from the William Penn Foundation, collaborated on in West Philadelphia last summer. That collaboration led to parklets – raised platforms with seating and greenery in former parallel parking spaces – at 43rd Street and Baltimore Ave and 36th Street and Lancaster Ave.
The University City parklets are in front of neighborhood businesses like the Green Line Coffee Shop, where the parklet has increased revenue by nearly 20 percent.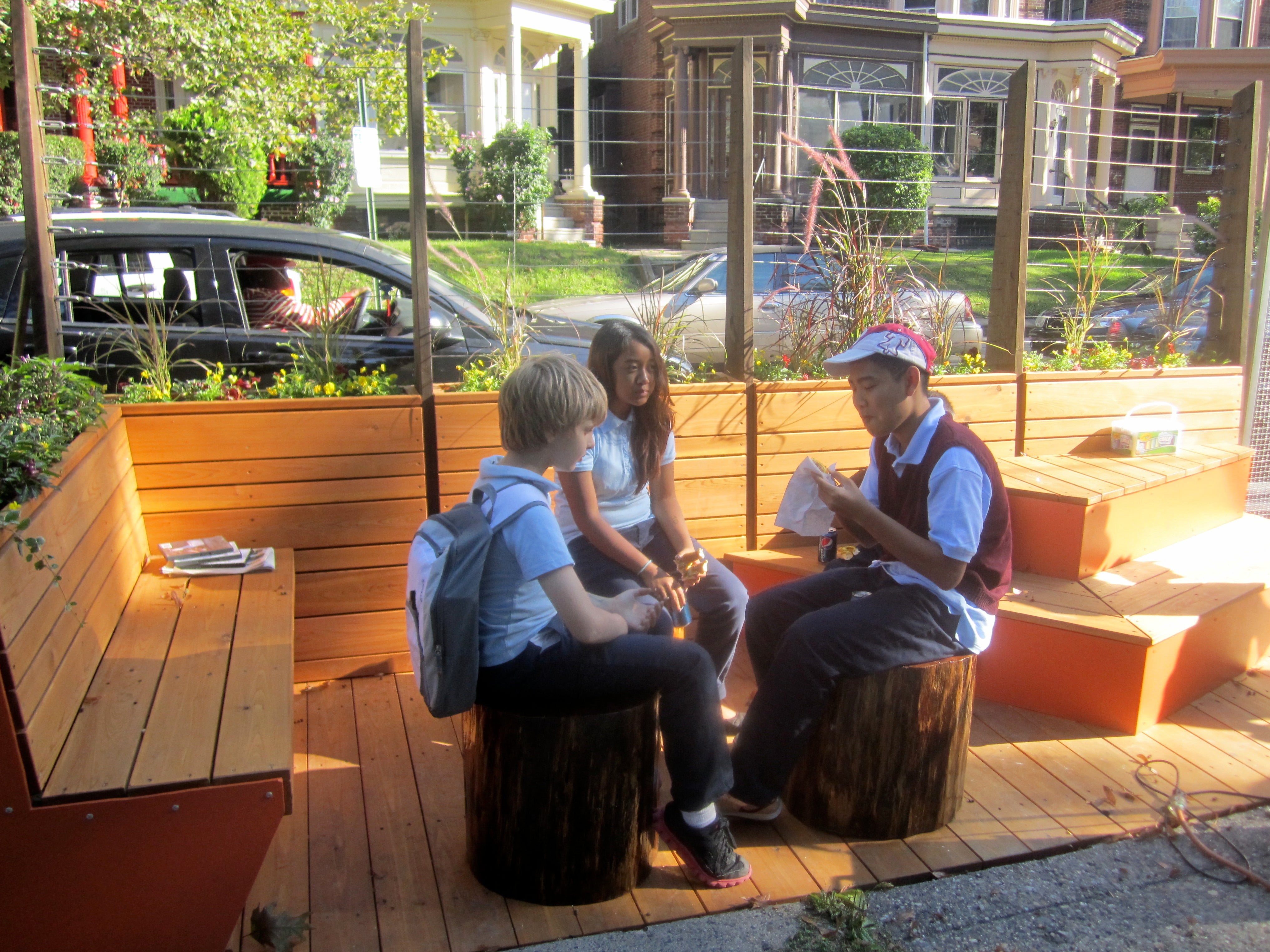 Unlike these initial projects, though, the Logan parklet is on a non-commercial block in one of the city's low-income neighborhoods.
"When you think about parklets, all too often we just assume they belong in these specific neighborhoods," said Ariel Ben-Amos, a MOTU planner and analyst.
But as the Logan project shows, "Philadelphians from every neighborhood crave quality, public spaces," he said.
In March, MOTU put out a call for neighborhood applications to the parklet pilot program. The Logan CDC decided to apply but had to first choose a location.
Hoping to spur similar revenue growth for local businesses, the Logan CDC looked to build the parklet on Broad Street, its main commercial corridor, but according to the pilot program's specifications, Broad Street's speed limit is too fast.
The neighborhood's other commercial corridor, Old York Road, lacked businesses that would be able to integrate sit-down space, said Sylvia Okechukwu, Logan CDC's business district manager. The group turned to the space in front of the library and near the corner of Wagner Avenue and Old York Road, which Okechukwu describes as a gateway into the community's commercial corridor.
"Having something so visible and so positive right on the commercial corridor, we feel, will spur more people to visit the area," she said.
Once selected for the pilot program, the Logan CDC received a $5,000 grant from MOTU and raised more than $5,000 through its own Kickstarter campaign and grassroots fundraising, much of which highlighted the need for outdoor community space in Logan.
With funding and design in place, the PhilaNOMA architects and Logan CDC partnered with contractors at Point B Design, who built the parklet structure in less than two weeks.
Logan CDC plans to incorporate the parklet into some of the library's programming and to host neighborhood events such as movie screenings, like last week's showing of Hugo, which drew more than 40 people to the space.
As part of the pilot program, the parklet is designed to be seasonal, and will be stored indoors from late fall until early spring.
The city's next few parklets will be popping up on Frankford Ave in front of Little Baby's Ice Cream, on Main Street in Manayunk, on South Street and, next year, in Chinatown.
———
For more information on the parklet pilot program, visit the MOTU blog at http://phillymotu.wordpress.com/
WHYY is your source for fact-based, in-depth journalism and information. As a nonprofit organization, we rely on financial support from readers like you. Please give today.