Logan Branch of Free Library gets green light for front facade improvements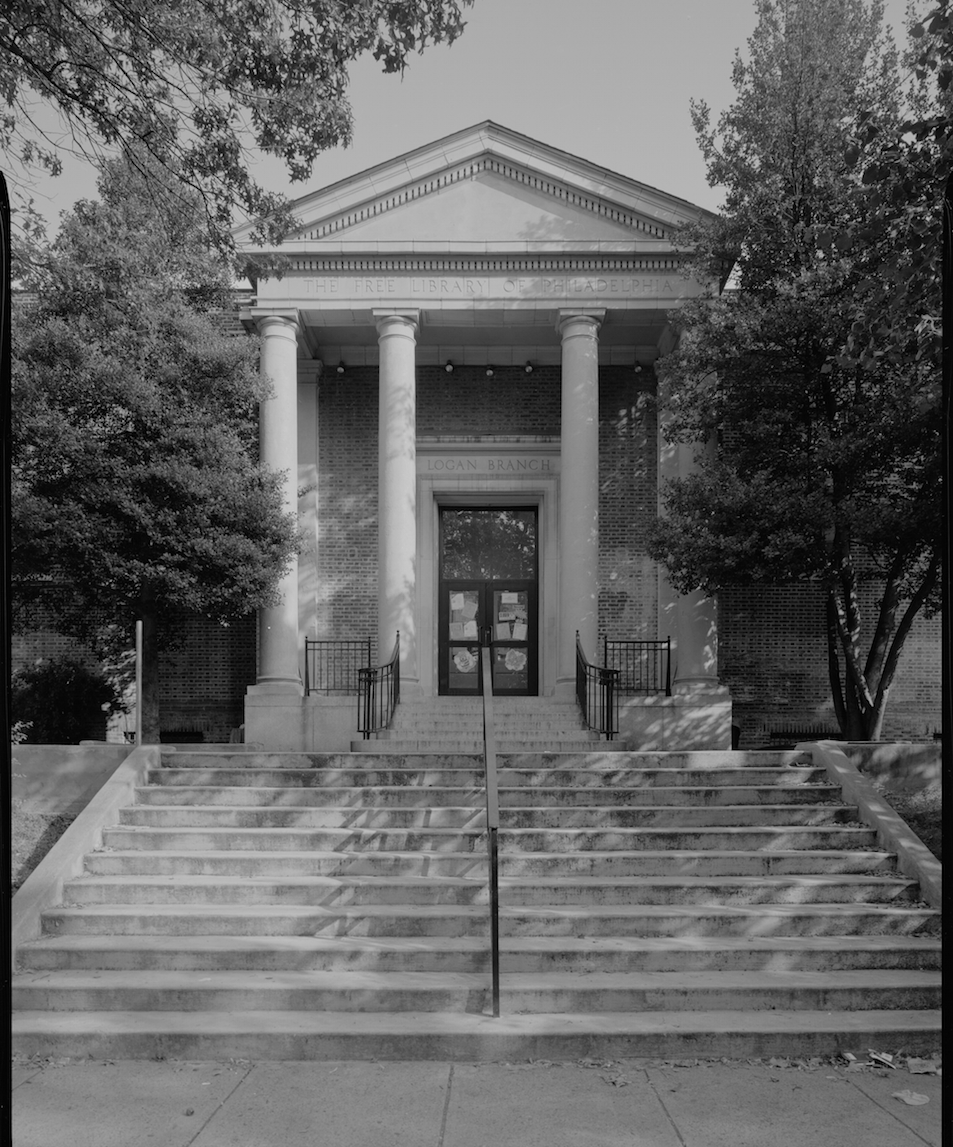 A supplemented and revised application to constuct an ADA ramp and addition to the historically designated Logan Branch of the Free Library was reviewed and granted final approval by the Historical Commission Friday. The library was built by Philip H. Johnson around 1917.
In its presentation to the Architectural Committee of the Historical Commission on Feb. 2, the city indicated the ramp would be located at the front of the building, to the side of the monumental stair, and would be clad in granite with a wrought-iron railing. The addition would be located at the northeast (side/rear) corner of the building, and would house an elevator, egress stair, and bathroom, and would provide ADA access to the basement. The addition would be clad in brick and would enclose three window openings. The application also proposes new entrance doors and basement windows that replicate the historic elements.
The recommendation from the Architectural Committee was denial, with a suggestion to further investigate options for providing access to the library through the proposed addition.
Friday, the applicant presented requested materials, namely revised drawings by the architect that show the increased height of the front portico, and explained why some changes were made and other suggestions were not pursued. The directed parameters for Vitetta Architects and Engineers (which employs mayoral candidate Jim Kenney) were as follows: preserve, restore and clean the building. It should be noted that the library is suffering from severe water infiltration and that is one of the reasons it was selected to be renovated.
The applicant also told the commissioners that the goal was a minimal disturbance of the architectural fabric of the building, including minimal covering up of the existing windows. During four community meetings, it became clear that neighbors wanted to maintain a single point of entrance to the library. That would enable universal accessibility and maintain and honor the original ceremonial public entrance at the center main facade facing Wagner Ave. The ramp would be reversible.
The applicant also pointed out that 20 percent of the population in this neighborhood has disabilities so it is completely unacceptable for this small neighborhood library to force the public to walk around the building in order to enter, especially during winter months.
The commission unanimously voted in favor of final approval, given that the applicant continue to work with staff concerning the details of the railing and ramp configuration, and the consideration of installing windows that would proffer natural light in the toilet room and stairway.
View the full video of the hearing below.
WHYY is your source for fact-based, in-depth journalism and information. As a nonprofit organization, we rely on financial support from readers like you. Please give today.