Lions Club brings help to vision-impaired with eyeglass donation boxes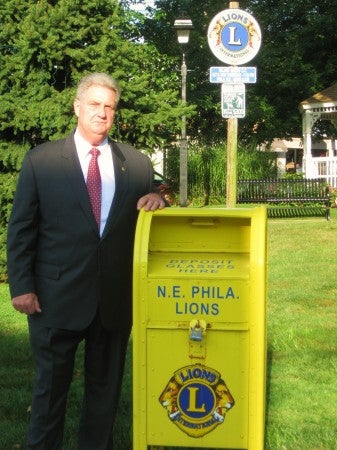 It sits adjacent to sidewalk on the Oxford Avenue side of Lions Park. Painted bright yellow with blue lettering, it's the N.E. Lions Eyeglass drop-off with, three large Lions International insignias.
We recently helped out a reader who accidentally dropped her Blockbuster rental in the box on Rising Sun Avenue, wanted to know more about the boxes.
To learn more about them and the Lions Recycle for Sight Program, we talked to Richard Wilson, former president of the Northeast Lions.
What is found in the drop off boxes? According to Wilson, exactly what you would think: eyeglasses, to the tune of 1,500-2,000 pairs a year just in the Northeast Lions drop box. What happens to the glasses? This is where it gets interesting.
The glasses are donated to VOSH, also known as Volunteer Optometric Service to Humanity Delaware Valley. Once the glasses arrive at the VOSH facility in Horsham, they are cleaned and prepared to be distributed. The glasses you drop off in Lions Park can end up in Guatemala, Haiti or another nation in need.
The Recycle for Sight Program is part of the Northeast Lions program, which assists the vision-impaired to include with the yearly White Cane collection at Oxford and Rhawn streets and the annual Christmas tree sale in Lions Park. The Northeast Lions assist local vision-impaired residents who are in need.
As for former president, Wilson stays busy with his day job as director at The Dean-Geitner-Givnish Funeral Home and as the newly elected vice president of the Rockledge-Fox Chase Business Association and, yes, dropping off the glasses at VOSH.
So if you purchased a new pair of reading glasses, sun glasses, prescription glasses or eyeglasses of any kind, bring your old ones to the Lions. Find the yellow box and drop them in. Someone, someplace is waiting for them.
G.E. Reutter resides in the Fox Chase. You can visit him at his website.You can read his Fox Chase articles for NEast Philly here.