Lifeguards find Portuguese Man-O-War in Long Beach Island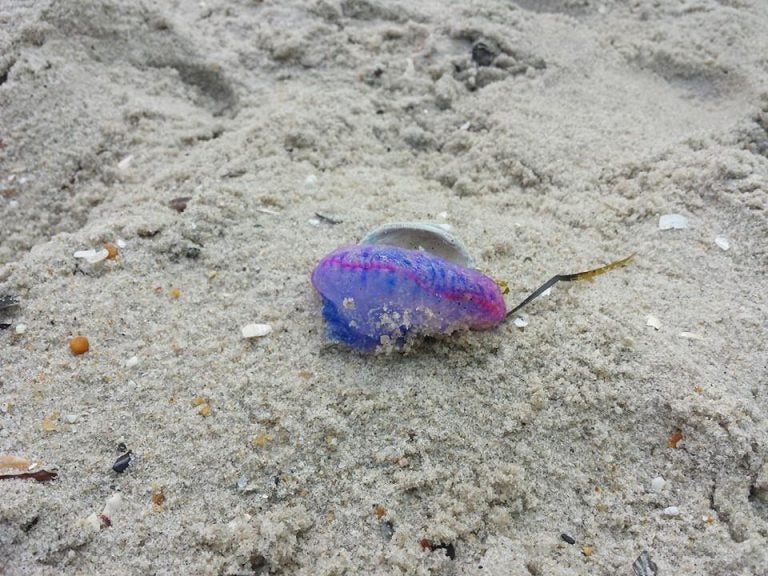 Lifeguards in Long Beach Island discovered a Portuguese Man-O-War yesterday.
Members of the Harvey Cedars Beach Patrol found the "siphonophore," a blueish, bulbous colony composed of many individual animals commonly mistaken for a true jellyfish, washed up on the beach, according to a release from the agency.
"When the wind is coming from the northeast, warm water from the Gulf Stream comes to shore. With the warm water often comes seaweed and critters from down south," the release said.
The Portuguese Man-O-War is a predatory siphonophore that gets its name from the float, a gas-filled bladder that can grow up to a foot in length and rise out of the water up at six inches. The creature has very long tentacles that can grow up to 32 feet.
According to the South Carolina Department of Natural Resources, the Portuguese Man-O-War can inflict "extremely painful stings," resulting in a severe shooting pain. Treatment advice is available here.
While commonly found in the tropics, their presence is not unheard of in regional waters.
Numerous were found washed ashore on Long Island beaches in 2013. At that time, a marine expert told WCBS that deaths attributed to the creature are very rare.
One study found that 50 million people swim in the waters off the United States annually, while an expert noted 50 deaths per year attributed to jellyfish worldwide.
While the risk is extremely low, lifeguards say to be alert in the ocean.
"Always be aware of your surroundings in the ocean, and always swim near a lifeguard," the Harvey Cedars Beach Patrol recommends.