Leftward Democratic drift could get Trump re-elected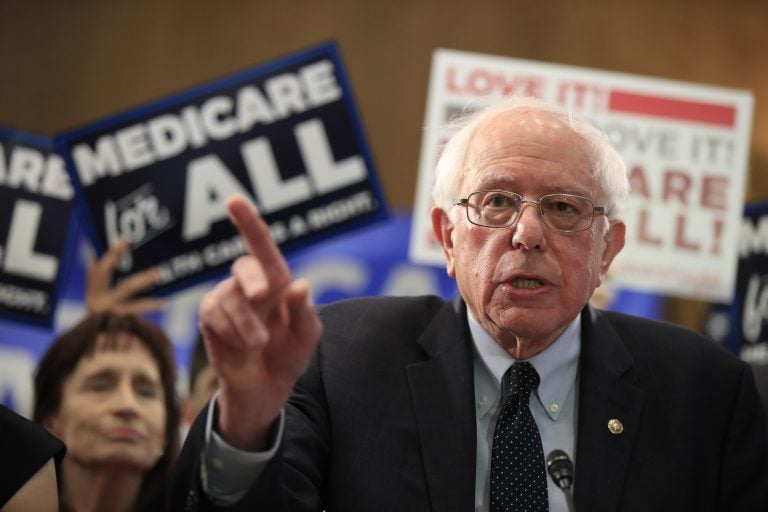 Imagine this scenario: A scandal-soaked, unlovable, relentlessly lying president runs for re-election, and winds up winning easily in part because the Democrats went with their hearts instead of their heads, nominating a liberal who met their purity test instead of tapping someone who was remotely electable.
That's what happened in 1972 — to Richard Nixon's delight — and something similar could happen in 2020. Democrats are totally capable of screwing up again. As Shakespeare warned, "What's past is prologue."
I'm not talking about another 49-state landslide, the debacle that felled George McGovern; the 21st-century electorate is too closely divided for that. But some of the policy fantasies currently being floated by candidates like Bernie Sanders remind me of McGovern's ill-fated pitch for a government-guaranteed minimum income for every American, as part of a massive redistribution of income from the top 20 percent. Donald Trump deserves every pejorative adjective we can possibly conjure, but he also happens to be a shrewd propagandist who thrives on caricaturing his chosen enemy, and he's fully capable of crafting an Electoral College squeaker if Democrats drift too far leftward for the swing voters.
Among liberal activists, who typically vote heavily in the primaries, my argument is not popular. They're thrilled that various candidates are pitching all kinds of pie-in-the-sky stuff, including guaranteed government incomes, government-funded free college, massive new taxes on the richest Americans, a Green New Deal that transforms capitalism, reparations for African-Americans, "Medicare for All" instead of private health insurance, and much more. I have no problem with most of those dreams, per se. But none of them will survive a day in a Senate that's likely to remain Republican. And poll support for "Medicare for All," in particular, drops 21 percentage points when people learn that private coverage would go away.
Granted, Trump could be so politically weakened by next year that any Democrat could beat him. But if the goal is to win back the Obama voters who defected to Trump — indeed, if the goal is to win back Pennsylvania, Michigan, and Wisconsin and thus the presidency —Democrats will need to choose pragmatism over idealism, without tearing themselves apart in the process.
The liberal activists who dominate the Democratic dialogue on Twitter are not representative of the Democratic-leaning electorate. The Green New Deal, championed by the preposterously overexposed Alexandria Ocasio-Cortez, is a fabulous aspiration, but it currently has zero votes in the Senate and it prompts a slew of questions that can't be answered in 270 characters on social media. Like, for instance:
How would it be financed — via massive tax hikes (if so, on who?), or massive spending cuts (on what?), or would the government simply be expected to print new money to pay for it? Should its heady goals (such as a government guarantee of high-paying jobs) be seriously narrowed, perhaps to focus primarily on cutting emissions, in order to build the necessary bipartisan congressional support for passage? And why do I say that "AOC" is preposterously overexposed? Because, in the House, "nearly twice as many freshman Democrats are members of the moderate New Democrat Coalition than are in the Congressional Progressive Caucus."
The swing voters in red-leaning suburbs — the voters who threw out Republican incumbents in the 2018 midterms and were thus primarily responsible for the blue wave — are not ideological liberals. They favor incremental, not transformative, change. They voted last year for Nancy Pelosi's essentially centrist message: for better health care, for fixes that would improve Obamacare; they did not endorse the still-sketchy details of Medicare for All. (After the midterms, Sanders claimed that "many" of the Democratic candidates "won their elections demanding Medicare for All." Wrong. Not in the key swing districts. Like Trump, Bernie often sees what he wants to see.)
What Democrats badly need — and presumably, they'll get it when the candidates debate in June — is substantive moderate push back, on policies that are conceivably achievable: closing tax loopholes, real tax breaks for the middle class (in contrast to Trump's tax cuts that primarily helped the rich), market-based reforms that combat climate change, a public option for health coverage (as opposed to a sweeping plan that will scare voters who like their current private health coverage)…stuff that might actually get enacted, stuff that would persuade swing voters that Democrats are rooted in reality and determined to make government work again.
To quote one Democratic observer, "One of the things I do worry about sometimes among progressives in the United States…is a certain kind of rigidity where we say 'Uh, I'm sorry, this is how it's going to be,' and then we start sometimes creating what's called a circular firing squad, where you start shooting at your allies because one of them has strayed from purity on the issues. And when that happens, typically the overall effort and movement weakens."
That's what Trump is banking on. Barack Obama — who voiced that warning earlier this month — nailed it perfectly.
And liberals who are tempted to ignore Obama might be wise to remember that the only Democrat since FDR to win twice with voting majorities is still worth a listen.