Led by Uber, ride-hailing companies meet wheelchair accessibility threshold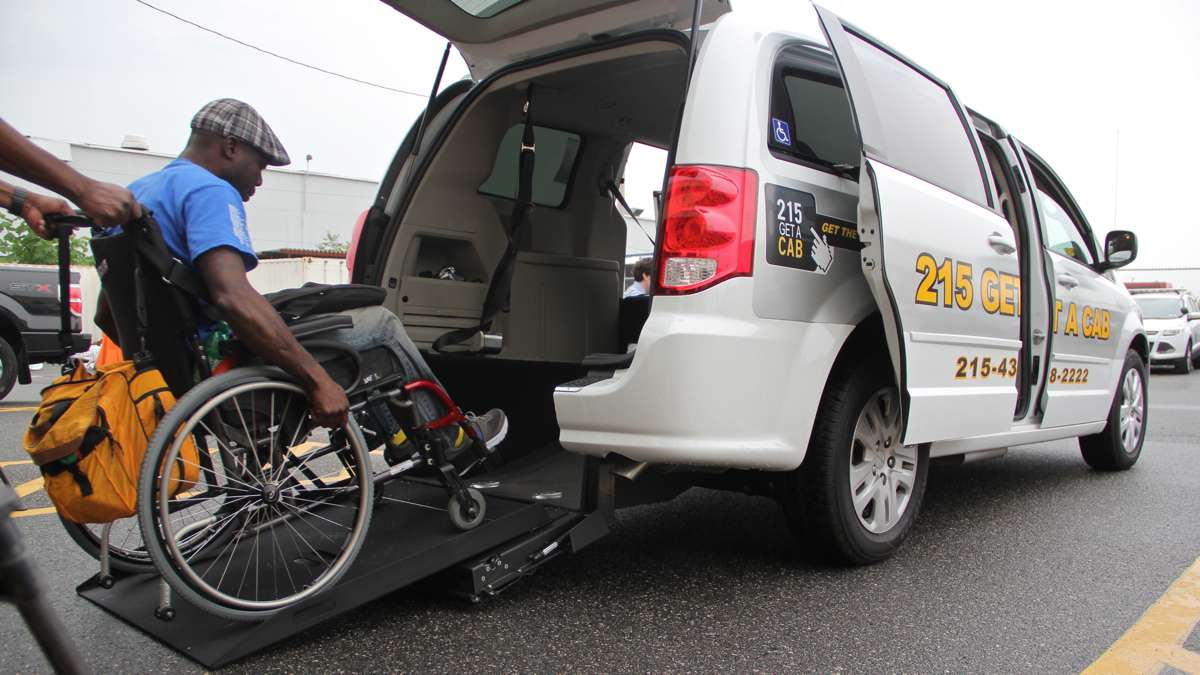 When Uber and Lyft began operations in Philadelphia, most passengers rejoiced as taxi drivers and owners cried. The new competition meant lower prices, a boon for most consumers and bust for the cabbies. But one subset of passengers also lamented the newcomers impact on the taxis: the disabled community.
After years of fighting with taxis and the PPA, Philadelphians who rely on wheelchairs to get around had won: the PPA would soon require every new taxicab to be a wheelchair accessible vehicle (WAV). The PPA scheduled the first auction in years for new taxi medallions, all for WAV cabs.
But then the transportation network companies (TNCs) came to town, and the value of those taxi licenses plummeted. Instead of dozens of new WAVs, cab companies provided just a few and struggled to find drivers willing to take the extra classes to drive them.
Under the law that legalized ride-hailing apps in Philadelphia, transportation network companies (TNCs) had to provide 70 WAVs by June 30th of this year. According to Uber Pennsylvania General Manager Brian Hughes, the company is "single-handedly" responsible for the TNCs meeting this requirement, saying that they now have over 70 drivers using their uberWAV app.
Not so, said Lyft spokesperson Chelsea Harrison. "We will actually be filling 25 [percent] of the 70 car requirement and have had 18 WAV vehicles on the road as of Friday, June 30th."
"You might want to ask Lyft how many of those wheelchair accessible vehicle [drivers] came to obtain a WAV through Uber or a leasing partner of ours," said Uber spokesperson Craig Ewer. Ewer suggested that Lyft was a mere free rider on Uber's efforts to increase the number of available WAV drivers through various unspecified incentives.
Ewer also accused Lyft of poaching UberWAV drivers through a tactic known as "slogging" where Lyft employees hail Ubers through the app to initiate a conversation with the drivers and immediately cancel ride requests with those who have already spurned their advances. Ironically, it's a tactic Lyft once derided Uber for using.
"Drivers are independent contractors," said Lyft's Harrison in response. "A larger number of drivers… drive with multiple ridesharing companies." Harrison said such flexibility is what attracts drivers to the platform.
The law is unusual in that it imposes the 70 WAV minimum across the entire industry as a whole, rather than requiring each individual TNC to provide a certain number of vehicles. It's a regulatory approach that invites a prisoner's dilemma, where each company is incentivized to adopt the socially disfavored stance—let their competitor fulfill the requirement while they freeride and provide no WAVs. That's especially the case here, where the penalty for non-compliance is to merely order the TNCs to provide 10 more WAV vehicles and, arguably, fines of $1,000 per violation (how those fines would be assessed across a class of TNCs is unclear). The fact that Uber and Lyft operated illegally for so long in the city with relative impunity suggests the PPA wouldn't be able to enforce the provision even with stronger regulatory powers.
Both companies said they were submitting their official compliance letters under the TNC law today, the PPA's deadline to do so. As a consequence, the regulatory authority was unable to confirm the figures provided by Uber and Lyft. Thomas Earle, CEO of disability advocate group Liberty Resources, Inc., also said they had not been able to verify the TNC figures for WAVs.
Regardless, PPA spokesman Martin O'Rourke applauded Uber's efforts. "Currently there are 30 wheelchair accessible cabs in Philadelphia, with another 61 expected to be on the street by the end of the year," said O'Rourke. "Uber adding 70 new wheelchair accessible vehicles is good news and a major step in the right direction, but much more needs to be done to provide equal access to transportation for our disabled citizens."
That good-but-not-good-enough sentiment was echoed by Uber's Hughes. "We agree that an arbitrary number of cars on the road is probably not how you solve the problem," said Hughes. "It's probably a holistic effort not just Uber and TNCs, but the community as a whole."
Hughes declined to say how many rides Uber had provided through the WAV option on its app, but did say it was "seven times" more trips, on a per-week basis, this year compared to last. The state TNC law does not require the companies to provide this information.
While Uber has shown an unhesitating willingness to ignore regulations aimed at its operations in the past, the company has been beset by bad press of late. Reports of employee sexual harassment, criticism over its treatment of drivers, and lawsuits alleging stolen intellectual property led the company's founder, Travis Kalanick, to step down recently as CEO, a move that itself inspired a backlash among some employees. By taking a lead in meeting the WAV requirement, Uber may manage to generate a bit of sorely welcome good news.
In an Uber press release, Philadelphia City Councilmember Cindy Bass praised the company, as did Charles Horton, the executive director of the Mayor's Commission on People with Disabilities.