U.S. Chamber of Commerce gives New Jersey an 'A' for schools, 'F' for pensions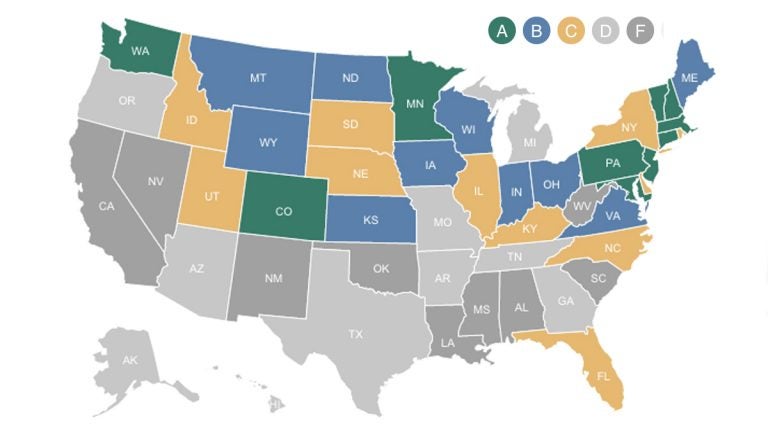 Last week the U.S. Chamber of Commerce issued its national school rankings called "Leaders and Laggards: A State-By-State Report Card on Educational Effectiveness." New Jersey shines, particularly in overall academic achievement, one of only ten states to receive a letter grade of "A" in this category. (Pennsylvania also gets an "A" while Delaware garners a middling "C.")
It's worth noting, however, that this distinctly business-minded and conservative organization flunks N.J. in "Fiscal Responsibility," one of the report's eleven categories. Not much of a ringing endorsement for Chris Christie, currently cramming for admission to GOP presidential frontrunner status.
You'd expect a national Republican candidate to have the U.S. Chamber of Commerce firmly in hand. After all, this well-heeled organization, which spent more than any other lobbying group last year, is closely aligned with GOP issues. Past positions of the U.S. Chamber of Commerce include opposition to the Affordable Care Act and climate change legislation. It also submitted an amicus brief in Citizens United, siding with Mitt Romney's inclusive definition of personhood. (Remember? "Corporations are people, my friend.")
Education issues, of course, are neither red nor blue. In this arena, the Chamber of Commerce's rubric is balanced and fair. Each state is evaluated on student achievement and data is disaggregated for low-income and minority students. Other categories include teacher preparation, college and career readiness, data integrity and credibility, international competitiveness, and parental options.
Besides that glowing "A" in overall student achievement, N.J. also gets top grades in minority and low-income student achievement and international competitiveness. We founder in technology (poor access, delivery, and funding) and parental options. (From the report: "New Jersey does a weak job providing parents with strong school choice options.") Other concerns are cited in a press release issued by the N.J. Chamber of Commerce:
"'We are very pleased that New Jersey schools perform as well as they do when compared to schools in other states,' said Dana Egreczky, senior vice president of Workforce Development for the New Jersey Chamber of Commerce. 'But, when we look at our school performance along a broader spectrum, our results are dim. A huge percentage of our high school graduates need remediation when they enter college, and very few graduate on time from two- or four-year higher education institutions. And employers report that our high school graduates cannot pass basic English or math tests—necessary gateways to entry-level employment.'"
But it's that "F" in "Fiscal Responsibility" that's egg on Christie's face as our governor-cum-candidate circles Iowa, New Hampshire, and Ohio professing his leadership bone fides.
Here's the Chamber of Commerce's description of N.J.'s fiscal stability:
"Grade: F – New Jersey receives very low marks on fiscal responsibility. Only 65 percent of the state's pension is funded, and the state's most recent contribution was a meager 39 percent."
Ten other states also receive "F's" in the Fiscal Responsibility category, including Pennsylvania. The grade is comprised of two factors: one, the percentage of pension obligations that are currently funded and, two, the amount of money allocated from each state's 2012 budget for pension fund contributions.
For the first factor, the U.S. Chamber of Commerce calculates N.J.'s total pension funding at 65 percent. A few other states share that large a gap in available funds for pensioners. But no other state made as low a contribution to pension funds in 2012 as N.J.'s paltry 39 percent. Even renowned laggard Illinois managed to earmark 76 percent in funds toward pension obligations that year.
The N.J. Pension and Health Benefit Study Commission reported last week that N.J. has a combined $90 billion in unfunded pension liabilities. That's three times our annual state budget. This week Fitch Ratings and Standard & Poor's dropped our bond rating down yet again. There are no quick fixes to this, like millionaire taxes or amnesty programs or even higher contributions from already-strained state workers. Indeed, it's unclear how to fix this at all.
Of course, you can't blame Christie for the pension plight. He's following the lead of a long line of N.J. governors and the Chamber of Commerce school report simply quantifies the pattern. Christie Whitman, Donnie diFrancesco, Jim McGreevey, Dick Codey, and Jon Corzine all used glib gimmicks and accounting tricks to create a pretense of fiscal solvency.
Of course, none of them are running for president.
Meanwhile, Christie has now earned the right to trumpet N.J.'s high marks in student achievement. We'll wait to see how he finesses N.J.'s pension conundrum.________________________________________________
Laura Waters is vice president of the Lawrence Township School Board in Mercer County. She also writes about New Jersey's public education on her blog NJ Left Behind. Follow her on Twitter @NJLeftbehind.
WHYY is your source for fact-based, in-depth journalism and information. As a nonprofit organization, we rely on financial support from readers like you. Please give today.