Buono finally gets honest about her education funding agenda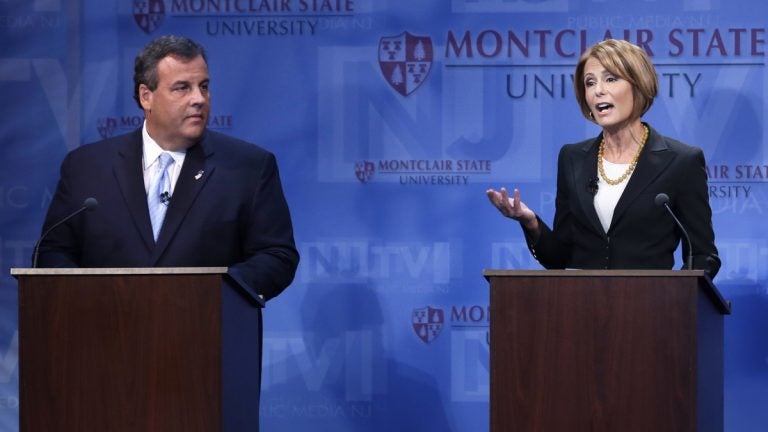 "Contentious." "Ugly." "Swinging for the fences." "Combative." "Intense." These were the descriptors used by local journalists the Wednesday morning after the second and final debate between Gov. Chris Christie and Senator Barbara Buono.
Here's an example of the banter that led the news coverage: "Gov. Christie represents the worst combination of bully and bossism, and that's what has motivated some of these elected Democrats to support him," charged Buono. "You want to start throwing stones tonight you better get out of your glass house," snarled the Governor. "She is in the pockets of local unions…it's that simple." Just another genteel exchange among statehouse colleagues.
Rude or not, the general consensus among N.J. politicos is that Buono performed better than last time but not well enough to make a dent in Christie's massive lead (24 points according to a recent Monmouth University poll). Stick a fork in it. It's done. Part of her problem was obvious in this most recent debate. She may be "feisty," a favorite descriptor and to my mind mildly sexist, but Christie outweighs her in homespun eloquence, humor (more important than you'd think), and an uncanny ability to personify the authentic Jersey archetype of beachy bluster and bombast.
Buono is very dignified out there but she pales next to Christie on the debate stage. No one seems to notice when he fudges a few facts; there's some sort of bewitching effect produced by his dazzle. We're waiting for the punch line, not dissecting the arcane details of his (sometimes) clumsy answers. In contrast, Buono's bland as sand, just another interchangeable pol, so the focus is not on her demeanor but her content which, frankly, wasn't that great Tuesday night.
There's a central contradiction to Buono's political worldview. She continually reiterates her commitment to the "working poor and the middle class," whom she regards as her core constituency, and promises reductions in unemployment and increased aid to public education and entitlement programs. At the same time she swears she'll cut property taxes, a fiscal and mathematical implausibility even if one factors in her answer to all budget ills, the "Millionaire Tax."
A good example of this contradiction came up in her discussion Tuesday of how she would increase state aid to school districts. Central to her vision of public education is full funding of a piece of legislation that she sponsored during her tenure in the state Senate, the 2008 School Funding Reform Act, intended to replace N.J.'s old Abbott funding formula which provides compensatory school aid for our children in our 31 neediest school districts. The state's come up with the money exactly once (in 2009) and has since failed to fully fund SFRA. It would cost an extra billion dollars of state money to do so, on top of our current annual education budget of $9 billion.
Buono promises that she'll come up with that cash. Her education platform also includes expansion of free preschool, mandated full-day kindergarten for all school districts, increased availability of before-school and after-school care, restoration of old school buildings, and tuition assistance at N.J.'s college campuses. That would cost another $2 billion. The Millionaire Tax would raise an annual $800 million.
The panelists on Tuesday didn't miss Buono's arithmetic error. Matt Katz of the Philadelphia Inquirer asked, "wouldn't you have to raise taxes on regular home-owners" to pay for full implementation of SFRA? Buono replied, "No, I wouldn't have to raise taxes." Another panelist, Brigid Harrison of Montclair State University, noted afterwards, "I think it is great to talk about vision and priorities but one of the glaring things missing from her tonight was how she'd pay for them."
This clash of fiscal reality and campaign promises must have hit Buono at some point towards the end of the debate when she conceded that "maybe [full school funding] wouldn't be implemented in four years" and that any increases would be "within fiscal constraints." Then she said that full funding might take ten years or more.
Good for Buono. For a candidate who has suffered an array of challenges – lack of local and national support (instead of a campaign rally with Pres. Obama she got a visit Monday from Congresswoman Debbie Wasserman Schultz) and almost no cash (if she's "in the pocket of local unions," as Christie charged Tuesday night, it's a relatively empty one) – she deserves credit for that moment of dignified honor. Right then on that debate stage there was no bluster or bravado but another trait that makes Jerseyans proud: straight talk.
__________________________________________________________
Laura Waters is president of the Lawrence Township School Board in Mercer County. She also writes about New Jersey's public education on her blog NJ Left Behind. Follow her on Twitter @NJLeftbehind.