Kids of first responders find calm, security in the company of horses
Horses help ease the anxiety of kids worried about firefighter and paramedic parents. As they learn to feed, groom and care for the horses they also learn to let go of stress.
Listen
3:46
Six-year-old Emma Reed loves to be a princess. And she's found her prince — a 19-year-old, one-eyed horse named Prince Caspian.
"I'm really excited. I love my Cas," Emma said.
In 2016, Emma and Prince Caspian met at the Pegasus Therapeutic Riding Academy in Northeast Philadelphia. The academy is known for adapting horseback riding for children and adults with physical, developmental, and intellectual disabilities.
At first, Emma and Prince Caspian were nervous around each other. Caspian is a large horse and Emma is a little girl in a wheelchair. She has spina bifida and Turner syndrome, a chromosome condition that affects development in females. But the more time she and the horse spent together, the better she was at not worrying so much when her firefighter dad went to work.
Emma's experience is no surprise to Teresa Doherty, the program and equine director, at Pegasus.
"Their heartbeat mimics what our heartbeat is when we feel calm and joy because their heart beats a little slower than ours," Doherty said. "So when we're around them, our hearts tend to sync up with their heartbeat to allow us to feel that sense of calm."
Partially inspired by Emma, Doherty came up with "Stepping Forward" — a  program that introduces horses to children of first responders.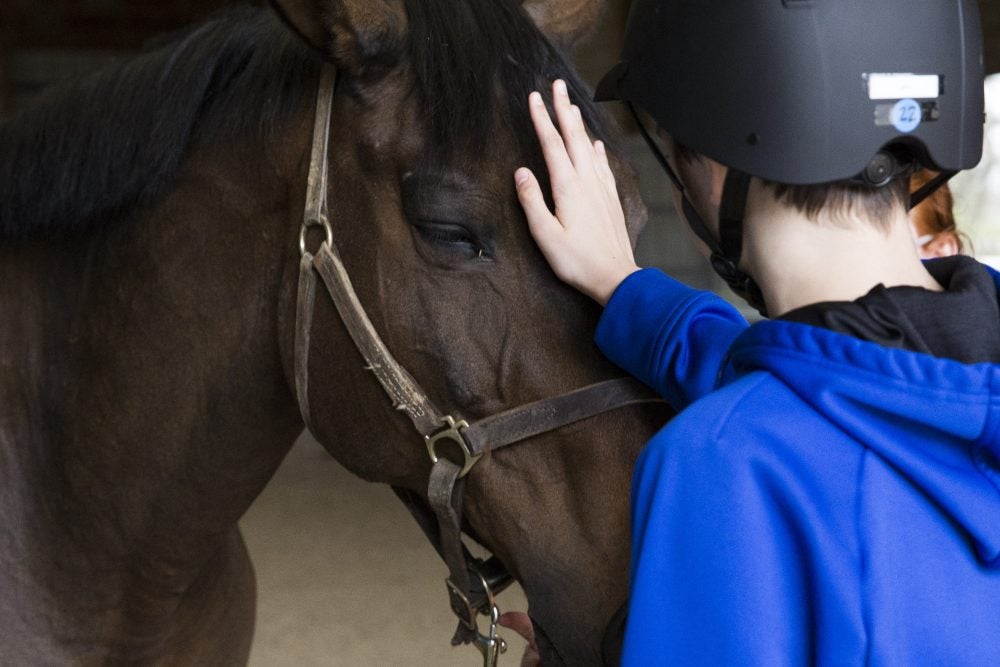 Besides being a firefighter, Emma's father is in the Navy. Sarah Reed, Emma's mother, says her daughter has a lot of questions.
"When I happen to randomly watch the news and she sees … a fire on TV, she's thinking, 'Oh, is Daddy at that one?' I'm like no, I don't think so. I don't think he's at that one in particular.
"You have to explain to them, he's going to be OK. You don't have to worry about that," Reed said.
First responders are under constant stress from long shifts, unpredictable situations and the risk of a fatal injury while on the job.
And that stress can affect their entire family, including their children.
Tommy McKiernan, a trustee and peer support counselor at the Philadelphia Firefighters and Paramedics Union Local 22, gets it. He thinks many more kids could benefit from Stepping Forward.
"The stress we're worried about, more specifically, is the child watching me walk out the door," McKiernan said. "And my spouse probably understands it more, but the children realize that there's a possibility that I might not come home."
Local 22 pays for the eight-week Stepping Forward program that teaches 30 children of first responders to feed, groom and care for a horse. The program just got off the ground.
Now, the next chapter for the fairy tale between Emma and Prince Caspian is competing in the costume class at the Devon Horse Show on May 25.
"I'm going to dress like Tinkerbell," Emma said. "I'm going to dress as a fairy."
WHYY is your source for fact-based, in-depth journalism and information. As a nonprofit organization, we rely on financial support from readers like you. Please give today.