Keystone Crossroads: Public transportation ridership down only slightly across Pa., despite harsh winter and low gas prices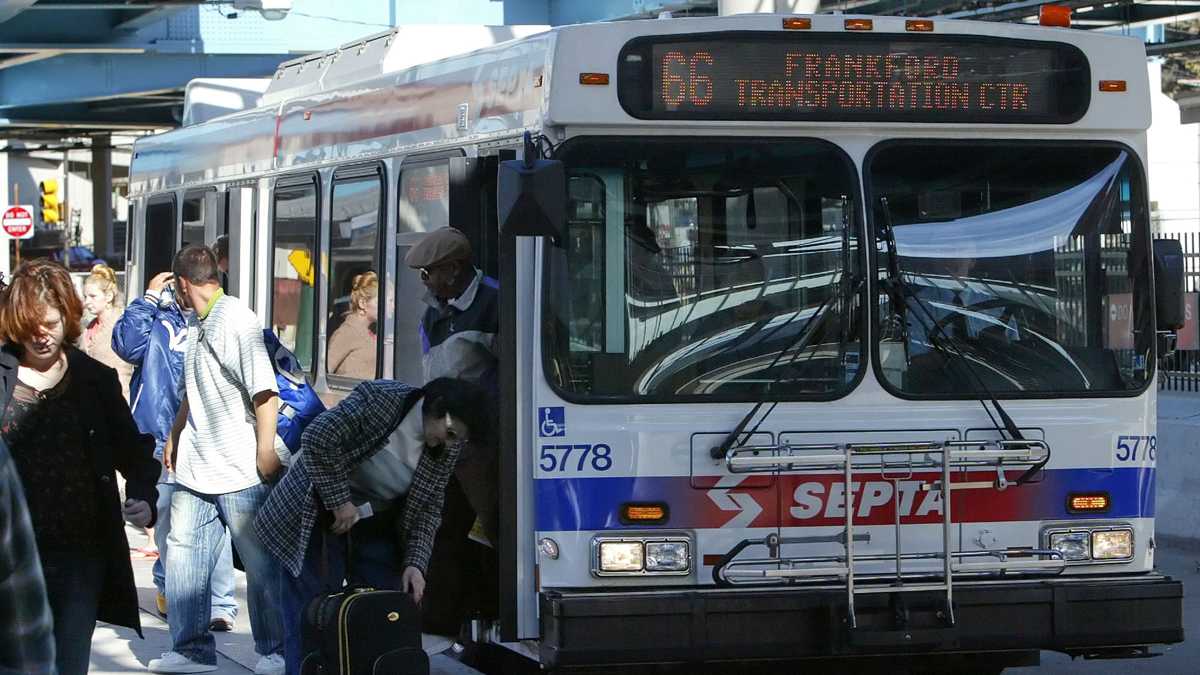 The American Public Transportation Association released its ridership data for 2014 on Monday, showing an overall increase of 3.32 percent, from 10.65 billion unlinked trips in 2013 to 10.75 billion last year. But if you look past the headlines, and remove trips on New York City's Metropolitan Transportation Agency – which make up 33 percent of the APTA's 2014 total – the national ridership gain all but disappears, shrinking to just a 0.17 percent increase.
Pennsylvania's numbers were largely in line with the rest of the nation. Most of the transit agencies across the Commonwealth saw modest decreases or a slight increases in ridership.
America's public transportation authorities had two major factors working against them last year: A huge decrease in gas prices and huge amount of snowfall.
According to AAA, the national average price of gas dropped $1.06 per gallon over the course of 2014. As gas prices drop, driving gets cheaper, which means taking the bus isn't as big a cost saver.
The fact that cheap gas hasn't fueled a large decrease in transit ridership had APTA's President, Michael Melaniphy, crowing. "This shows that once people start riding public transit, they discover that there are additional benefits besides saving money," said Melaniphy said a press release. APTA's crowing may be premature, though. In 2014 we also saw the first increase in vehicle miles traveled in six years, suggesting that at least some passengers may be returning to their personal vehicles.
The weather in 2014 may have played a bigger factor in most of the nation's moderate ridership gains. Most public transportation passengers in the United States ride the bus. According to APTA's figures, bus ridership was down 1.13 percent nationally.
The bus is the only public transportation option provided by nearly every transit agency in Pennsylvania. And in the places with other modes – Pittsburgh and Philadelphia – buses still dominate. In Pittsburgh, 82 percent of Port Authority riders take the bus. On SEPTA, that figure is 47.7 percent – still higher than any other single mode (subways, regional rail and trolleys are counted separately).
The winter of 2014 was rough across most of the U.S., with many areas seeing record or near record snowfalls in January and February. The Commonwealth was no different: it was Philadelphia's 3rd snowiest winter on record and Pittsburgh's 10th. Snow and ice can shut down bus routes. And even when the buses are running, the cold and snow make waiting for the bus more unpleasant, driving regular riders to look for warmer ways to get around. The net result is reduced bus ridership.
Unlike riders in most cities, the vast majority of New Yorkers (77 percent) take the subway, which can operate in the even the most hellish of winters. MTA subway ridership rose 4.02 percent in 2014.
SEPTA experienced 14 days in 2014 where service was limited due to the snow, reducing ridership to about 330 million, from 337 million in 2013.
Despite the low gas prices, SEPTA's ridership is rising again thanks to the relatively snow free winter this year.
"If it weren't for last winter … we would have been fine last year," said Jerri Williams, a SEPTA spokeswoman. SEPTA has enjoyed steady passenger increases since 2006, when annual ridership was below 300 million.
In Pittsburgh, things have been going the other way. The Port Authority saw ridership on its two largest modes — bus and light rail — drop from 2013, causing a total drop of 1.26 percent. While the harsh winter and increased gas prices played a role, the Port Authority's declines last year can be attributed primarily to a long-term trend, said spokesman Jim Ritchie. "Our system has experienced several years of cut backs," Ritchie said.
"We've experienced a great loss in service over that time, and as a result, a loss in ridership." Ritchie added that Act 89 has started to turn the Port Authority around, adding capacity to some bus routes and seeing increased ridership on those routes. Passed in 2013, Act 89 dramatically increased state funding for transportation infrastructure, including public transportation.
Around Harrisburg, the CAT saw a slight increase to its overall ridership, which took 2.9 million trips. There, as elsewhere, the particularly rough winter last year drove down bus ridership in the fourth quarter.
Reading also saw few passengers, although gas prices may have played more of a role there than the harsh winter. In the fourth quarter of 2014 Reading saw a drop of 3.64 percent in ridership, resulting in a 0.75 percent decrease for the year.
Williamsport and Johnstown both saw small declines in use of their bus lines too, but the Beaver County Transit Authority saw a small increase of 0.56 percent.
The APTA data tracks metropolitan and regional ridership and covers 90 percent of all public transportation ridership in the nation. In Pennsylvania, that means Southeast Pennsylvania's SEPTA, Pittsburgh's Port Authority of Allegheny County, Harrisburg's Capital Area Transit, Reading's BARTA and bus agencies in Johnstown, Williamsport and Rochester. The Lehigh Valley's LANta was not represented in APTA's report and calls to it were not returned.
APTA's data also showed a too-good-to-be-true 67 percent increase on the Keystone Corridor line that runs between Harrisburg and Philadelphia. But according to Amtrak, those numbers really are too good to be true: the jump was caused by an accounting switch in how data was reported to APTA. Keystone ridership was actually up 4.2 percent in last January's year over year: a solid, but far more realistic, increase.
PlanPhilly is now a project of WHYY/NewsWorks. It began in 2006 as an initiative of Penn Praxis inside the University of Pennsylvania School of Design. Though now part of WHYY, Plan Philly still works closely with Penn Praxis in covering planning, zoning and development news.