Kenney's pre-K pitch gets big boost from $15 million grant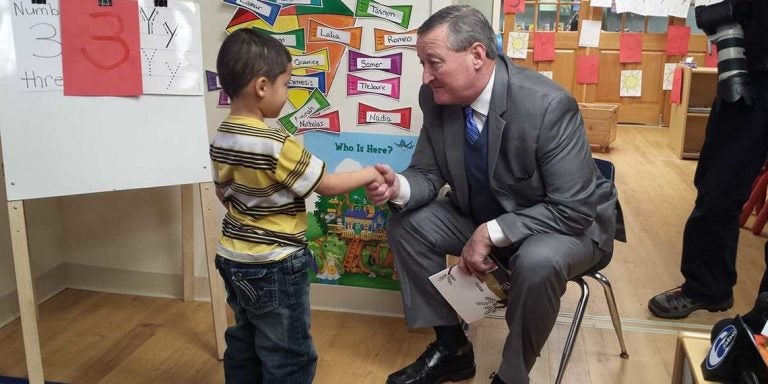 Philadelphia Mayor Jim Kenney's plan to provide free preschool to all city 3- and 4-year-olds lacking access to quality options is getting a major philanthropic boost.
At an event Tuesday afternoon, The William Penn Foundation will announce a $15 million five-year capital grant that will allow quality pre-kindergarten providers to expand physical capacity – paving the way for creation of at least 1,500 new seats in the city by 2021.
That will give tens of thousands of children better opportunities over time and benefit the region economically, said board chairwoman Janet Haas.
"Clearly the city needs all its citizens to be functioning at their very best potential, and early childhood education is an important ingredient in that," she said in a telephone interview.
A recent study of the Philadelphia area found that providers have little fiscal incentive to provide top-tier early childhood education.
This grant aims to combat that phenomenon by rewarding operators with a quality track record. Funds will be available only to pre-K operators with a 3 or 4 rating on the state's Keystone Stars metric.
The Kenney administration lauded the announcement.
"My administration is committed to increasing quality pre-K opportunities, but we certainly cannot do it alone," said Kenney in a statement. "Business and philanthropic participation is critical to the success of this effort."
Kenney's pre-k chief Anne Gemmell said the grant will allow providers to upgrade classrooms and build new facilities when they otherwise couldn't.
"It's like manna from heaven for these providers, because they do not have the profit margins or the credit to borrow these kinds of sums on their own," said Gemmell. "It's really an incredible boon for the providers that can access them."
Kenney says $60 million in recurring revenue is still needed to cover pre-K tuition for the 16,000 3- and 4-year-olds in the city who lack access to quality early learning options.
Kenney has pledged to erode that number entirely by the end of his first term, and aims to bring 4,000 new quality seats on-line each year.
Last week, Kenney proposed a 3 cents-per-ounce tax on sugary drinks to pay for this and other priorities.
The cash in this grant will be directed to the Fund for Quality — a project jointly managed by the Reinvestment Fund and the Public Health Management Corporation — which began in 2014 with a $4.6 million grant from William Penn.
Those initial funds are credited with supporting the expansion of 17 early learning centers that added 630 quality pre-K seats — 90 percent of which are occupied by children of low-income families.
In addition to the $15 million, the Reinvestment Fund has committed up to $7.6 million in loan capital at below-market rates in order to help providers complete particularly large infrastructure projects.
Haas hopes the grant will inspire other philanthropies and businesses to chip in for a cause that has risen to the forefront of education advocacy in recent years.
"We are wanting to seize that momentum, because we do think that this is achievable — as ambitious as it is," she said. "We have been at this for a long time, but we know that with additional partners — including, importantly, the city and mayor Kenney — we'll be able to bring this about much more quickly."