Kenney pledges traffic enforcement, more balanced streets at Vision Zero conference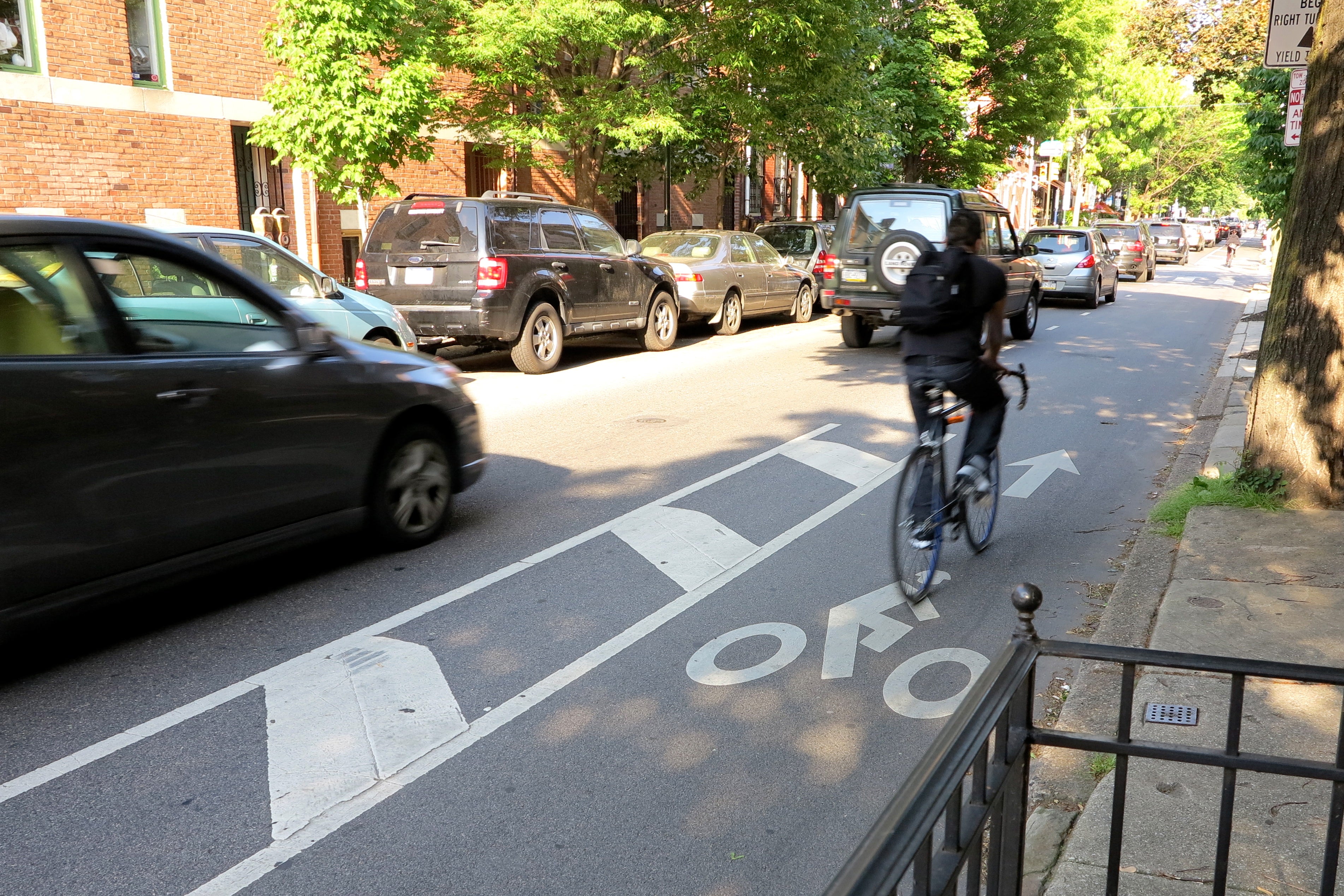 Kenney watchers are by now familiar with one of the Mayor-elect's favorite ranting subjects: his disgust with construction sites hogging city sidewalks.
From the way he talks about this common construction practice, Jim Kenney seems to perceive a rudeness that bothers him as much as the practical concerns about putting pedestrians in harm's way.
Fittingly, the subject came up in Kenney's remarks to attendees of last week's Vision Zero Conference*, organized by the Bicycle Coalition of Greater Philadelphia and Thomas Jefferson University Hospital.
"[Streets] Commissioner [Dave] Perri knows quite well that on Saturdays and Sundays he'll hear from me, because I live in Old City and that's one of the places where it's abused the most," Kenney said in his remarks to the audience, "I live at 3rd and Race, and on the 300 block of Race St there are two projects going on. One side of the street did the right thing by having a pedestrian chute with Jersey barriers, where people could walk safely, and the other side took both the sidewalk and a lane of parking for their construction trailer and Port-o-potties. That's not acceptable. So we're going to look at really stringent rules and regulations for the taking of a sidewalk for a demolition project."
As others have observed, when Kenney is bothered by the desire to fix a perceived injustice he tends to use that feeling as a political motivation. The livable streets advocates who put on the Vision Zero conference can count Kenney in their camp thanks to his frustration with developers who disregard pedestrians, as well as rude motorists behaviors.
"A lot of the issues we deal with…are the result of people being rude to each other," Kenney said, speaking with reporters after delivering his remarks, "There's no reason in the world why you can't wait on that green light until that senior citizen crosses the intersection…When a pedestrian's in an intersection, that pedestrian gets the right of way. Period. And we have people that are zooming around each other, honking the horn, being rude, yelling at people. It's just bad stuff."
Kenney publicly committed to the audience to "work very arduously and closely with all of the departments involved in bringing Vision Zero to reality, and investing the resources necessary to do that."
Asked by our NewsWorks colleague Katie Colaneri what he'd do specifically, Kenney didn't mince words: He thinks stepped-up enforcement, and specifically monetary fines, are the best way to change the worst driver behaviors.
"I think we have to start utilizing the police department," he said, "at least for a period of time in the beginning of the term, to start writing some really substantial tickets and stopping people from speeding, and parking in the crosswalk…I think we need to really have more enforcement of on-street activity, and I think we put a couple police officers during rush hour in the downtown and we start writing some tickets, and making people move their vehicles because they're double-parked. I think that'll start changing people's behavior."
Kenney referenced the time he got a $100 ticket from a red light camera at Broad and Oregon, and how he now hits the brakes instead of the gas when the countdown clock strikes 3 to avoid getting another ticket.
At the lunchtime panel with city officials, outgoing Deputy Police Commissioner Kevin Bethel brought up the Philadelphia Police Department's recent pedestrian safety strategy of issuing warnings instead of fines, with around 2,000 warnings given out since last October.
Bethel boasted that about 82% of those warnings were given to pedestrians for distracted walking or crossing on red, rather than misbehaving motorists.
PlanPhilly asked Kenney whether he thought the PPD was striking the right balance.
"Distracted walking? No," he said, with a snicker. "I think monetary fines are really what gets people's attention…I look at some of the red light activity around City Hall. People are nuts.
Not all livable streets initiatives fit neatly into the rudeness theme that gets Kenney going on these issues. But he expressed interest in choosing best practices in complete street design.
Kenney routinely says he draws policy inspiration from beyond the city limits, especially trips to New York. He brought up New York City three times in his minutes at the Vision Zero conference talking about common-sense pedestrian accommodations alongside construction sites, experiencing open streets, and on bike lanes protected by parked cars.
That is to say that Kenney has direct experience—-an underrated persuasive tool—-with many of the street design changes Vision Zero advocates will be asking for. Under New York City Department of Transportation Commissioners Janette Sadik-Khan and Polly Trottenberg, the agency was a pioneer in the use of lighter, quicker, cheaper traffic calming methods that other US cities are now cribbing from.
Closer to home, Kenney spoke highly of the Nutter administration's record on transportation, and signaled he'd continue their approach to multimodalism.
"I think the Nutter administration has done a tremendous job in many areas when it comes to these issues," he said, "The bike share system is among the best in the country, and we need to expand that to every neighborhood in the city."
And on a broad conceptual level, Kenney seems to have essentially bought into Vision Zero supporters' larger political goals of changing the culture, and rebalancing street life in favor of active transportation.
"The real realization here is that all public space is shared, and cars should not dominate the public space for any good reason," Kenney told reporters, "And pedestrians and people on bikes have a right to the same space as the automobile. I think we've gotten away from that over the years because of our fascination with cars, and I think we've got to get back to a reality that our citizens want…They want to be able to not use a car, and be able to use public transit, and to bike and walk in safety."
*Disclosure: PlanPhilly was a media partner for this event.
WHYY is your source for fact-based, in-depth journalism and information. As a nonprofit organization, we rely on financial support from readers like you. Please give today.