Jumping on the bland wagon at Institute of Contemporary Art
"Mundane Futures" assembles African-American art and artifacts as it imagines a radically banal tomorrow. The exhibit continues through March 31 at Penn.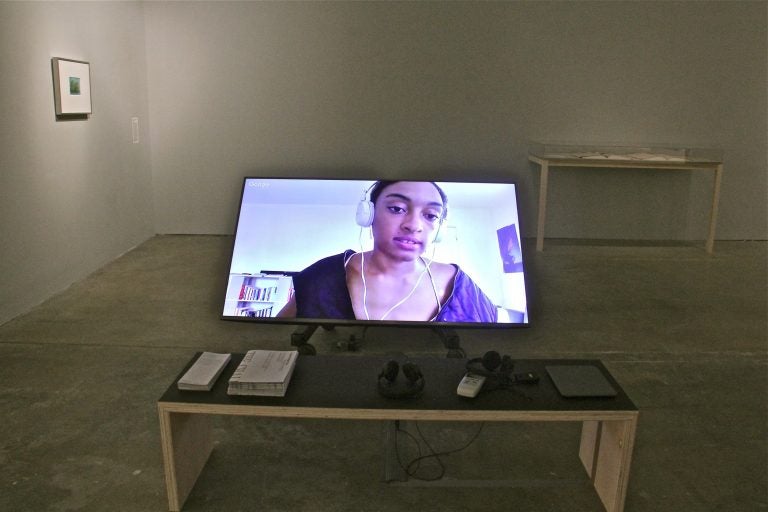 Can you imagine a future with no crises or racial injustice, so harmonious that it might be boring?
The Institute of Contemporary Art at the University of Pennsylvania has opened an exhibition called "Mundane Futures" to explore that scenario.
The small show – one room only with a half-dozen pieces – is intentionally bland. The walls are painted a neutral gray and mostly blank. A 16mm projector throws a film loop of abstract images onto one wall. The soundtrack describes UFO sightings in a way that sounds like a recitation of so many police reports.
In the middle of the room, a giant flat-screen TV is angled to resemble a laptop computer screen. It shows a 75-minute monologue by culture critic Aria Dean, recorded to her laptop's embedded camera in her Los Angeles apartment, explaining her concept of "Blacceleration" (a reading of capitalist accelerationism applied to black America that is too complicated to get into here).
Another wall is almost completely filled with stenciled text, the Mundane Afrofuturism Manifesto by Martine Syms.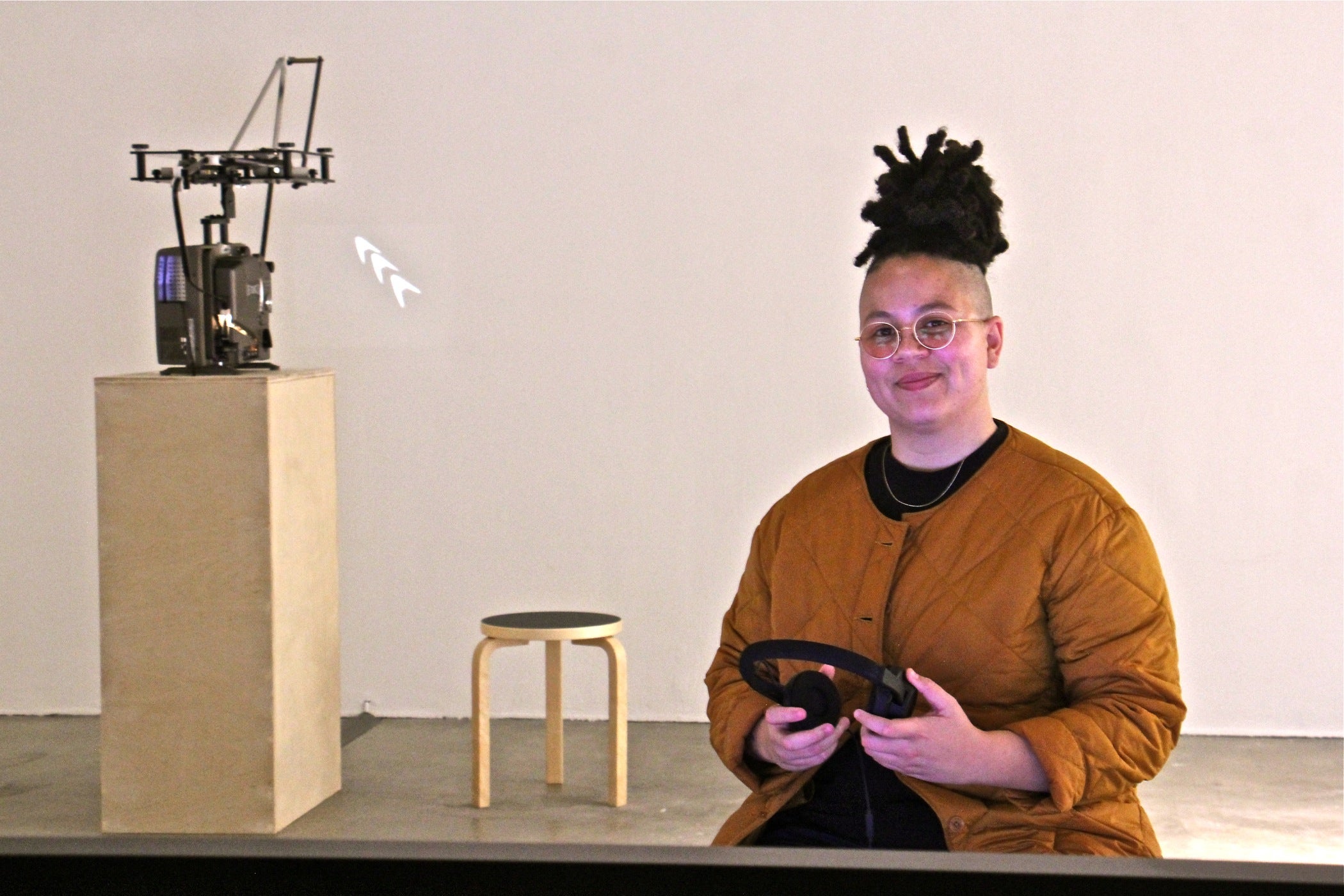 "If you come, it feels boring," said Meg Onli, the curator who conceived and executed this show. "Walking around, I don't know if this exhibition has the typical tropes of a black art show. There aren't the color palettes – the color is actually called 'Lazy Grey' – but all the works in the show are thinking about how we can imagine an everyday that is mundane."
The manifesto from which the show gets its name is mostly concerned with science fiction. Syms lists "Stupidities" attributed to black characters in much sci-fi: "jive-talking aliens," "an inexplicable skill in the martial arts," "enormous self-control in light of great suffering."
She pokes fun at tired sci-fi tropes and issues a challenge to writers: "The imaginative challenge that awaits any Mundane Afrofuturist author who accepts that this is it: Earth is all we have. What will we do with it?"
Exploring the boring
Onli embraced that idea as a curator, assembling an exhibition that is not extraordinary, not popping with dazzling feats of engineering and social evolution, but one that imagines a world where people don't have to constantly push against racial injustice.
It might be a world where drama – either invented or imposed – is taken down a notch.
"Blackness could be boring in some ways," said Onli. "We have boring lives. We're not always exotified."
Two newspapers published by the Black Panther Party in 1972 rest in a glass case. Although many may remember the Panthers as radical – a memory bolstered by images of men in military-style black berets holding guns – the party strongly pushed for everyday things we would like to take for granted: jobs, health care, housing. In the 1970s it was very engaged with neighborhood Free Breakfast for Children programs.
There is a photo of microscopic cancer cells, which Onli bought online from the Getty Images archive. In 1951 the cells were biopsied at Johns Hopkins Hospital in Baltimore from the body of Henrietta Lacks, an African-American woman from Virginia, without her consent. Her cervical cancer metastasized, and she died within a year of the biopsy she wasn't told about.
Those mutated cells are now immortal. Perpetually dividing in labs around the country, they are used for medical and pharmaceutical research. Called HeLa cells after their unsuspecting  donor, they have contributed to polio vaccines and gene mapping. (Her life and afterlife were chronicled by Rebecca Skloot in her 2010 book, "The Immortal Life of Henrietta Lacks.")
"Mundane Futures" is the first part of a planned three-exhibit series of African-American art at ICA, called "Colored People Time." The title is a pejorative term referring to a stereotype of black people being chronically late, which curator Onli wants to reframe as a term of empowerment.
"I'm running at a different time. Not a capitalist time. Not at a western time," she said. "I was thinking of that as a radical performance and gesture."
The next iteration of "Colored People Time," set for an April opening, will be called "Quotidian Pasts." Onli plans to make that one a little more punchy.
WHYY is your source for fact-based, in-depth journalism and information. As a nonprofit organization, we rely on financial support from readers like you. Please give today.