Inability of Murphy, Senate to speed judicial appointments is 'appalling'
State bar association president says governor should try same strategy he used to halt strike at Rutgers University.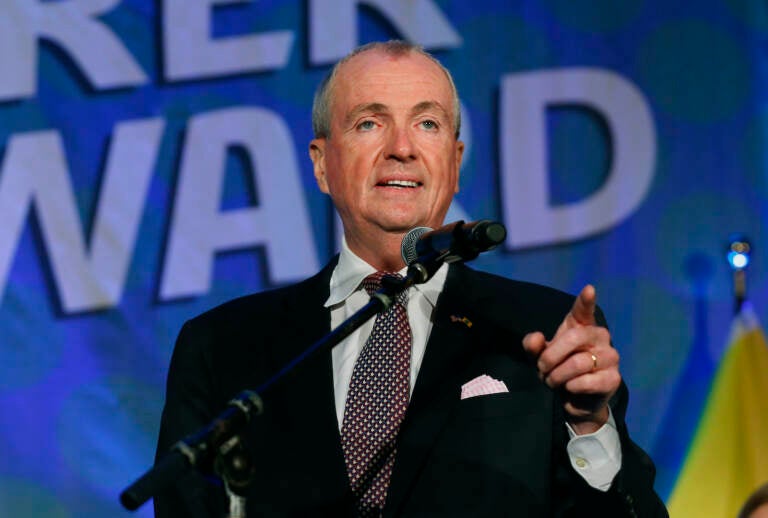 This story originally appeared on NJ Spotlight.
During a recent Senate Budget Committee hearing on the New Jersey judiciary, Chairman Paul Sarlo bristled at what he described as media reports blaming the Senate for the large number — now 60 — of open seats on the state Superior Court bench.
Sarlo defended the work by the Senate to confirm Gov. Phil Murphy's nominees, saying the Senate has voted to approve 53 new judges so far since January 2022, when the legislative term began, including a dozen in March. And Sarlo urged Murphy's office to "expedite" nominations.
"Across the past five years, Governor Murphy has remained committed to ensuring vacancies in New Jersey's courts are filled by highly qualified individuals who demonstrate unwavering integrity and dedication to service, while reflecting the diversity of the New Jerseyans that they are sworn to serve," said Murphy spokeswoman Natalie Hamilton.
Two months ago, Supreme Court Chief Justice Stuart Rabner put nearly all civil trials, including divorces, on hold indefinitely in six counties due to the lack of judges. The administrator of the state court system later said this could spread to more counties without more judges nominated and confirmed.
Since January 2021, Murphy has nominated, or renominated for lifetime tenure, 137 people for new judgeships, according to an NJ Spotlight News analysis of legislative nomination records.
The Senate has so far confirmed 116 of those, or about 85%.
Most of those have come since the start of this legislative term in January 2022. Murphy has nominated 81 people since then, more than the 65 he nominated in his entire first four-year term in office.
Severe consequences
The sustained large number of vacancies is impacting people and businesses of all kinds. With civil trials halted in some counties and delayed, couples looking to divorce are stuck in limbo, often with children stuck in the middle. Businesses can't settle contract disputes. People seeking financial compensation have been forced to wait for years. And while criminal matters in which individuals are being detained without bail or on some court-ordered monitoring are receiving priority treatment, these are also taking longer than was anticipated when the  state's bail system was reformed six years ago.
"We've been at a sustained level of 50 or more vacancies for years, and we've had the chief tell us we can't have more than 25 or 30," said Jeralyn Lawrence, president of the New Jersey State Bar Association, referring to Supreme Court Chief Justice Stuart Rabner.
Lawrence suggested that Murphy take a page from his own playbook to clear the backlog, using the same strategy he did to halt the five-day strike at Rutgers University earlier this month.
"Governor Murphy actually had really good advice," she said. "He said, 'Get in a room, lock the door and hide the key.' Is anyone in any room in Trenton? I don't think so. It took them five days. So go reserve some conference rooms. Hopefully you can do it in less than five days. Bring your lists and resolve it."
The unwritten rule
One of the problems to filling the judicial bench is the unwritten rule of senatorial courtesy, which allows senators to block nominees who live in their home county from being considered without giving a reason. That can cause problems in counties split into multiple legislative districts because all the senators involved must sign off on every nominee.
Essex County, with five senators representing a portion of the county, currently has eight vacancies, according to the state courts' office. Bergen County, with six senators, currently has seven vacancies, but Lawrence said if no new judges are seated there, that number will double to 14 empty seats by early August.
According to data from the courts, there were 37 vacancies at the end of 2009, the last full year in office for Democratic Gov. Jon Corzine, and nine at the end of 2017, the last full year in office for Republican Gov. Chris Christie. Because he was dealing with a Democratic Senate, Christie arguably should have had a tougher time filling vacancies and he did in the first half of his eight years as governor, but that improved over time and in his final year in office, Christie got 65 judges on the Superior Court, the most in at least the last two decades.
During his first three years in office, Murphy saw only 24 of his nominees confirmed. But for most of that time, Murphy was feuding with then-Senate President Steve Sweeney, a Gloucester County Democrat. When COVID-19 hit in March 2020,  that caused both delays within the courts and with getting nominees fully vetted and confirmed, including delays in State Police background checks and bar association evaluations. Eventually, the number of vacancies rose from a 20-year low of nine at the end of 2017 to about 60. Vacancies climbed to a record high of 75 last May.
Murphy has been more successful lately, with 45 confirmed last year and 16 so far this year. Yet the number of new judges seated has not kept up with the number of judges retiring, some before the mandatory age of 70.
More judges retiring early?
While a specific number is not available, several sources said the number of judges who are retiring early has increased.
"Back in the early years, I'd very rarely seen a judge retire before his mandatory age of 70 and I just see it a lot more," said Sarlo, who has been in the Senate for two decades.
Glenn Grant, the courts' administrator, attributed the increase to several reasons, including the post-pandemic "great resignation." But Grant said he thinks the extra work brought on by the large number of vacancies, which he called a "crisis," is driving some judges to hang up their robes. In counties like Gloucester and Passaic, where a third of judgeships are vacant, Grant said, "someone's got to pick up that slack and if you're doing that for multiple years … it creates additional demands on the judge, who then says, 'I can retire in X time period.'"
The increase in retirements means Murphy and lawmakers need to step up the nominating and confirmation process even further.
Both Sarlo and Murphy's offices say 20 new nominees, not including judges completing a seven-year term who are up for lifetime tenure, are currently awaiting approval by the Senate Judiciary Committee. Nine of the 20 are in the counties where Rabner paused civil and matrimonial trials due to vacancies. The committee is scheduled to meet May 18 and if it votes to approve all 20 and the full Senate confirms them later this month, there will still be 40 vacancies. And another 22 openings are expected by the end of the year. It takes months for nominees to be fully vetted before nomination and then the Senate committee conducts its own reviews of the nominees, so it's unclear how many additional positions may be filled before the end of the year.
Just not keeping pace
"Merely keeping pace with retirements does not help us dig out of the hole," Grant told the budget committees of both the Senate and Assembly last month. He said it is likely to take "years" to clear the backlog and get the court system up to a manageable 25-30 judicial vacancies statewide.
Sarlo said it's not that easy to fill all the openings, particularly as more judges keep retiring. He said the process can be "arduous and tedious," it takes time to go through all the backgrounding, and the judicial salary of about $196,000 is lower than what highly qualified lawyers can make in private practice.
"We're having a difficult time finding capable folks out there who want to step up and serve," Sarlo said.
"The unbelievable thing to me is there are still many, many people that want to serve on the bench," countered Lawrence. "How the governor and the Senate are not finding them and putting them on the bench is appalling."
Hamilton from Murphy's office said the governor is doing his best, stating, "The Governor remains committed to nominating new, highly qualified judges while working with the Senate to address the vacancy backlog."
— Graphic by Colleen O'Dea
WHYY is your source for fact-based, in-depth journalism and information. As a nonprofit organization, we rely on financial support from readers like you. Please give today.