In ongoing fight over Smith School site, RCOs get an F from both neighbors and the developer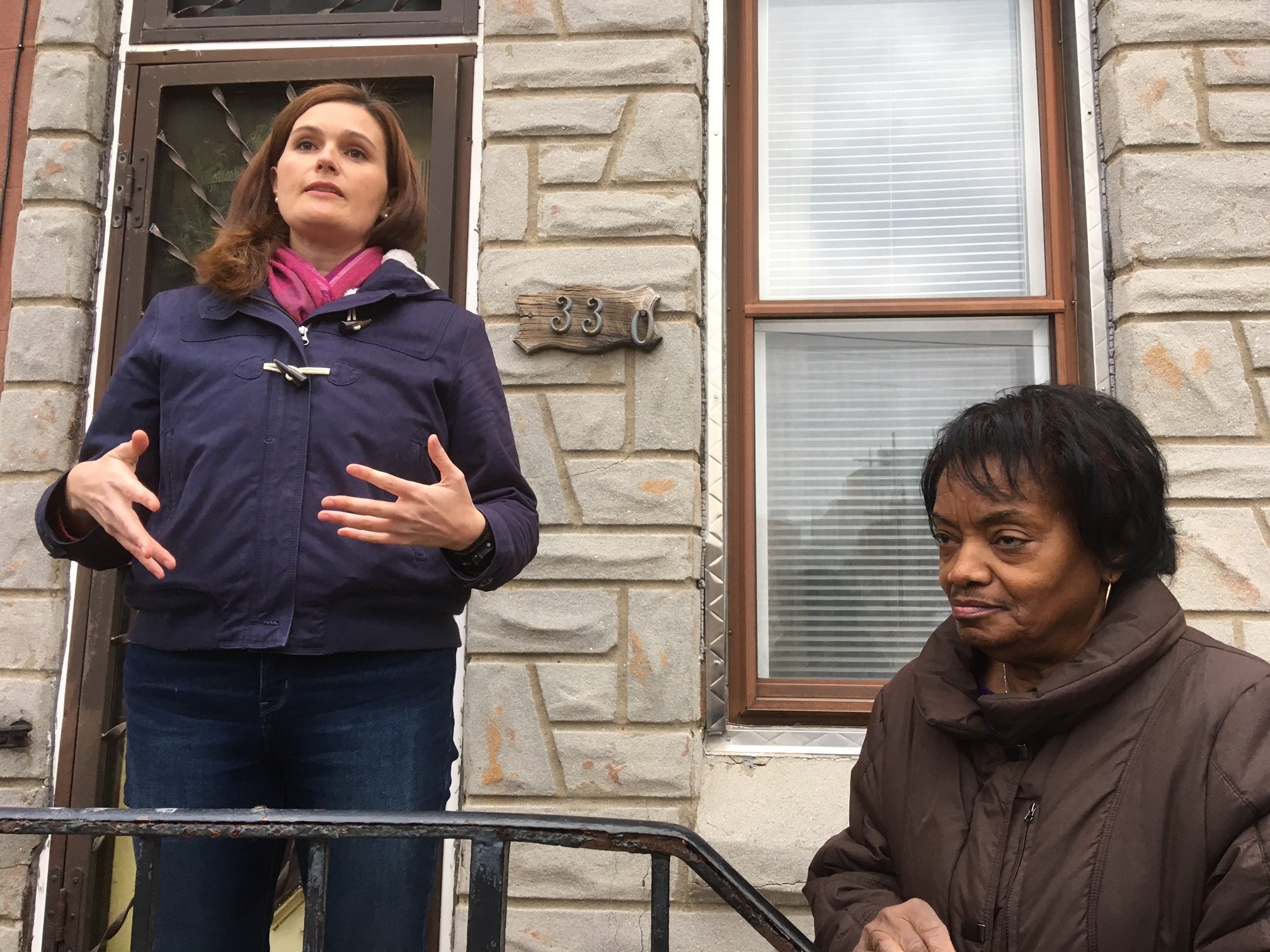 Friday afternoon, around 30 Point Breeze residents gathered on the 1300 block of Garnet Street to air recriminations aimed at the developer converting the former Smith School site into nearly 100 residential units.
The neighbors are upset with one of their own — developer Ori Feibush, who lives a few blocks away — levelling accusations of retaliatory tactics against a resident who appealed building permits issued by the Department of Licenses and Inspections (L+I) to the Zoning Board of Adjustment (ZBA).
"Ori Feibush wants to put a curb cut in front of my door in retaliation [after] I appealed his building permit," said Betty Beaufort.
Feibush denies the allegation, saying he met with Garnet Street neighbors — informally, not through one of the area's three Registered Community Organizations (RCOs) — and agreed orally to make changes to the project to accommodate their concerns. That included removing a proposed curb cut onto Garnet, the kind of South Philly side street so small that many cars driving down it end up half on the sidewalk.
"I'll happy concede that a curb cut on Garnet is stupid and shouldn't be done," said Feibush. "But it's the path of least resistance."
That's because, Feibush says, he would need to seek a zoning variance if he continued with a promised plan to forgo the Garnet Street curb cut by making the cut onto 19th Street two-way — an entrance and an exit, as opposed to creating a one-way through-way that exits onto Garnet Street.
Feibush submitted building documents to L+I proposing 22 new townhouses lining Garnet Street and 19th Street for the former Smith School's playground area. The Smith School itself will be converted into over 70 residential units. In between, where an annex building is being demolished, Feibush proposed a parking area to satisfy the zoning code's setback requirements (required space between certain kinds of buildings).
Feibush claims that he received verbal assurances from neighbors, including Beaufort, that they would not oppose the project (which are, for zoning purposes, two separate projects — the townhomes and the school conversion — in one). When Beaufort appealed the issuance of building permits for the townhomes, Feibush said he decided he could no longer seek a variance for the Smith School conversion to set aside the setback requirement.
"I'm getting appealed for over the counter, 100 percent by-right permits," said Feibush. "So, I want to go request a hardship [variance] for something that's exclusively to the benefit of the block?"
Feibush conceded he could build without a curb cut on Garnet Street without seeking a variance, but that would cost him "five to six parking spots," and the value they convey to would-be residents. Beaufort's home happens to sit across from where the curb cut would be.
At the rally, Beaufort and other neighbors accused Feibush of strong-armed intimidation tactics. "We are here to shine a light on some bullying that's been happening in our neighborhood," said Alison Stohr, a Garnet Street resident and attorney.
Beaufort also said she simply opposed any more development in Point Breeze, lamenting the lack of open space and parking in the neighborhood over the last few years as a wave of builders continues to wash over the community.
"We need some open space because all we have in this community is houses houses houses and houses. Enough is enough," said Beaufort, who also had choice words for Councilman Kenyatta Johnson and Mayor Jim Kenney for, "letting this happen."
Feibush responded by claiming that he's the one really being bullied. "If [Beaufort] wasn't an older resident, and I wasn't a developer, it'd be: Neighbor bullies builder."
Towards the end of the rally, Point Breeze resident Charlie Elison questioned why those gathered hadn't tried to use the local RCOs to broker an agreement with Feibush. Elison was met with angry denunciations by the crowd of older African American residents and younger white residents. While a handful of neighbors shouted past one another, another resident handed out homemade empanadas.
Point Breeze has three active, overlapping RCOs: Point Breeze Community Development Coalition, Point Breeze Community Development Corporation, and South Philadelphia H.O.M.E.S, Inc.
Local residents and developers alike agree that none is run particularly well. And having so many RCOs that overlap leads to confusion among residents over which meetings should be attended, and from developers over which group to approach.
"They're dysfunctional," said Haley Dervinis, who earlier accused Feibush of harassing her after she spoke out against a development during a prior RCO review.
That maybe the one area where Feibush truly agrees with his opponents. "The RCO process would have derailed all of this, because it would have been just a debate over development or not — there would not have been a discussion about how to improve the building," said Feibush. "The handshake agreement [with the Garnett neighbors] was great before one person ruined it for everyone."
RCOs were created as part of Philadelphia's zoning code overhaul in 2012. Multiple groups can cover the same area, and the rules regulating RCOs are lax, meaning some are less democratic than others. Some groups are well organized, meet regularly, and have clear rules for elections to the board. Some are so sophisticated that they run numerous community improvement activities besides the zoning meetings with developers, like street cleanings and neighborhood gift drives around the holidays. Others barely meet at all and fail to hold proper elections.
In Point Breeze, overlapping jurisdictions combined with perceived political biases — Point Breeze Community Development Corporation is seen as always pro-development, while South Philadelphia H.O.M.E.S is considered knee-jerk anti-development — further frustrates the ability of RCOs to formally mediate neighborhood conflicts.
"I have not found the RCO process to make things better in every neighborhood," said Feibush. "In Grad Hospital it makes things better, but in Point Breeze it's all about development or not. I don't think it would have done anything to further any aspect of this development."
South Garnet Street is a rather small side street (Jim Saksa / WHYY)

South Garnet Street is a rather small side street (Jim Saksa / WHYY)

Construction has already begun for the 22 townhomes at the Smith School site (Jim Saksa / WHYY)
Dear reader, we will get straight to the point: Today we ask you to protect PlanPhilly's independent, unbiased watchdog coverage. We depend on you to bring the news that you value and spread voices across the city. This holiday season, please give the gift of public and accessible media for all by making a tax-deductible donation during our once-a-year membership drive. Thank you for making us your go-to source for news on the built environment eleven years and counting.