In Ionesco's 'The Lesson,' the tyranny of the academy (Contra Theatre Company)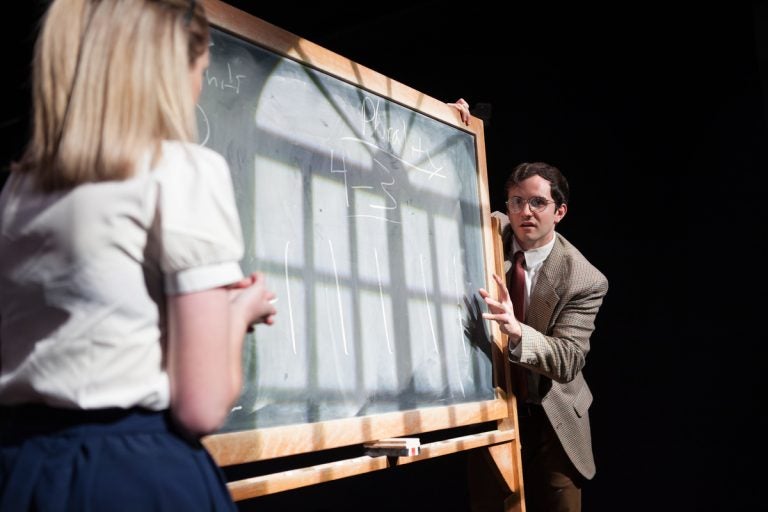 Words could kill in Eugène Ionesco's "The Lesson." The master of absurdity wrote it in 1951, and from what I've read, it's taken to be a piece about the tyranny of language. In a current Center City production – the first from a new Philadelphia company named Theatre Contra – "The Lesson" appears more as a play about the tyranny of academics.
But then, it's Ionesco, So who knows? His 1951 play came right after "The Bald Soprano" but eight years before his most performed piece, "Rhinoceros," an infinitely more relatable drama than the earlier ones. In "The Lesson," the satiric gibberish that is Ionesco's trademark comes from the mouth of the grand professor. He's interviewing a serious young woman to determine whether she's ready to study for "the full doctorate" she seeks. He has an agenda. She has a toothache.
Theatre Contra chose a challenge for its inaugural show, and the result is your opportunity to see a rarely performed play done thoughtfully. Kaitlyn Ide, the director, cuts through the confusions that Ionesco carefully conjures by staging the lesson so that it comes off as straightforward: What Ionesco writes is what you get, delivered sincerely and moving rapidly. (The "comic drama," as Ionesco called it, lasts about an hour. It's more dramatic than comic in the production's delivery.)
Ide took a risk: Instead of following Ionesco's description of the nutty professor as "a little old man with a little white beard" she cast a young theater artist, Patrick Romano, in the role with nary a wave to the gravitas that age would bring to the character. This is especially important as the imperious professor becomes more menacing, a dirty old man who hints at a #metoo incident before the plot gets far more out of hand.  Although little of this comes through, Romano is commanding in the part as he pressure-cooks into madness. He overcomes his youth by turning in a performance that highlights the prof's insistence about his own faulty knowledge.
Paige Martini is his perfect foil as the young (or younger here, by a few years) student who looks forward to his support. She's sweet and innocent, and in the funniest part of the play her character shows how well she adds and multiplies but cannot begin to grasp subtraction, and Martini's vulnerability makes her irresistible. As the professor gets into an abstract lecture on philology, the structural relationship of languages, he becomes passionately pedantic and she develops an overwhelming toothache. You can feel her pain.
The professor's maid comes in and out during all of this and tries to calm him and warn against the stresses he'll go through if he talks at all about philology. "Philology leads to calamity!" she says. He dismisses her concerns – in this production, their concerns, because the maid is simultaneously played by two actors, Stephanie Iozzia and Matthew McWilliams. If that director's decision adds to confusion, it probably only furthers Ionesco's goals. More puzzling (and entirely needless) is the addition of threatening whispers that come and go, unintelligibly, during the performance.
Ryann Carey's set of a desk, rolling table and movable chalkboard stands in front of a wide pile of books, all of them colored in blood red – another departure from Ionesco's wishes in his abundant stage directions, which seem to be set on thwarting any director's own idea of storytelling. The playwright called for a professor's office that also serves as a dining room. I like Carey's idea better – it spooks things up, and given the trajectory of "The Lesson," that's just fine.
—
"The Lesson," produced by Theatre Contra, runs through July 15 at the Arden Theatre Company's Hamilton Family Arts Center, a few doors from the Arden, on 2d Street north of Market Street. Information: theatrecontra.com.
WHYY is your source for fact-based, in-depth journalism and information. As a nonprofit organization, we rely on financial support from readers like you. Please give today.