Immigrant groups frustrated by inaction in D.C. block traffic in front of Sen. Casey's office
Instead of issuing citizenship, Democrats are proposing giving longtime undocumented residents temporary protection from deportation and work permits.
Immigrant rights activists blocked traffic outside of U.S. Sen. Bob Casey's Center City Philadelphia office for about half an hour on Thursday, frustrated that Democrats haven't delivered on pathway to citizenship legislation despite controlling Congress and the White House.
The action was one of 11 simultaneous protests happening across the country, criticizing Democrats for dropping the idea that it could be achieved through budget reconciliation legislation.
"We are here today because there are 11 million undocumented folks who have been promised a pathway to citizenship, and time and time again, have been let down," said Maegan Llerena, executive director with Make the Road Pennsylvania. "[It's] a slap in the face."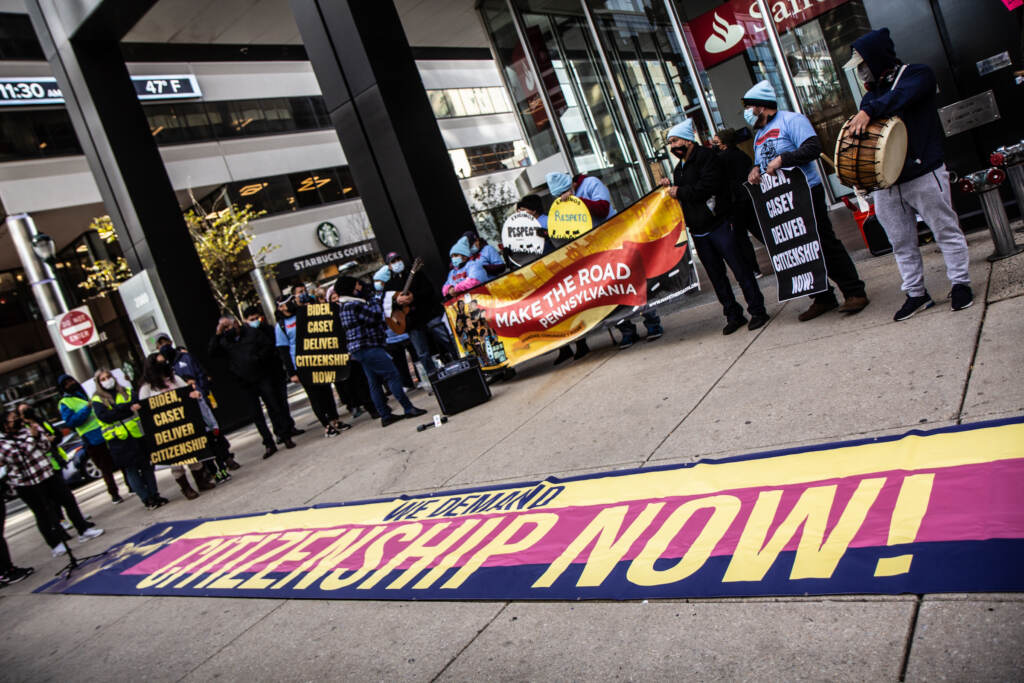 Instead of issuing green cards and eventually citizenship, Democrats are proposing giving longtime undocumented residents temporary protection from deportation and work permits, using a process called "parole."
As many as 7.1 million people would benefit under those terms, including 99,400 people in Pennsylvania, according to an estimate by the left-leaning think tank the Center for American Progress. To access the benefit, immigrants must have been present in the U.S. since 2011 under the current draft.
Those who support updating the immigration laws are split on this proposal. FWD.us, a pro-immigration lobbying group, released a statement on Thursday praising the proposal.
"In addition to providing long term protection from deportation for millions of undocumented immigrants, the plan would allow people … access to long-term work permits to support their families and more fully participate in their communities, life-saving health care and the ability to travel abroad to reunite with family they have been separated from, often for decades," wrote the group.
But on Market Street, activists said this language does not go far enough, and instead would keep millions of people in a second-class status. Members of New Sanctuary Movement, The Movement of Immigrant Leaders in Pennsylvania (MILPA), Woori Center, State Innovation Exchange and the Pennsylvania Immigration and Citizenship Coalition (PICC) joined Make the Road PA in calling for a pathway to citizenship.
State Reps. Chris Rabb and Danilo Burgos, both Philadelphia Democrats, also supported the group.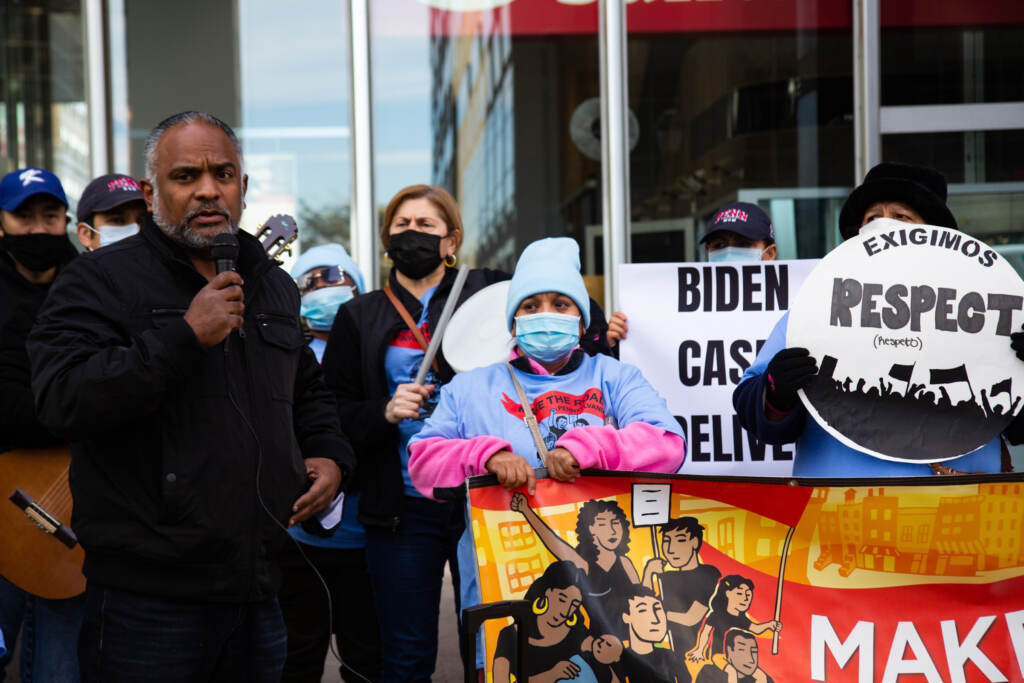 "You can't ask people to do the work during the pandemic at a poverty wage in the shadows, and then ask them to wait for justice," said Rabb. Burgos pointed out that undocumented immigrants pay billions in taxes each year.
Several people who would benefit from a pathway to citizenship, and their family members, also spoke.
"My parents currently serve as a cook and a housecleaner, but this country denies them the economic mobility that they can achieve," said 20-year-old Oscar Lopez, who was born in Philadelphia to Mexican parents.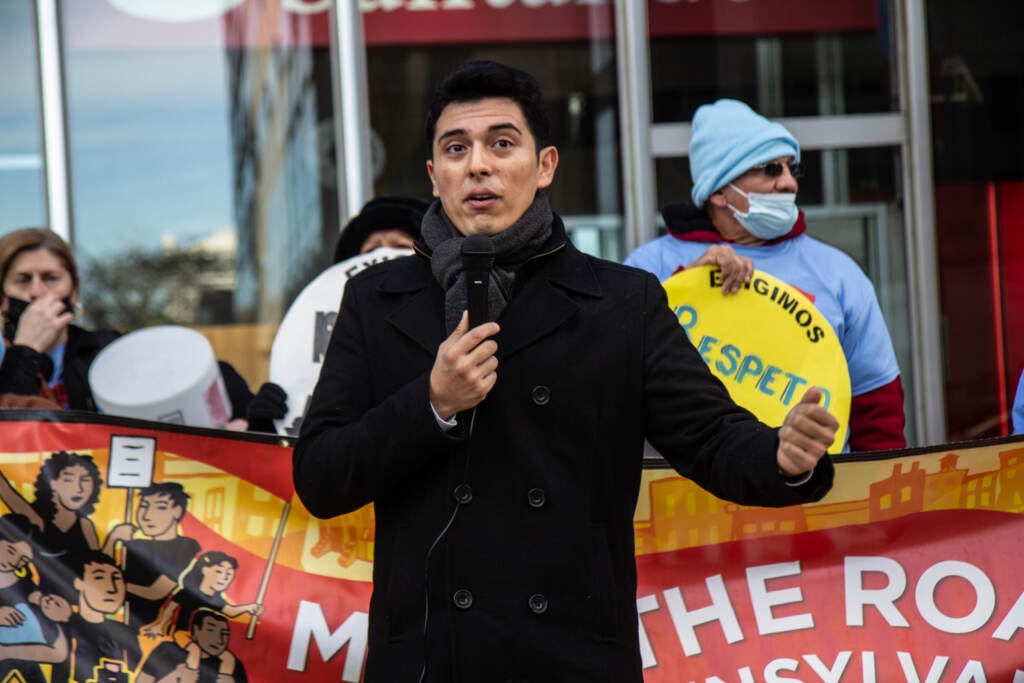 Maria Hernandez, who has lived in Reading for 25 years, said she has 5 U.S. citizen children. She has been a mushroom packer and a seamstress.
"If I had citizenship, I would walk without fear … [now] when I look at a police officer I tremble with fear," she said in Spanish, because she's afraid of being stopped and taken away.
The politics of passing a pathway to citizenship legislation have been difficult. Congress has not passed a comprehensive immigration bill in decades. This summer, Senator Casey told WHYY that he supported doing "whatever it takes" to get a sweeping reform package through.
Since then, the Senate parliamentarian twice denied Democrats' proposals to include pathway to citizenship in the budget reconciliation bill — a process the majority party forwarded in hopes of avoiding a GOP filibuster.
"I have long supported a pathway to citizenship for the millions of hardworking, law-abiding undocumented immigrants in our Nation," said Casey in a statement Thursday. However, he is currently supporting the proposal to extend protections to more immigrants through parole.
That plan, though, has not yet been vetted by the Senate parliamentarian for relevance in a budget reconciliation bill.
If the parliamentarian also rejects this proposal, a Senate aide who spoke on condition of anonymity said Democrats do not have the votes to overrule the decision. By protesting, activists said they hoped they could change that.
Around 30 people gathered to chant, sing and protest. Then, around a half dozen moved into the street. Philadelphia Police halted traffic, and cars turned in the middle of the street to avoid the blockade.
The protest ended when organizers heard that Casey would meet with them.
"I think for today we won," said Llerena. "But if he does not uphold his end of the bargain … we will be back."
Get more Pennsylvania stories that matter
WHYY is your source for fact-based, in-depth journalism and information. As a nonprofit organization, we rely on financial support from readers like you. Please give today.