After ICE arrests, volunteers canvass for immigrant rights in South Philly
Immigration advocates want to inform undocumented immigrants about their rights when facing detention or deportation — and trying to get neighbors to help.
At a little after 9 on Sunday morning, a small group of bleary-eyed, coffee-chugging volunteers is huddled in a frigid back room at the offices of the immigrant advocacy group Juntos. Executive Director Erika Almiron greets them, and makes sure they know why they're here: to help form what the organization is calling "community resistance zones."
"The community resistance zones comes out of the need that we need to take care of each other in this moment," says Almiron. "That having somebody like Trump as president, our communities are directly under attack."
As the Trump administration has cracked down on illegal immigration, advocates like Almiron's organization want to inform undocumented immigrants about their rights when facing detention or deportation — and trying to get neighbors to help.
This event comes just over one month after federal agents arrested 107 people in Philadelphia for immigration violations as part of a coordinated effort called "Operation Safe City." The operation targeted "sanctuary cities" like Philadelphia, where local police will not hold immigrants U.S. Immigration and Customs Enforcement (ICE) suspects of being undocumented without a judge's warrant.
Advocacy organizations like Juntos and top Philadelphia city officials argue these enforcement actions do not make the city safer and instead, serve only to frighten the city's immigrant communities.
The volunteers who've showed up at Juntos this Sunday morning are young and mostly white, though there are several Latino and Asian attendees, as well. The group will take the organization's message out to a diverse four-and-a-half square mile swath of South Philadelphia by canvassing door-to-door, trying to get neighbors to agree to spread the word about immigrant rights and to document abuses if they see them.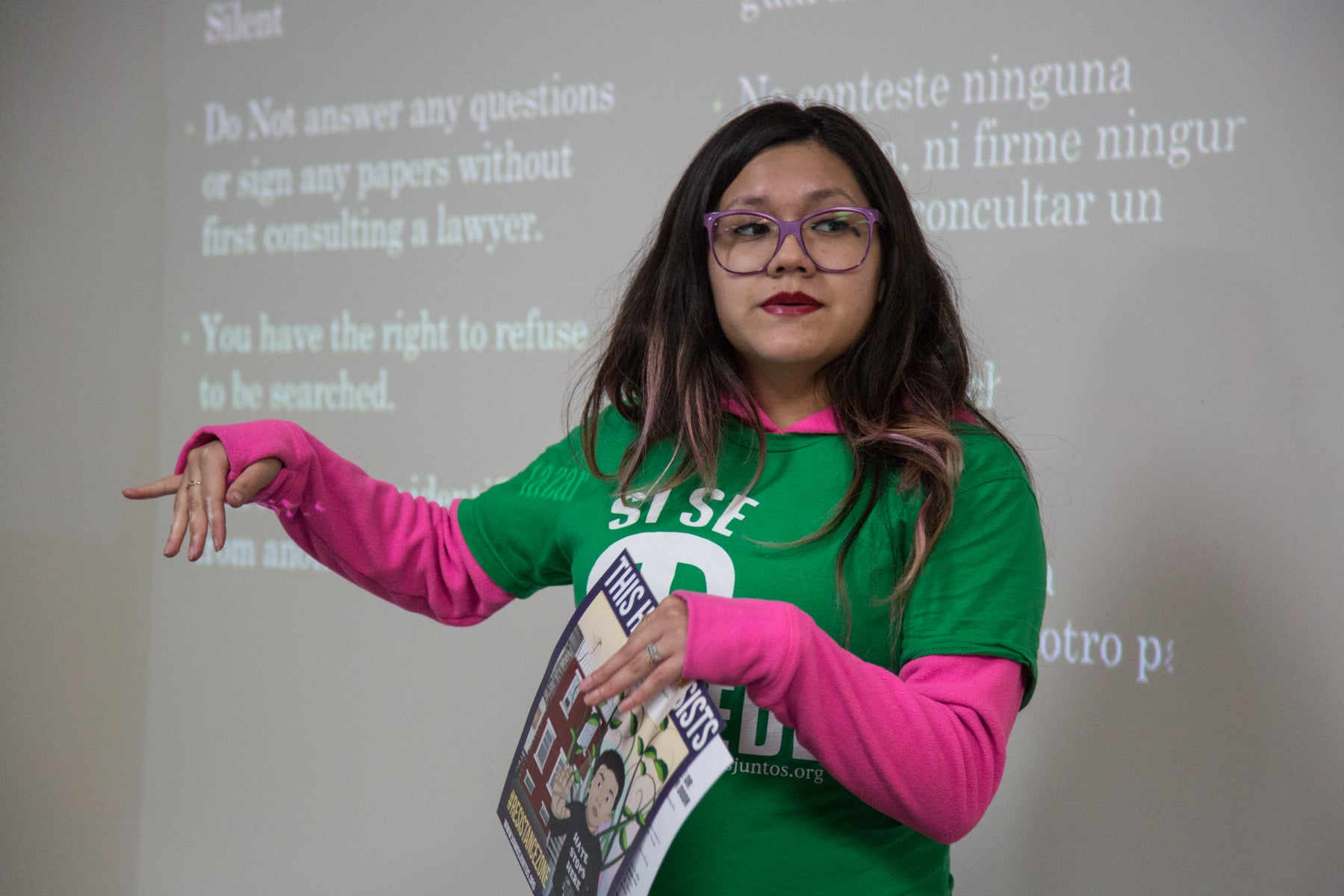 Community Organizer Olivia Vasquez ticks off the three things she wants people to remember if ICE comes knocking.
"One: Do not open the door ever ever ever to anyone," she says. "Two: Only say your name, and then after that, you have the right to remain silent. And do not sign anything without your lawyer."
With that, the group gets literature and sets off with a goal of getting contact information from as many neighbors as possible.
I tag along with Gerardo Aguillon and his family, along with their translator and co-canvasser, Alana Adams. We start out at 7th and Tasker Streets, making our way west. The first house sets the tone for the rest of the block.
The bearded man who comes to the door take a glance at Gerardo, another at me, and spits out: "Not doing it, bye."
None of the others even open their doors. But at the corner, we stop in Li's Market, where Elana tries her pitch on a confused Mr. Li.
"Would you be willing to put up a poster that says what people's rights are?" she asks. Mr. Li responds in rapid Chinese.
Elana overcomes this roadblock with the help of a Chinese translation app on her phone. Mr. Li, a look of understanding dawning on his face, nods and says, "Sure."
He writes down his information and agrees to put a small poster in his store window.
WHYY is your source for fact-based, in-depth journalism and information. As a nonprofit organization, we rely on financial support from readers like you. Please give today.