After ICE arrests her husband, Philly woman wonders why she was left behind
In the early morning hours of May 11, Immigration and Customs Enforcement agents waited outside Juana's home in North Philadelphia.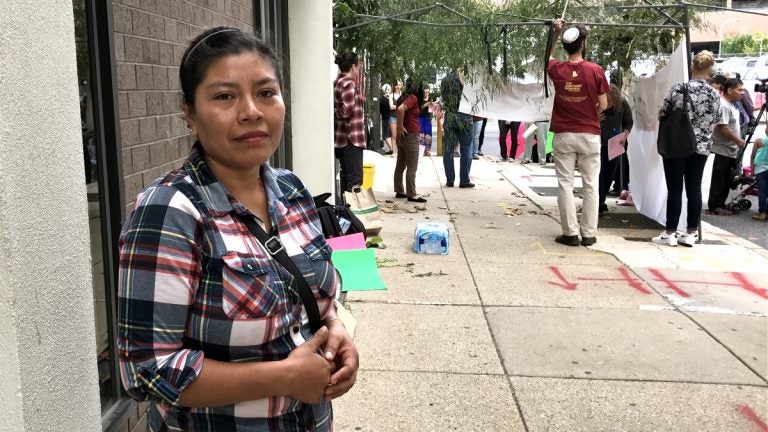 In the early morning hours of May 11, Immigration and Customs Enforcement agents waited outside Juana's home in North Philadelphia.
"It was a normal day. [My husband and I] were leaving to go exercise, and we were coming down the steps of our house, and, unfortunately, they arrested him," she said.
WHYY is withholding Juana's last name because she also came to the U.S. illegally and fears repercussions for speaking about her husband's arrest. She's short, with long brown hair, and speaks forcefully, peppering nearly every sentence with the word "unfortunately."
Why ICE didn't arrest her for immigration violations, she doesn't know. Then, on Sept. 24, ICE arrested her brother-in-law and sister-in-law's husband during stepped-up enforcement called "Operation Safe City." That was a coordinated effort targeting Philadelphia and other "sanctuary cities."
At a protest outside ICE offices in Philadelphia this week, Juana said her family is reeling from the arrests, and uncertainty now hangs over their lives.
"It seems from the experiences that we've lived through that they are only targeting men. I'm wondering why," she said. "Is it because men are the heads of households? And they think women are going to get desperate and return to our country?"
Between working as a house cleaner and trying to take care of her five children — who are U.S. citizens —  Juana does not have a lot of time to contemplate these questions. She has lived in Philadelphia for 13 years, but didn't have enough reserves to absorb her husband's arrest. She has taken out loans to pay for lawyer's fees and food for her family.
"We feel it so much, we feel powerless," Juana said. "They are separating families."
Under President Donald Trump, enforcement of immigration laws has ramped up in communities across the United States. He has been fulfilling campaign vows to increase deportations of people who stay in the country illegally.
"Safe City" targeted communities, such as Philadelphia, where local police will not hold immigrants ICE suspects of being undocumented without a judge's warrant.
"Sanctuary jurisdictions that do not honor detainers or allow us access to jails and prisons are shielding criminal aliens from immigration enforcement and creating a magnet for illegal immigration," said Tom Homan, ICE acting director, in a written statement. "As a result, ICE is forced to dedicate more resources to conduct at-large arrests in these communities."
However, in line with previous arrest announcements, more than a third of those arrested during "Safe City" had no criminal convictions. Juana said she did not believe her husband had prior contact with police, but her sister-in-law's husband had been charged with a DUI. All three are being held in York County Prison, where ICE detains men it plans to deport.
Asked if she is afraid of arrest, Juana said, "I'm a little bit worried, but I'm not afraid right now because I haven't done anything bad … the only fear one has is God."
As a member of an indigenous group from Guatemala, she said it makes no sense to return home. For one thing, her children, aged 6 to 13, have a life and future here as citizens. Secondly, members of indigenous communities in Guatemala, largely Mayan descendants, have faced repression and extreme poverty since Spanish colonial times.
Her father, who is a taxi driver, recently called Juana to tell her he is thinking about coming to the United States, too, because things are getting worse.
"I tell him I'm not sure it's worth the risk, given how bad things are getting for immigrants," she said.
WHYY is your source for fact-based, in-depth journalism and information. As a nonprofit organization, we rely on financial support from readers like you. Please give today.