'I thought there'd be more people': Visitors welcomed Wildwoods' quiet beaches, but business owners hoped for better
Day-trippers and visitors who had a place to stay had the Shore resorts' beaches and boardwalk pretty much to themselves. Motels still cannot open.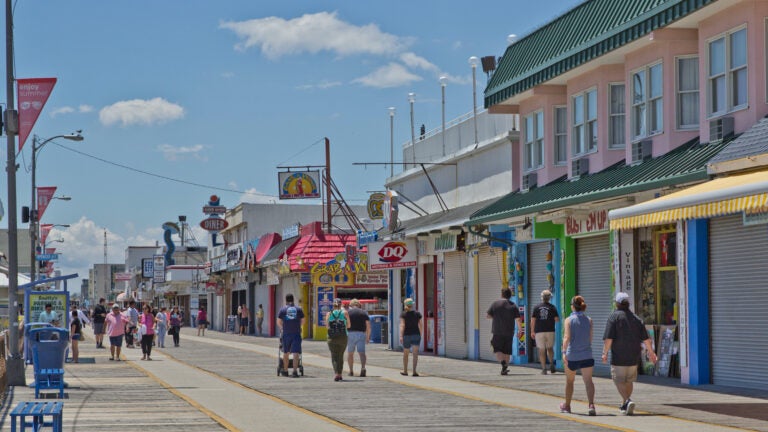 Updated 12:05 p.m. Tuesday
With short-term rentals banned in the Wildwoods until after Memorial Day weekend, it wasn't hard for day-trippers and weekend visitors to find prime spots along the five miles of sunny beaches Saturday.
"I'm noticing that people are less reckless," said Cassio Harris, who came from Philadelphia with his brother for the weekend to stay at their family's house. "There's not a lot of people running around chugging beers on the beach."
Beach games such as volleyball and other contact sports were largely missing, and the roller coasters remained empty.
"I love it, I'm not going to lie," said Hannah Panfile, who made the weekend trip from Montgomery County with her young son to stay with a friend.
"I thought there'd be more people here," said Sarah Ramos, whose family woke up early Saturday morning and drove close to three hours from Passaic County in northern New Jersey to soak up the sun.
Members of the Ramos family were not complaining about the effort or the sparse crowds, though. The long drive paid off when they were able to secure their bright beach umbrella not far from the still brisk water. The closest family was some 10 feet away from their 6-year-old son's sandcastle.
"Between homeschooling and work from home, it's a lot," Ramos said. "We figured, you know, one day to get away from the house, get the kid out — he's been stuck inside because the parks by us can get a little crowded."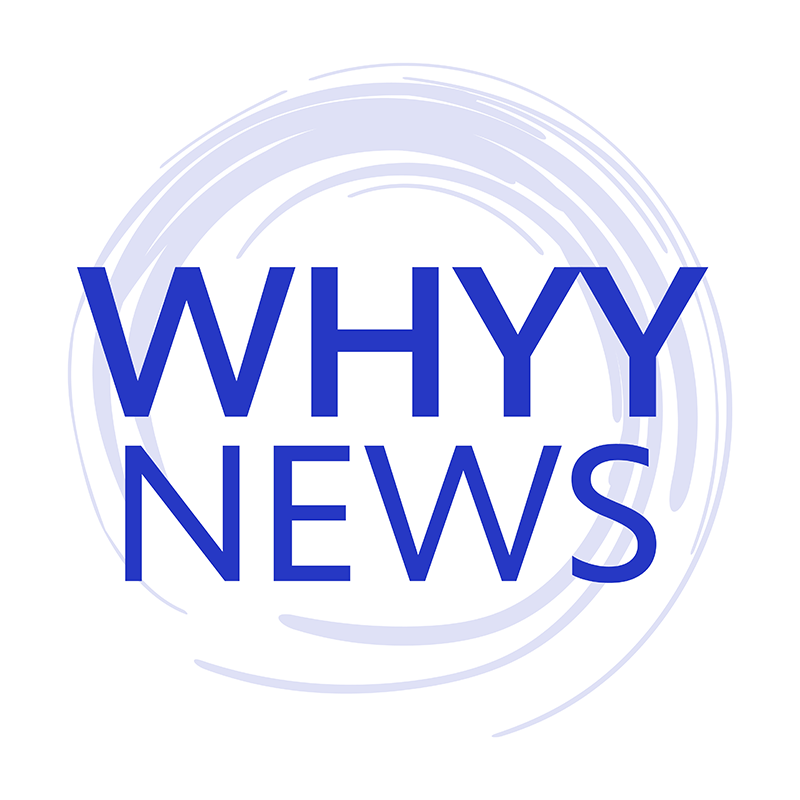 Get daily updates from WHYY News!
Several families with young children said the chance to escape the confines of their backyards and crowded local parks was too good to pass up. Many headed to the Shore even after a night of heavy thunderstorms left the sand between their toes extra damp.
Katie Ciriello and husband Dave come down to Wildwood during the Memorial Day weekend every year to get their summer rental property ready. So far this year, they have little booked — a first — and a few hours at the tranquil beach with their daughters served as a small payoff.
"By now, we would've gotten on somebody's nerves, or they would have," Dave said of his 6- and 3-year-old. "They don't really respect personal space. Most kids don't."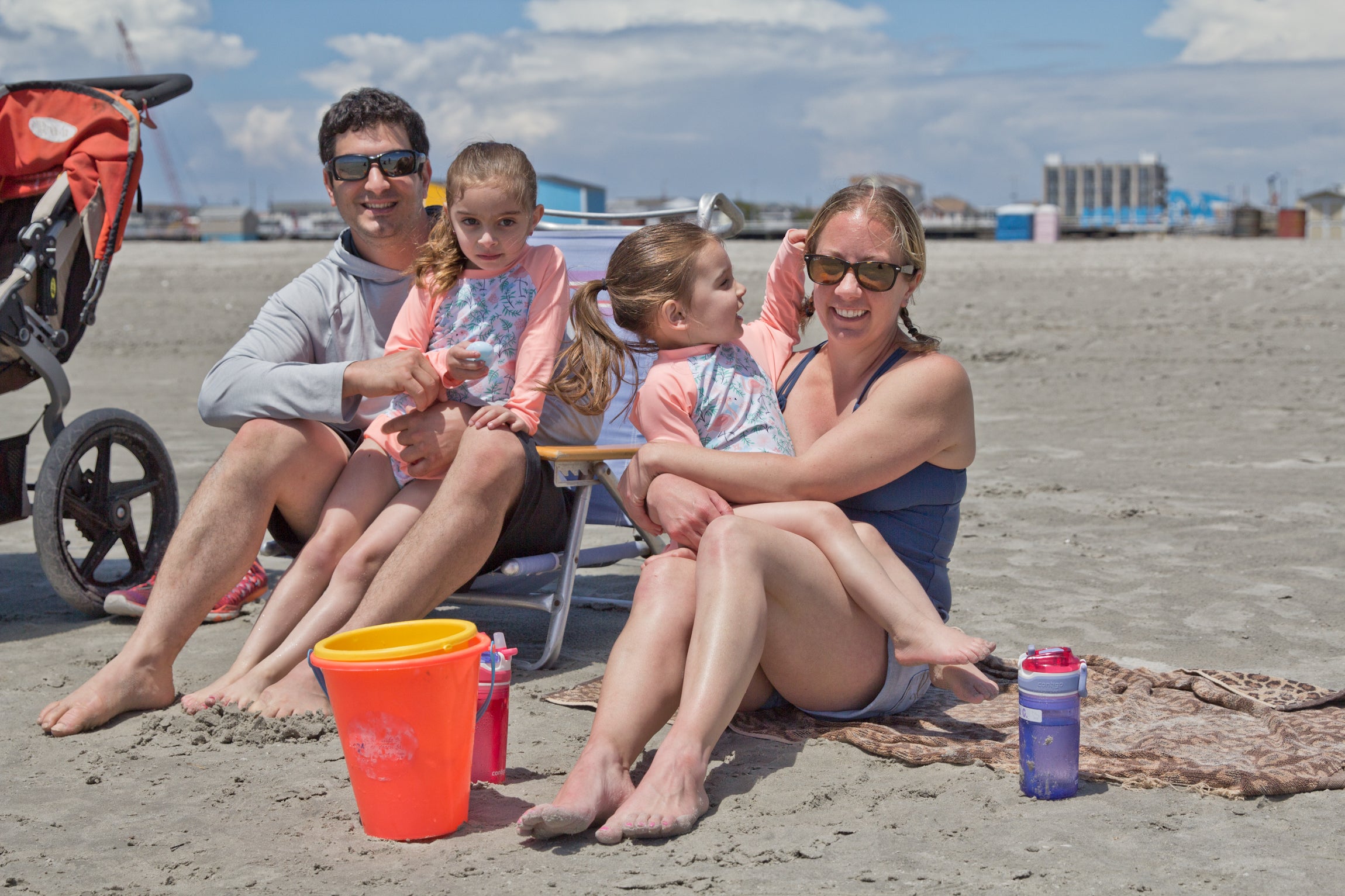 Still, though visitors may have welcomed a quiet beach, it was a nightmare for local business owners.
The Wildwoods' boardwalk, known as the "two miles of smiles," remained largely shut down.
Employees tending to open stores and restaurants offered their usual friendly welcomes while wearing masks. Cash registers stood behind sneeze guards.
Several boardwalk shops selling hoodies, shot glasses, and blankets with "Wildwood" emblazoned on them were open for business, though they had to blockade their entrances with sunglasses displays and T-shirt racks.
Patrons couldn't browse the stores and had to tell employees what they wished to purchase — with no opportunity to try on items before buying.
Food stands that employees and owners said would typically be busy throughout the day were not.
Eateries with tile countertops and vintage stools were limited with to-go orders, and the customers just weren't coming.
It was a sight Mike Mataf, owner of the decades-old White Dolphin restaurant, said he hadn't seen since Hurricane Irene landed in August 2011.
"They don't spend nothing, as you see," Mataf said. "They don't have any money, I mean who has money today?"
Citing rising unemployment in New Jersey and neighboring states, Mataf said he understood why day-trippers came equipped with coolers full of snacks. Pointing to the four employees with him, he said he hoped the rest of the holiday weekend would pick up, for their sake.
Typically, the population of a Jersey Shore town explodes by the hundreds of thousands over the summer. Last year, tourism in Cape May County, which includes the Wildwoods, was estimated to be a $6.6 billion industry.
Mataf and other business owners hope that the crowds, and the money they tend to spend, return once motels can start taking reservations (up to 60% capacity) on Tuesday.
Meanwhile, owners of nonessential businesses still had little clue how they can reopen.
"It pains you that this is a major weekend that really officially kicks off the summer and you're not going to be able to partake in it," Joseph Toland said.
Toland owns Old Time Photos, the type of photo studio where you can dress up like a flapper or a cowboy or some other fun character and have your portrait taken. It's also a nonessential business.
"And we don't even know if or when we will be able to partake," said Toland, on his way to enjoy the beach on a Memorial Day weekend for the first time in decades.
Though Toland made the best of this day off, he said he was prepped for reopening. He's invested in disinfectants and dry-cleaning equipment for the costumes, as well as personal protective equipment — which he anticipates his staff and other boardwalk employees will have to wear until the season ends.
—
Editor's Note: WHYY updated this article after learning that an individual quoted in it had misrepresented his identity to the reporter and photographer. An image in which the individual appeared has also been removed from the article.
WHYY is your source for fact-based, in-depth journalism and information. As a nonprofit organization, we rely on financial support from readers like you. Please give today.