I-495 bridge closure in Delaware won't influence proposed gas tax increase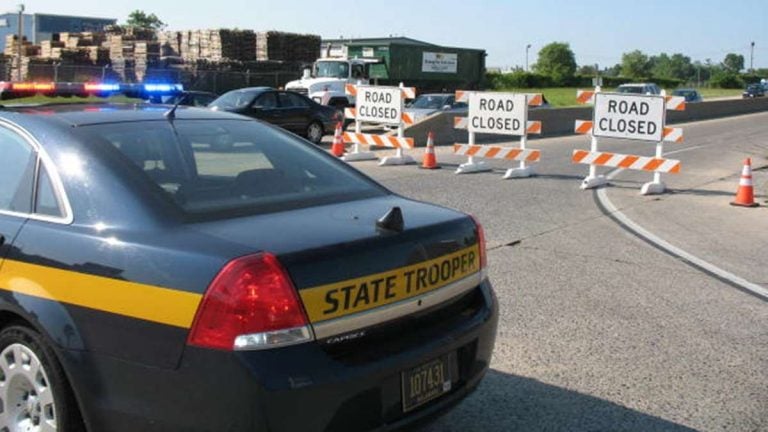 The only positive from DelDot Wednesday on the I-495 bridge closure was that the bridge has only tilted an additional 0.02 degrees in 36 hours.
The negative is officials are no closer to figuring out why the bridge is tilting or coming up with a reopening date. Officials said a subsurface investigation is underway. They are in the process of removing the soil that has been piled up under the bridge so that they can further their investigation.
As dramatic as the bridge closure has been, members of the Delaware Transportation Committee in Dover don't think this event will change the discussion on the governor's proposed gas tax increase.
The bridge shutdown comes at a time when Delaware lawmakers are debating whether to introduce legislation on a 10-cent per gallon gas tax increase.
Governor Jack Markell and Delaware Department of Transportation Secretary Shailen Bhatt rolled out the initiative earlier this year as a way to increase funding for DelDOT projects.
The proposed legislation has not been favorable among lawmakers this session and Sen. Karen Peterson, D-Elsmere, chair of the Senate Transportation Committee, says the I-495 bridge closure is not likely to re-open the gas tax discussion.
"I doubt it because there will be a lot of federal money involved, it's an interstate so we'll be talking mostly about federal money," Peterson explained.
She said the bulk of the I-495 bridge repairs will likely come from the Federal Transportation Fund.
DelDOT has not put a price tag on how much the bridge repairs will cost but are reaching out to the Federal Highway Administration to see if they're eligible for any federal emergency relief funding.
Rep. Gerald Brady, D-Wilmington West, member of the House Transportation Committee, said the closure of the bridge does raise some concerns over how the bridge was constructed.
"One time there was an issue with the concrete and I would like to better understand the recent history of 495, he said. "Whether there was some engineering or design faults is one question, I'm not sure."
DelDOT officials also say more people know about the closure areas and have begun to find alternative routes instead of 495. There is now a temporary traffic signal at Terminal Avenue, which is the most southern point motorists can ride coming into Wilmington.
However, DART advised its riders that bus travel was delayed up to 30 minutes during the morning rush because of the road closing. In the 8am hour anyone driving south on I-95 was stuck in a solid line of traffic from the center of Wilmington all the way to the Pennsylvania state line and beyond. I-95 splits with 495 at the state line.