How to vote in person safely when Pa. isn't requiring masks at the polls
Pa. won't require masks at the polls like it does in other public places, but counties and voters can take steps to ensure safe in-person voting during the pandemic.
Ask us: What do you want to know about voting and the 2020 election?
From a COVID-19-catching perspective, voting in person may not seem all that different than going to the grocery store: You're in a large space with building capacity limits, hopefully not for too long. But there's one crucial difference: If you refuse to wear a mask at the supermarket, you can be asked to leave. That's not the case at the polls.
While voters are strongly encouraged to wear masks and stay socially distant out of respect for each other and the safety of poll workers, it's not required in Pennsylvania.
"Voters who are not wearing a mask will not be denied their right to vote," said the Department of State's deputy director of communications, Ellen Lyon.
The same is true in Philadelphia, where masks will be encouraged and provided at polling places, but not required, said Kevin Feeley, spokesperson for the City Commissioners' office.
"There's no state law that says you can't force someone to wear a mask," said Feeley. "It's more about preventing someone from exercising his or her right to vote."
In July, Pennsylvania Health Secretary Dr. Rachel Levine signed an executive order requiring masks to be worn in public spaces at all times, but Lyon said the right to vote supersedes that order.
If the state were to mandate wearing masks inside polling places, it could open the Wolf Administration's overall mask-wearing order to legal challenges, said Dawn Hunter with the Network For Public Health Law.
"In general, courts have upheld that emergency authority, so if someone were to challenge that, it's very likely that it would be upheld," Hunter said.
However, she said if a lawsuit could cast doubt on the validity of the votes in question, even for a short time, states may want to avoid any controversy.
"People are expecting there to be a lot of legal challenges to this year's election potentially, and I think if states are weighing that, they may say it's not worth taking on that additional litigation risk," said Hunter.
Working around a mask mandate
Philadelphia area counties do have measures in place to keep voters and poll workers safe if someone refuses to wear a mask.
The state is supplying counties with masks to hand out at the polls, as well as hand sanitizer, sneeze guards and tape to mark spaces for social distancing.
In Philadelphia, if a voter refuses to wear a mask, election officials will be trained to escort them to a voting booth while maintaining social distance from other voters. Feeley said if someone is waiting to vote indoors without a mask, that person would be separated from others in line. However, anyone who is not a voter and is indoors must be wearing a mask, such as campaign workers, members of the media and any poll watchers, he said.
In Montgomery County, a voter who refuses to wear a mask will be asked to wait until everyone ahead of that person is finished voting, and will be allowed to go in and vote alone when the entire room is cleared.
In Chester County, polling locations will have signs posted encouraging voters to wear masks and to stay six feet apart. Extra poll workers will help maintain social distancing in the voting line.
According to its election website, Delaware County requires poll workers to wear face coverings, and asks — but does not require — that voters, media, campaign workers and poll watchers near or in polling places do the same.
"If a voter refuses to wear a face mask/covering when in the polling place, the Judge of Elections at each polling place is empowered to take appropriate steps to ensure the safety of poll workers and voters," the website reads.
A county representative did not respond to WHYY News' request for clarification on the appropriate steps.
Unlike the state and its fellow suburban counties, Bucks County is requiring masks to vote, as it did in the June primary.
On Tuesday, Dr. David Damsker, director of the Bucks County Health Department, renewed his June order that requires "all poll workers, voters, persons accompanying voters, and anyone else entering or standing in line to enter a polling place to wear face coverings covering the mouth and nose."
Layers of safety
Wearing a face mask is the most important measure to prevent transmission of the coronavirus, since it is spread between people primarily through large droplets, but also through aerosolized particles that can travel in indoor spaces that are not well-ventilated, and end up inhaled from longer distances.
"I think there is real risk of bringing large numbers of people into indoor voting places for the purposes of voting," said Esther Chernack, an infectious disease doctor and professor at Drexel University's Dornsife School of Public Health.
"If we allow polling places to become places where we have uncurbed transmission, we can start to see increases in cases and that would be unfortunate."
There are still some steps polling places can take to minimize the risk even if some people do vote without masks on.
Chernack said the other critical variable that increases transmission risk is exposure time. To that end, lines should form outdoors wherever possible, weather permitting. Consideration should be given to airflow when choosing polling locations.
Lines could be shorter in Philadelphia due to the large number of mail-in ballots already submitted, and the increase in polling locations since the June primary, when they were consolidated due to a poll worker shortage. The city has since received a $10-million grant to offer hazard pay to poll workers, and recruitment of more than 8,000 people to help run polling locations on Nov. 3 is well underway.
In Philadelphia, voters will receive a glove to wear when touching voting machine screens to prevent any potential transmission. In Chester County, the voting booth will be disinfected after every voter.
Alison Buttenheim, a public health professor and behavioral economist at the University of Pennsylvania cautioned that officials shouldn't devote too many resources to sanitizing surfaces, since we know now that the virus is primarily transmitted from person-to-person droplets and some aerosolized particles.
"I hope poll workers aren't distressed about the hygiene theater and disinfecting everything," she said.
Buttenheim also stressed that while election officials may not be able to require voters to wear masks, they can certainly remind people to wear them, make them available and make them seem attractive and normal.
"In my mind, it's emphasizing the safety of the poll workers," she said. "It's one thing for a voter to come vote and the person right before or after them to be maskless — that risk actually seems quite low.
"But to be a poll worker, to be inside all day for 12 hours with potentially multiple sick voters coming in unmasked just doesn't seem like a good way to thank people who are doing this important work."
Deciding how to vote
There's still time to vote by mail: Pennsylvania voters can request a mail-in or absentee ballot as late as Oct. 27, and they must be postmarked by 8 p.m. on Election Day. The ballot must be received by the county election office by 5 p.m. on Nov. 6 to be counted.
But when weighing whether it makes more sense to cast a ballot in person or by mail, there is more to consider than just the situation at the polls. It's also important to know how much the coronavirus is spreading in your community.
In Philadelphia and the surrounding area, the community spread is relatively low right now, but the situation could be different by Nov. 3. Community spread also varies by ZIP code and neighborhood.
And Buttenheim said, it's also important to weigh how bad it would be if you got sick. For example, if you're older or live with an elderly person who is at higher risk of complications from COVID-19, it might not be worth the risk. If you have no paid sick leave from your job and even a mild illness would mean economic strain on your family, voting by mail might be a better choice to minimize your risk.
There are also logistical considerations. Postal service slowdowns may deter some people from voting by mail for fear their ballots won't arrive in time, as may stipulations about so-called naked ballots (a recent court ruling means all mail-in voters must submit their ballots inside the additional "secrecy envelope" or they will not be counted).
There's also the issue of timing: Pennsylvania law does not allow mail-in ballots to be counted prior to Election Day, so it could take a while to determine a winner in what is increasingly being recognized as one of the most critical swing states in the election.
Given President Donald Trump's history of making false claims about mail-in voting and his unwillingness to agree to concede the election if he loses, it's possible that the president could seize on a delay while ballots were still being counted in Pennsylvania, spreading disinformation and portraying those votes as somehow illegitimate.
But Chernak said no one who is uncomfortable voting in person should feel pressure to do so based on scare tactics like this.
"We have a process in place for counting ballots, and in a year where there is a contagious disease pandemic, we avail ourselves of the measures we have to vote safely and we will get a result a few days later," she said. "There's nothing wrong with that."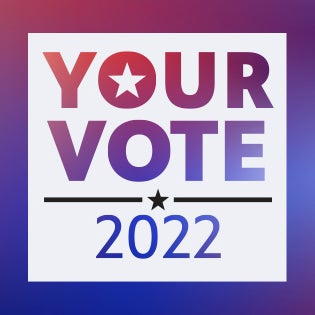 Your go-to election coverage
WHYY is your source for fact-based, in-depth journalism and information. As a nonprofit organization, we rely on financial support from readers like you. Please give today.