How to make soul food with a healthy twist? For Black History Month, a West Philly chef demonstrates
Chef Yuhnis Sydnor was recently diagnosed with diabetes. That spurred him to eat less sugar, fat, and salt, staples of traditional soul food.
On the first weekend of Black History Month, the Free Library of Philadelphia's Culinary Literacy Center invited the public to celebrate soul food with a healthy twist.
In conjunction with Sugga Mamas Diabetes Prevention and Management and the Frazier Family Coalition at Jefferson Health, West Philadelphia chef Yuhnis Sydnor taught a virtual cooking class using traditional soul food ingredients in fun, simple, and nutritious ways.
More than 60 people tuned in Saturday morning to a class that opened with music and dancing. Sydnor spread infectious joy as he twirled through the kitchen, sauteing, baking, and teaching about the healthful values of his ingredients.
"Are your taste buds ready?" Sydnor asked as he looked deeply into the camera. "Have you strapped them in? Have you alerted them? Well, off we go."
Sydnor was recently diagnosed with diabetes. That spurred him to change his diet and eat less sugar, fat, and salt, he said.
"That's when I decided that I needed to be able to cook items that were fabulous. But also to make it healthy," said Sydnor.
His experience inspired him to teach Saturday's class. He also cooks healthy meals twice a month for the community at Mount Zion United Holy Church in West Philly.
"My diabetes is under control," said Sydnor. "I'm able to be a living, walking witness to share with others how they, too, are able to do it."
The American Diabetes Association says 37.3 million Americans, or 11.3% of the population, have diabetes, according to 2019 figures; 12.1% of non-Hispanic Black individuals are affected by it. The Centers for Disease Control and Prevention reports that 8.5 million people have undiagnosed diabetes. According to the CDC, before developing type 2 diabetes, most people have prediabetes — their blood sugar is higher than normal but not high enough yet for a diabetes diagnosis.
The upside is that diabetes can be prevented and managed with a healthy diet, more exercise, and stress management.
As he cooked Saturday, Sydnor spoke about the history of soul food, and the traditions that were passed down from his ancestors. Alongside him sat his grandmother's pot, which she used to soak turkey chitlins until they were clean.
"I'm able to cook because of her," said Sydnor.
Soul food comes from enslaved people getting the scraps, the lesser cut of meats, the leftovers, and making them delicious, he said.
These days, traditional soul food is still made with lots of fatty ingredients, sugar, and salt, said Sydnor. So inspired by the creativity and delicious recipes passed down by his grandmother, he used a classic soul food ingredient, sweet potatoes, in fun and healthy ways.
"What I'm going to do is to take those items that I would call the 'Cinderellas of the ball.' We're going to dress that sweet potato up and make it fabulous," said Sydnor. "If you have an open mind, you can have some fabulous food without the salt, without the fat, without the sugar."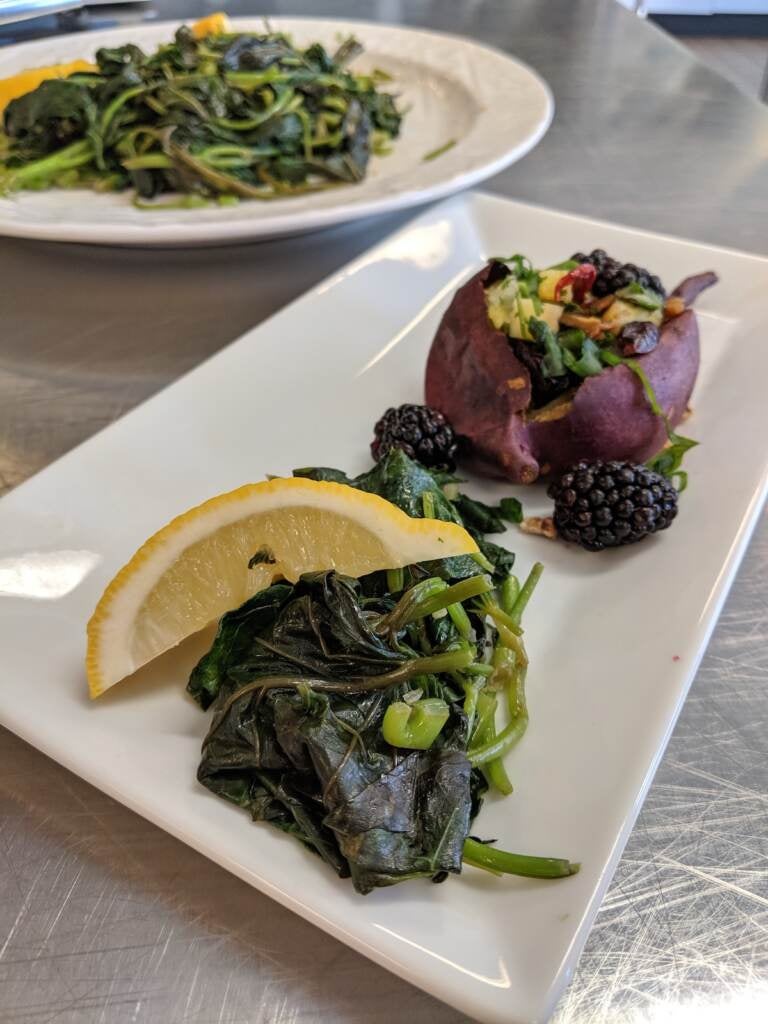 He also used sweet potato greens, the leaves, and stems of sweet potato plants, found at Produce Junction.
He sauteed the greens two ways: one using garlic, olive oil, salt, pepper, and dry sherry; the other, inspired by Chinese ingredients such as canola oil, ginger, garlic, salt, and shaoxing wine.
Simple, easy, and delicious, according to some of Sydnor's live audience taste-testers, Johnetta Frazier and Neva White, of the Frazier Family Coalition.
Sydnor also baked a tray full of sweet potatoes covered in olive oil for his "sweet potato bar" of exciting healthy ingredients.
On display: Greek yogurt whipped with rose water, dates, an apricot salsa made with preserved lemon, harissa, pomegranate juice, and pistachios, roasted beets, a pineapple salsa, peanut butter thinned with water and green onions, assorted nuts, toasted pecans, dried cranberries and figs, sorghum, spicy maple syrup, turkey bacon, and more.
"Let your imaginations run wild," said Sydnor. "Live a little! You have 365 days in a year. Why eat the same thing over and over again?"
Sydnor said he chose to use the sweet potato, instead of its sister veggie, the yam, because it has a lower glycemic index: "When people who are diabetics, when they eat it, the sugar breaks down slower." The sweet potato greens, which can be eaten raw, taste like spinach but are charged with even more vitamin C and are also high in fiber.
Though he was inspired by his family, Sydnor said he is also touched by his experiences traveling and eating around the world as a hotel restaurant manager.
"Soul food is in every culture," said Sydnor. "Soul food is the food that makes you feel better. Soul food is the food that nourishes you."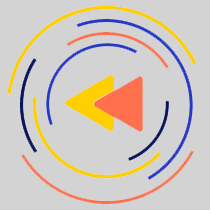 Saturdays just got more interesting.
WHYY is your source for fact-based, in-depth journalism and information. As a nonprofit organization, we rely on financial support from readers like you. Please give today.