How one woman expanded a Philadelphia-based black film festival to the international stage
Maori Karmael Holmes, who began the BlackStar Film Festival, wanted to provide a film festival for black creators in Philadelphia. It quickly became much bigger.
Instead of just focusing on historical figures, for Black History Month, WHYY is telling stories of black people who are breaking barriers in real time. This is the final story in the series. Read the third installment here.
—
It's almost like the script of an indie movie that resonates with more and more people as they read it.
It opens with Maori Karmael Holmes growing up, surrounded by art, in Los Angeles and Atlanta. Her mother was a playwright and a painter, and throughout her high school years, she would go to movies every weekend with her mom and her mother's then-boyfriend, who was an independent filmmaker.
"If my mom wasn't my mom, I still feel like I'd be her friend," Holmes said, remembering the frequent visits of her mother's friends — activists, educators, and artists.
Holmes went on to make a name for herself as the creator of BlackStar Film Festival, the international event based in West Philadelphia that primarily showcases work of people within the African diaspora.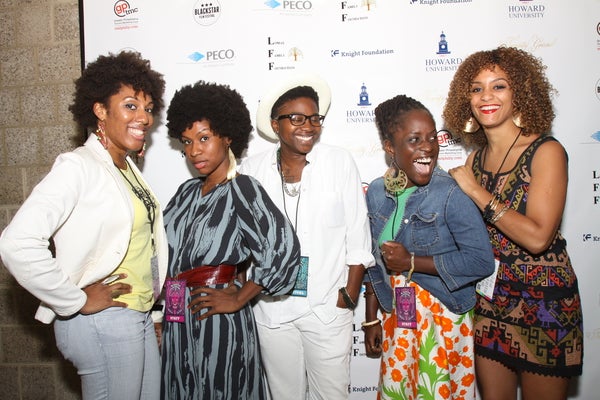 She emphasized the importance of having a diverse collection of viewpoints from various people of color to break apart any kind of monolithic outlook.
Attempting to meet that goal, the festival "is sheer necessity," Holmes said. "Even when a black person is showcased in a more mainstream festival, it's usually just one. There's no diversity in that."
An annual event since 2012, the festival sells about 7,000 tickets every year. People from all over the world flock to Philadelphia to see the films and take part in the discussions over four days.
It's blossomed beyond what Holmes ever anticipated.
BlackStar's beginnings
BlackStar is not Holmes' first festival: Black Lily Film and Music Festival debuted in 2007 and catered to women.
"It was hard," Holmes said. "It was like figuring out a plane while flying."
She wanted to keep it going, but the 2008 financial crash hit her hard.
It wasn't until five years later that she wanted to try again. She describes the initial idea of BlackStar as a "micro-festival," a one-day, hyperlocal Philadelphia event.
With so many submissions and the number of films created by people of color that never touched Philadelphia, however, the end result was a four-day festival with 40 films.
As it became better known, BlackStar began to expand its mission to include showing stories of people of color from all over the world. Many films are submitted from Arab and South Asian countries.
"When you see films from people of color around the world, you start to see parallels," Holmes said. "You start to see the parallels of colonization, enslavement, apartheid. We all have similar struggles. We have a social justice and intersectional lens."
Filmmaker Darius Clark Monroe met Holmes in 2014 while showcasing his feature documentary "Evolution of a Criminal." He goes to many festivals to show work, but BlackStar remains one of his favorites because of its unique mission.
"It's not Sundance, and it shouldn't be striving to be that," Monroe said. "It's different. It's for us."
Some artists who met at the festival have gone on to collaborate. Notable artists who have been featured include Ava Duvernay and Spike Lee.
"This is a family reunion," Holmes said. "This is where black and people of color filmmakers come to meet each other."
Keeping the festival alive despite challenges
Every year, however, it's a struggle to find resources. Holmes said it can be difficult for black people to break out in the business, especially since film is one of the most expensive art mediums.
"Every year, I'm exhausted," she said. "I'm raising this money from zero to 100."
It's a time-consuming and often solitary pursuit. A few people are able to help, but, for the most part, Holmes is looking for grants, looking for sponsors — anything to raise money.
Still, she said, festival-goers tell her BlackStar is "magical. People are touched by the experience."
She recalled a moment from last year when Oscar-nominated cinematographer Bradford Young and cultural organizer Rashid Shabazz gave a talk at her festival. At one point, Shabazz was expressing thanks for the festival, when he turned and said to Holmes, "Maori, the ancestors thank you."
"It was a moment that I thought I was following a purpose that was specifically suited for me," she said.
Nefertite Nguvu is another filmmaker who met Holmes back in 2007 during the Black Lily Film and Music Festival. Nguvu, who ended up winning best feature film for her independent work "In The Morning" in 2015, calls herself one of Holmes' biggest fans.
"Maori is one of those people that is just an incredibly hard-working person," Nguvu said. "There's so many people who want to make a film or make festivals, but she's one of the few who actually gets it done. She is so genuine, and if she is supporting something, she does it with her 1,000 percent."
She loves that Holmes is dedicated to promoting black films.
"Black cinema is important, what it means to me, as black folk, we are telling our own stories and that is incredibly important," Nguvu said.
What happens next
Holmes has a thriving filmmaking career of her own and it takes her all over the country and the world.
She just came back from Los Angeles about a month ago from doing other projects — and her calendar is booked throughout the year. She will curate a film program at the Whitney Biennial. She also has a show, Assemblage, that she's curating at the Pearlstein Gallery this spring, and she's participating in a conversation with artist Kevin Jerome Iverson about his films and the Institute of Contemporary Art Philadelphia's new exhibition, Colored People Time.
Meanwhile, Holmes plans to keep BlackStar going as long as she can. She hopes that one day there will be no need for the festival as the industry as a whole becomes more inclusive.
She'd like to start curating programs for emerging filmmakers of color and doing year-round programming. For young people, she likes the idea of summer intensives. She isn't sure yet what time of year would be a good fit for adult filmmakers.
She wants people of color in every avenue of production — cinematographers, set designers, makeup artists, producers.
"Eventually, I want there to not be a need for BlackStar because our voices would already be included [in the mainstream]," Holmes said.
The year's festival is set for Aug. 1-4 in University City at the Lightbox Film Center.
WHYY is your source for fact-based, in-depth journalism and information. As a nonprofit organization, we rely on financial support from readers like you. Please give today.