Philly first assistant district attorney devoted to keeping kids out of criminal justice system
Robert Listenbee Jr., a former official in the Obama administration, works to keep kids out of the criminal justice system through rehabilitation.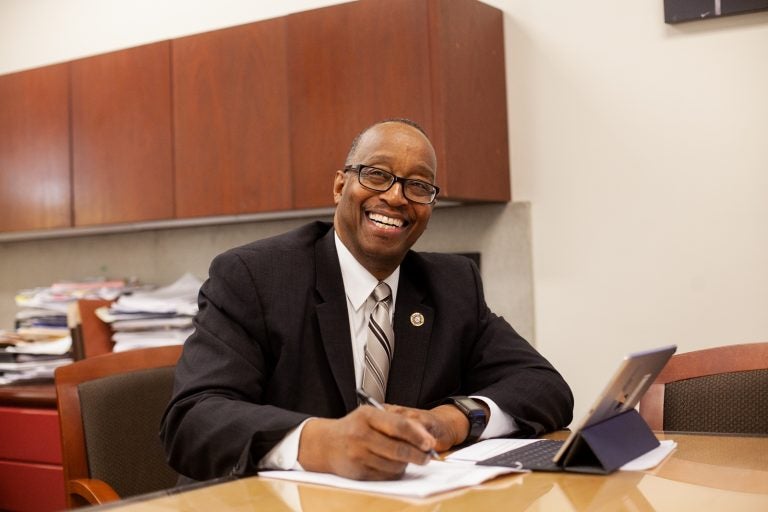 Instead of just focusing on historical figures, for Black History Month, WHYY is telling stories of black people who are breaking barriers in real time. Read the second installment here.
—
Although Robert Listenbee Jr. grew up poor in Michigan with an abusive father, he went on to graduate from Harvard, work in the Obama administration and now serves as the city's first assistant district attorney.
He is passionate about his specialty — juvenile justice.
And he has dedicated his life to "ending the punitive approach to youth justice" — detention in a facility.
He wants to see Philly move toward detention and out-of-home placement as a "last resort."
The road to law
Listenbee says that he grew up with two mothers.
"I have a white mom and a black mom," said Listenbee, who is black.
He's referring to his biological mother, his black mom, who was devoted to him. The white mom was a teacher, Hazel Persons, who encouraged him academically. She urged him to apply to Harvard, and he got in with a full scholarship.
Listenbee knew he was smart academically, but he didn't have a concrete plan growing up.
That uncertainty led to him to leave Harvard during his third year to teach underprivileged children in Kenya chemistry, math, physics, and English for about a year and a half.
He discovered during that time that he loved working with children.
When he finally came back to the United States, he completed his senior year at Harvard and went on to law school at the University of California Berkeley. Still, he wasn't sold on becoming a lawyer.
"I never wanted to be a public defender," Listenbee said. "I thought it was a huge waste of time."
His main motive, actually, was to become rich. He graduated from law school and went to extract oil in Alaska. It was extremely dangerous work, but it made him a wealthy man, he said. He eventually returned to be with his then-girlfriend, now wife.  He created a construction business that also enriched him, but it eventually went under.
Without many other options, he decided to become a public defender.
'The goal isn't always punishment'
"I believe in restorative justice," Listenbee said. "If we could figure out how to heal hurt people, we could stop the cycle [of violence]."
Restorative justice is a criminal justice reform approach focused on rehabilitation instead of punishment, and reconciliation with the offender's victims.
He recalled a 20-year-old case that solidified his passion for giving minors a second chance.
He was representing a teen who'd set out to rob someone but then shot the victim. The teen was convicted and sentenced to up to 36 years in prison. In an effort to reduce that sentence, Listenbee contacted the victim who, recognizing that his assailant was just a kid who'd made a mistake, came to court three times to support him.
"I was struck by the humanity," Listenbee said. "Even being wounded, he knew they were just children."
The judge ended up reducing the sentence to 10 to 20 years; that client is now out of prison and has started a new life.
"More often, people just want people to get straight," Listenbee said. "The goal isn't always punishment. People really do believe in rehabilitation."
That line of thinking made it easy for him to transition into his role as juvenile unit chief with the  Defender Association of Philadelphia.
In 1990, he became a host parent with A Better Chance, a nonprofit that placed underprivileged kids in more stable homes to help them get a better educational opportunity. At one point, he opened his own home to 10 children.
That experience solidified his belief that most people who end up in the justice system are not evil ﹘ that they've just missed the opportunities and resources so many others take for granted.
"I discovered they were all the same [as other children]," Listenbee said, referring to the children he and his wife cared for. "They just didn't have the same support. We need to wrap our arms around our children and let them know that we love them, believe in them and that we will never give up on them, no matter how big the challenges are that they face."
The Obama years
Listenbee was well into his career in 2013 when he began work in the Obama administration in the Department of Justice's Office of Juvenile Justice and Delinquency Prevention.
He applied on a whim and didn't think he would get the job.
"I knew nobody," Listenbee said. "I sent a resume, didn't hear back for seven months. I got a call, and they asked 'You want to work for the president?'"
He ended up working in D.C. for four years. While there, his focus was on juvenile justice reform policies and getting young people out of the criminal justice system.
After working for Obama, Listenbee figured he would resume work as a defense attorney. But that's when Philadelphia District Attorney Larry Krasner gave him a call.
Coming back to Philadelphia
When Krasner won the election in 2017 and settled into his role, he decided to appoint two assistant district attorneys, rather than just one. Krasner immediately had Listenbee in mind.
"I said no to him three times," Listenbee said. "The idea of being a prosecutor was foreign."
After numerous meetings with Krasner, though, he eventually took the job.
Listenbee said he believes in Krasner's vision of rehabilitation first and punishment second, as well as his dedication to ending mass incarceration.
What's more, Krasner promised him a platform to continue helping kids.
Next steps
Krasner and Listenbee set out to start a restorative justice program that includes community members from around the city to discuss solutions.
Philadelphia is beset with crime and mass incarceration, Listenbee said. More engagement among the community, law enforcement, and the justice system, he said, would mean less of both.
"There needs to be engagement," he said. "There needs to be healing. We know this will prevent crime. So little of our knowledge is implemented."
Most perpetrators are victims themselves, he said.
When kids are arrested and charged with misdemeanors and less serious felonies, they should be diverted to prevention and intervention programs to address underlying issues, Listenbee said. When those programs are complete, prosecutors should make it easier for a second chance by expunging criminal records that could bar future educational opportunities and employment.
Just like his two moms supported him on his road to success, Listenbee wants to be that person for the next generation. In any form, Listenbee said, his work will always be dedicated to kids.
WHYY is your source for fact-based, in-depth journalism and information. As a nonprofit organization, we rely on financial support from readers like you. Please give today.