How an activist family got a new park built in Logan Square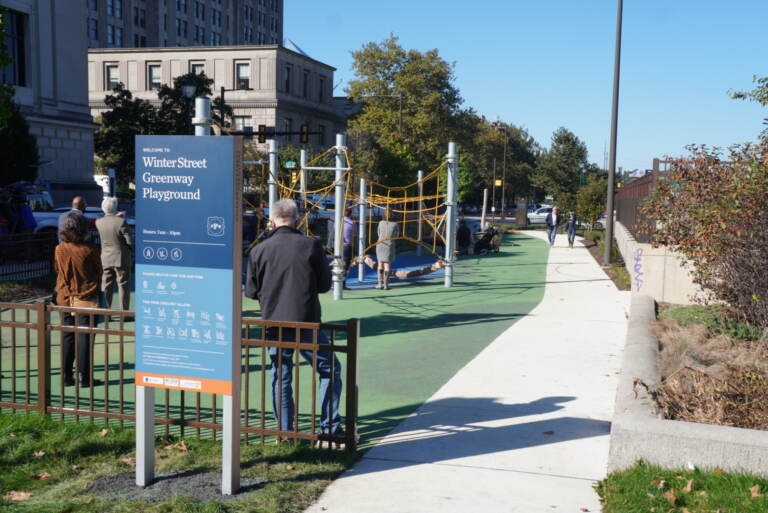 Logan Square resident Sarah Clark Stuart was busy raising two daughters and two very active dogs when she realized the neighborhood where they lived lacked something pretty basic to her family life. Despite living close to Fairmount Park and having more green space than many Philly neighborhoods, they didn't have a neighborhood park that met the community's needs.
Stuart and her husband Robert were no strangers to civic advocacy. Both were experienced organizers and advocates. Robert led the Logan Square Neighborhood Association for several years and fought for greater access to the Schuylkill River, among other causes. Sarah Clark Stuart now works as the Executive Director at Bicycle Coalition of Greater Philadelphia.
They began looking around their neighborhood to find open space available for reimagining. Knowledgeable about the levers of government, privileged and well-connected in the city, they were able to move forward with their project relatively fast. But not fast enough to evade tragedy.
Robert passed away as a result of cardiac arrest in 2011 before their dream could be realized.
But his legacy will live on. In October, the Logan Square Neighborhood Association and Philadelphia Parks & Recreation celebrated the grand opening of the $1 million Winter Street Greenway  and Rob Stuart Memorial Dog Park. 
For Stuart, the park represents more than just her late husband's legacy but also the work of Philadelphians citywide who have fought hard for green space in communities.
"Philly is very much a city made up by a group of very hardworking citizens and neighbors who really go above and beyond," Stuart said.
Here's how she got it done.
Stuart never would have been able to realize her idea without organizing with the Logan Square Neighborhood Association. Stuart attended the meetings on a regular basis. She began speaking with community members and leaders about the need for a playspace.
2.Pick a specific site to realize your dream — and be practical
City officials recommended Stuart look for available space where a playground could feasibly be built. The president of the Logan Square Neighborhood Association at the time suggested to Stuart that she should look at a block of Winter Street between N. 22th Street and the Ben Franklin Parkway, which had unused space.
3. Leverage relationships
Stuart used her experiences leading the Bicycle Coalition of Greater Philadelphia to connect with PennDOT and ask them to reconfigure the infrastructure of Winter Street.  Her personal and professional relationships allowed her to work with the agency to move curbs and create a new strip of turf where the playground and dog park could be built.
4. Seek support from your City Council rep, City Hall and the state
The only thing left was to raise money for the park's jungle gyms, hammocks, and benches.
"We began applying for grants immediately," Stuart said.
The process of applying for grants and getting answers took around two years.
Eventually, the Logan Square neighborhood group received donations for the park. The $1 million project won grant dollars from Council President Darrell Clarke, the Commonwealth of Pennsylvania's Keystone Community Program and Greenways Trails and  Recreation Program, and Philadelphia Parks & Recreation.
The neighborhood group began to hire an architect to design the dog park and playground. They hired Landscape Architect Julie Bush from a firm called Ground Reconsidered in Center City.
5. Be patient with the process. It could take longer than expected.
It took eight years for Stuart and her neighbors to get The Winter Street Greenway and Rob Stuart Memorial Dog Park.
"It's a wonderful new community space that is already bringing a lot of people together who may see each other walking their dog and they actually don't have the time to stop and talk with one another."
Stuart also expressed how happy and grateful she is to see the dog park named after her late husband.
"That was very special and lovely to be able to commemorate his memory and his legacy," she said.