Previous postcards: Detroit Part 1, Austin, China, San Francisco, Germany, Pittsburgh, New Orleans, New York City, Boston, San Antonio, Minneapolis, Detroit Part 2, Templehof, Chicago, Italy, St. Louis
Feb. 10, 2010
By JoAnn Greco
For PlanPhilly
Any city that relies on cars — that has oil as its fundamental industry, for gosh sake — is going to have to work extra hard to convince me of its urbanity. But spotting the words "Museum District" on the Houston map is what really raised my hackles.
To be fair, that designation is relatively new. Sixteen-and-counting (a new Asia Society is set to open in 2011) museums are gathered within a 1.5 mile radius in a large area that also includes Rice University and the Houston Zoo. Rebranding wards with simplistic names — "Midtown," for example, used to be the 4th Ward — is, in effect, a strategy for this sprawling 600-square-mile municipality to take advantage of its numerous neighborhoods of distinct character. Just about every other person spouts terms like "walkable," "mixed-use," and "infill," and turning Houston into a cohesive place that befits its status as the nation's fourth largest "city" seems a priority.
Historic District
Still, a city takes it cues — begins and ends, really — with its downtown. At first glance, Houston's is certainly well-established, a clear product of its mid-century successes. There's a small "historic district" of 19th-century buildings and a handful of early Deco skyscrapers (one transformed into the Hotel Icon, another into an apartment complex), but they are overwhelmed by a glass skyline that has huge buildings brushing shoulders with each other.
This is a downtown of Philip Johnson and I.M. Pei and Cesar Pelli, of wide sidewalks set in a 2-square-mile area ringed by freeways that emerge from equally wide streets. It's a downtown with, of course, two sports venues; and a downtown of a regrettably brutalistic handful of performing arts centers.
Hotel Icon, a recent example of adaptive reuse

Some 150,000 people do work here, and a diverse bunch they are. City materials boast that 90 languages are spoken in Houston, and that aside from housing the expected third-largest Hispanic population in America, generations of Asians have also come here, spurring the development of not one but two Chinatowns.
On nice days a few of these folks actually come outside to enjoy shopping at the new Houston Pavilions mall — erected in 2008 to combat the incredible assemblage of strip malls, lifestyle centers and mixed-use retail developments that extend west of downtown — or mingling at an intersection recently branded as Main Street Square.
Main Street in Houston is still home to the occasional throwback
But to find the other 149,500 people at lunchtime, it's necessary to enter one of downtown's six miles of winding "tunnels." Who knew? As in Atlanta, swarms of office workers fill the underground halls, built to provide relief from the oppressive summer heat. They pass by dozens and dozens of eateries and prosaic shops (drug stores, shoe repairers, newsstands). It's a pretty astounding difference from up above, and not a bad model for Philly's mostly-sad concourses, which are a languishing asset.
Street life is ultimately what matters, though, and Houston's downtown is, it scarcely needs to be said, trying to transform itself to be more than just business. Its first new downtown high-rise luxury apartment residences in four decades is due to open later this year. It promises 346 units on floors 8 to 37, with parking on the other stories, and 20,000 square-feet of retail space on the pedestrian level. Nearby, a complete residential renovation is scheduled for the Nabisco Cookie Factory/Purse Co., a landmark on the national register.
Both buildings are benefitting from a new 12-acre, LEED-certified park, Discovery Green, a public-private effort planned with the help of Project for Public Spaces and the input of Houston residents via a series of public meetings. It lays a carpet of green over the site of two former surface parking lots (parking has been buried), and is strategically located in front of the George R. Brown Convention Center and between Minute Maid Park baseball stadium and Toyota Center football dome.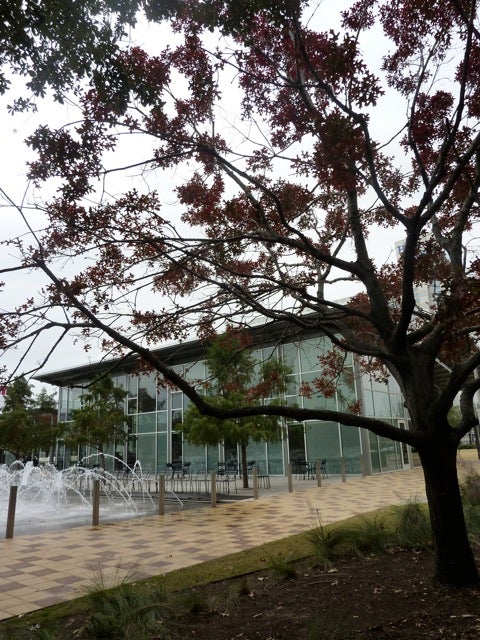 Discovery Green
Houston's a place where no little plans are made. Built for the rather astounding sum of $125 million (smaller, less amenity-laden new parks in other downtowns have clocked in at a fifth of the price) and opened last year, the park features transported 100-year-old live oaks, two restaurants, a playground, stage, bocce court, dog run and, model boat pond/ice rink. It's a prime example of how investment can transform a neighborhood.
Also opening on the park this year: a new Embassy Suites Hotel and a 31-story Class-A office tower. "I was sitting eating lunch here one day," muses Susanne Theis, the park's programming director, "when it dawned on me that aside from the spires of the Annunciation Church ([1869] and the Convention Center itself [1987], nothing within site of the park is older than 20 years."
Theis says the park's been a beehive of activity, presenting some 400 events in a year. How? "I think it speaks to our vital cultural community and the ability for us all to form partnerships," Theis says. "There's also an inherent frustration for a lot of these organizations," she continued, "since Houston is so spread out. People are looking for opportunities to get themselves before new and diverse audiences." And come they have, to the tune of more than a million visitors, 30 percent of them from the distant suburbs and out-of-town. The kicker, says Theis: "weekends have proved to be the most popular days. We weren't expecting that at all."
Still, one gets the feeling, most of the action is in the neighborhoods that extend to the south and west of downtown. Although it is the closest — with contiguous streets that make it theoretically possible to walk right into downtown — Midtown is the newest. This stretch was the first to suffer as folks abandoned downtown living. Now people like Matthew Stovall, a certified architect who works with developer Crosspoint Properties, are driving change.
Stovall relays a story that he thinks is telling. "Four years ago, we spoke with a very reputable residential developer about a joint venture where we would build the retail space," he says. "He ultimately decided not to proceed, mainly because he couldn't get comfortable about developing a top-of-the-market residential tower in an area where there was too much unpredictability as to what would be built on the surrounding vacant tracts."
Photo by Dr. Julie Tuason
It was a point well taken; and so, like many in town, wary of the city's notorious lack of zoning codes, Crosspoint took prescriptive measures. "We bought the adjacent tracts," says Stovall, "and named the area The Mix @ Midtown and built an upscale three-story building that is now 85 percent leased, with a health club, restaurants, and retail. We also," he continues, "renovated the four-story building across the street and it's now occupied by a cool and eclectic home furnishings store."
Finding such a tenant was easy in this case, Stovall admits, since the owners are related to Crosspoints' principals and have a fabric business nearby. "As long-time stakeholders in the area, we [Crosspoint] will eventually develop the remaining vacant tracts or sell them to those who can continue to help catalyze the area," he adds.
While the results of Houston's no-zoning policy are obvious everywhere — churches and tattoo parlors on the same streets, high rises right in the midst of some of the toniest residential neighborhoods — the effect keeps things surprising and rough edged in a way that downtown can't touch. And, in a lot of ways, it's a familiar look to a Philadelphia eye, since our use-based code is rife with variances.
For developers, "not having zoning contributes to Houston's affordability because the shorter regulatory process and fewer restrictions on land-uses translate into lower costs to build," Stovall says.
And while he bemoans the "lowest-common denominator" design approach that can arise, Stovall says that he believes the city is slowly moving toward form-based codes that will address issues like sidewalk widths, building frontage, density, shared parking, and setbacks.
"Adding amenities, convenience and walkability to Midtown will help retain and grow the residential base and will reinforce the neighborhood's reputation as a dining destination," Stovall concludes. Currently, some 20,000 people call this 100-square-block neighborhood home, and the area's renovated lofts are also proving attractive to those much-sought-after creative and knowledge workers who can't afford downtown's Class-A office digs.
Adjacent to Midtown is the neighborhood of Montrose, recently cited as one of America's "Great Places" by the American Planning Association, thanks to its historically-certified residential enclaves and lively retail strips. This area merges with Washington Avenue, a patchy and unprepossessing 1/2-mile corridor of wine bars, honky tonks, and dance clubs — interspersed with empty lots — that have opened in the middle of nowhere, seemingly out of nowhere. Five years ago, real estate here averaged $3 a square foot, today it's more like $50.
Believe it or not, Washington Avenue is a hopping nightclub district
Further west are the swanky residential areas like River Oaks, then "Uptown," where the historic Galleria Mall is surrounded by newer "lifestyle centers." Still beyond, is the just-opened mixed-use "City Centre" (that "re" is pure Houston), a Piazza at Schmidt's on steroids that's so named because developers believe (hope?) that in 20 years Houston will have sprawled so far that this — some 15 miles from downtown — will be its new geographic center.
City Centre map
Residents scoff at the notion, though, and it's not hard to see why. With so many inner ring neighborhoods doing perfectly fine, and a downtown that is well-established, there's no need to drive quite so far out.
Houstonians may love their cars — but love their city pleasures, too. They revel in their funky melanges of ugliness, and they take pride in their lush neighborhoods and stunning skyline. It's a hard town for an East Coaster —nursed on walking, walking, and walking — to get a handle on. But it's not one to be written off.
Contact JoAnn Greco, ASJA, SATW, at www.joanngreco.com
Check out her new online magazine, TheCityTraveler at www.thecitytraveler.com