House explosion in Lower Township, N.J. injures two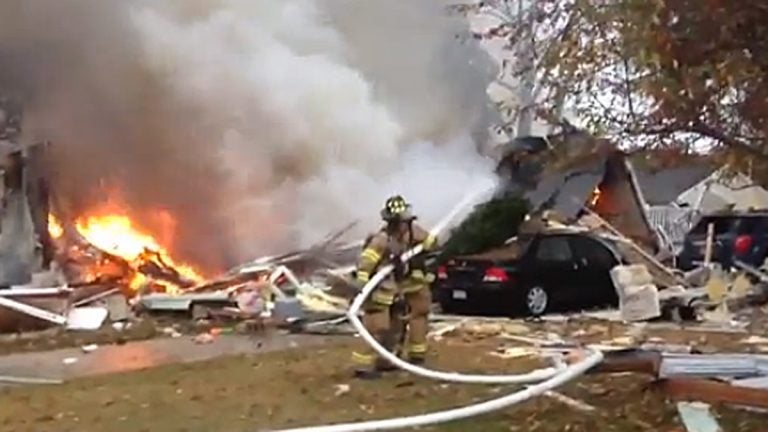 A husband and wife are seriously injured after a house explodes in Lower Township, Cape May County.
"It was a horrific explosion," said Lower Township Mayor Michael Beck who lives about 150 feet away and heard the explosion just before 4 p.m. on Thursday.
"I heard the explosion and we came over here and it was a large fire, building completely flat, car next to it on fire," said Beck. "It's totally demolished."
A woman, who lives on East Atlantic Avenue, down the street from where this explosion happened tells NBC10 that she watched the couple get taken away by emergency crews.
"I seen 3 or 4 people carrying a woman, an elderly woman, down the street towards the ambulance that was coming up the street, " said Jamie Swindell. "Then about 2 minutes after that, I seen a wheelchair coming down the street and the husband was in the wheelchair and they were both in really bad condition."
John Babbitt, who also lives in the neighborhood, says he didn't see what happened, but he definitely felt it.
"My whole house just shook," said Babbitt. "I didn't know what it was. I thought it was an earthquake for a second. Then I saw a bunch of fire and smoke."
Lower Township Police say the husband and wife are in their mid-60s and suffered serious burn injuries. The husband was in the shower when the house exploded, according to the Township Manager, Mike Voll, who described this as a big shakeup for the neighborhood.
"It was quite an explosion, you could feel it a mile away," said Voll. He also says they were initially concerned because gas lines were recently installed in the neighborhood, but the police chief and fire officials assured him it was contained to this one home.
"The man appeared to have some burns on his feet and he had a blanket wrapped around him and had some burns on his face," said Swindell.
Mayor Beck thanked some local heroes in the neighborhood for springing into action to help the couple.
"The people from the neighborhood, the people who live here including an off-duty police officer, went right in and pulled the wife out," said Beck. "Once they found out where the husband was supposed to be, they went back in and got the husband out of there."
Nearby homes and adjoining blocks were evacuated, but Voll says those residents have been allowed to return home.
Fire inspectors are at the scene working to figure out the cause of the explosion.
____________________________________________
NBC10 is a content partner with NewsWorks.org.