Philly's summer tourism season opens with storytellers in the historic district
Six benches around Philly's historic district entertain passersby with tales from American history.
Listen
1:18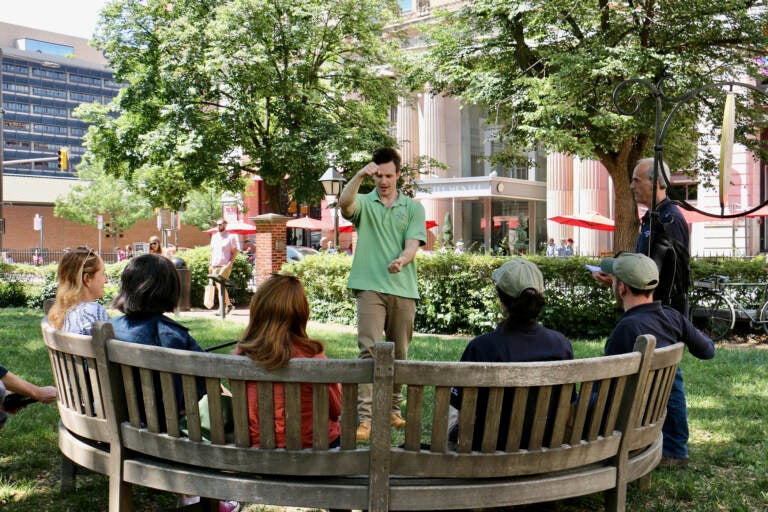 ​​As the summer tourism season begins this weekend, Philadelphia's Old City historic district will be re-populated with dramatic storytellers.
Six wooden benches installed in the area around Independence National Historical Park feature uniformed performers who inform and entertain pedestrians who pause and sit for a story from history.
Ken Sandberg tells a story about James Forten, a free Black man who grew up in Philadelphia during the Revolutionary War. At 14 years old, he joined the crew of a privateer ship, which was captured by a British warship.
Assuming he was a slave, the British captain offered Forten freedom if he joined the English side.
"So James looks this captain in the eye and he says, 'I have been taken prisoner for the liberties of my country and I will never prove a traitor to her interests,'" said Sandberg. "This grandson of a slave had always been a free man. But he's also an American and proud of that. Which means now he's a prisoner."
After seven months as a prisoner, Forten was released. He returned to Philadelphia and became a major manufacturer of ship sails and one of the richest men in America at that time. The life of Forten and his descendants is the subject of an exhibition at the Museum of the American Revolution. Next month, the museum will host the premiere of WHYY's "Black Founders: The Forten Family of Philadelphia," a 26-minute film that tells the family's story. It will debut on WHYY-TV on Monday, June 19 at 7:30 and 11 p.m.
Forten's story is one of hundreds on file with Once Upon a Nation, a storytelling project of Historic Philadelphia, Inc., the non-profit that also operates Franklin Square, the Betsy Ross House, and manages the costumed historical characters that roam the historic district.
Sandberg has been performing with Historic Philadelphia since 2008 and is considered a "master" by artistic director Geoffrey Berwind, who prepared Sandberg for the summer 2023 season.
Berwind carries a thick, 3-ring binder of pages with stories from history, each marked up with notes. He works with his staff of performers to constantly re-assess the stories: some get retired, some brought out of retirement, some re-written to make them punchier.
"Not all stories are created equal. We've got to see how people are relating to them," Berwind said. "The storytellers on the front lines doing it all summer, they're able to see what's working, what's not working. Every time we roll out a story, we look at it fresh."
Visitors to the historic district can expect to hear stories about, for example, Henry "Box" Brown, an enslaved Black man in Virginia who put himself in a shipping crate and mailed himself to freedom in Philadelphia. They'll also hear of Lila, a fox terrier owned by British general William Howe, which during the fierce Battle of Germantown accidentally crossed the battle line into the camp of General George Washington, who promptly returned the dog to his enemy with a hand-written note:
"General Washington's compliments to General Howe. He does himself the pleasure to return him a dog, which accidentally fell into his hands."
Visitors may also hear the story of the 18th century botanist William Bartram, who while exploring the flora of St. John's River in Florida in 1774 fended off an attacking alligator.
The storyteller acts out the fight, blow-by-blow.
"Kids love it," Berwind said. "When appropriate, the storyteller will size up the audience and all of a sudden pull up the dad. And the dad is the alligator and everybody's giggling and laughing."
Part of the job of the storyteller is to read the audience: Are there children? Are they leisurely strolling, or just making a quick stop while on the go? Are they from another country? Are any of the listeners not conversational in English?
Storytellers are trained to deliver each story in one of at least three versions, depending on the situation. They also must get up on their feet to perform the story physically.
"What we often will have is a family where one person speaks English really well and is acting as interpreter for an entire family, who's here from Italy or wherever," Sandberg said. "The movements become extra specific. You become hyper aware of the movements. There are ways to slow the story down and tell it in a simpler sentence structure that makes it easier to translate."
Storytellers can also serve as visitor ambassadors, offering advice on where to get lunch, where other attractions are, and point out bathrooms.
Historic Philadelphia is also launching a new walking tour for summer 2023, featuring costumed performers representing Bishop Richard Allen, founder of the African Methodist Episcopal (AME) Church, brewer Robert Hare, the first person to brew porter beer in American, and James Forten.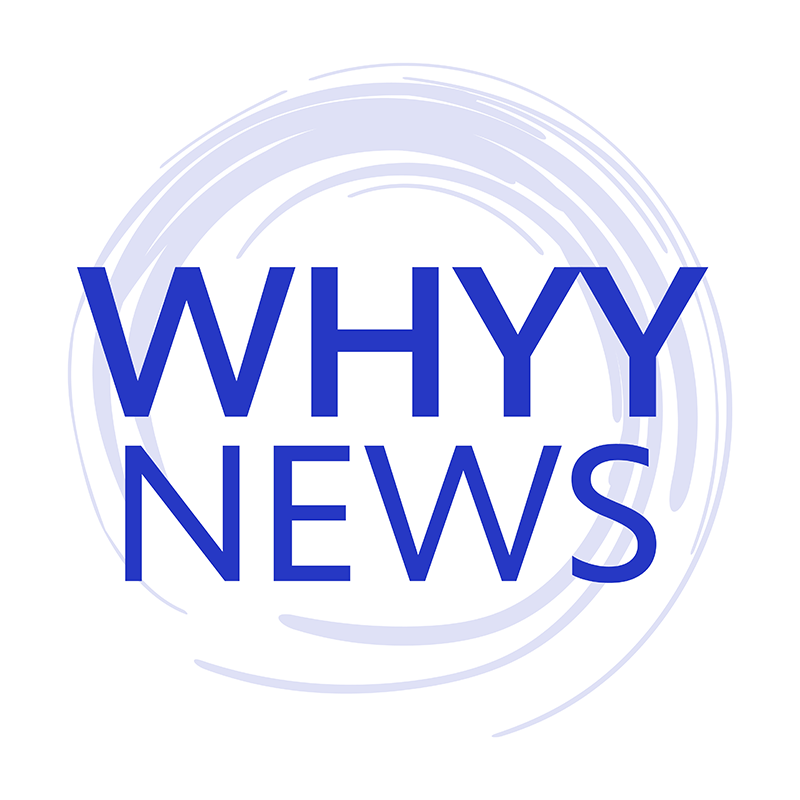 Get daily updates from WHYY News!
WHYY is your source for fact-based, in-depth journalism and information. As a nonprofit organization, we rely on financial support from readers like you. Please give today.