Historian, friend remembers Bruce Conner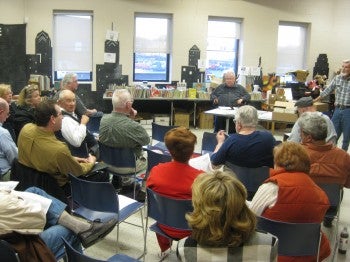 Bruce Conner passed away last week following a car accident late last month. In the passage below, his friend and fellow historian, Jack McCarthy, remembers Bruce.
The Northeast Philadelphia history community suffered a major loss with the recent death of local historian Bruce Conner. Bruce had been in a coma following an auto accident in late February and died on March 9th. The accident occurred as he was driving home from one of the many local history meetings he regularly attended.
This particular meeting concerned an effort to save a historic house in the area, something Bruce was particularly passionate about. His passing, together with that in late 2009 of Harry Silcox, another key figure in the Northeast Philadelphia history community, leaves a huge voidin that community. Both Harry and Bruce made great contributions to our local history and both were remarkable men, although in very different ways.
Harry was a public figure, a charismatic leader who held several high-profile positions: principal of Abraham Lincoln High School, founder and director of the Pennsylvania Institute for Service Learning, well-known author and lecturer. His great contribution to Northeast Philadelphia history was in popularizing that history for the general public and bringing together a wide range of people to work collectively on documenting and celebrating it.
Bruce was more low-key in his approach. While he didn't have Harry's notoriety, his contribution was significant nonetheless and his personal story nothing short of inspirational.
I first met Bruce in 2007 when I was working for the Historical Society of Frankford. Harry Silcox and I were developing local history projects for the Society and exploring ways of bringing together the many people who were then involved in Northeast Philadelphia history, but who were working mostly independently and in isolation from each other.
To bring these diverse local historians together, we formed the Center for Northeast Philadelphia History. Under the auspices of the Historical Society of Frankford, the Center was designed as a consortium of local historians and historical organizations whose purpose is to work cooperatively on preserving and promoting Northeast Philadelphia history. We had our first meeting in November 2007 and it was clear from the start that there was considerable support in the local history community for such an organization.
Three and a half years later, the Center is still going, although now under a different name, and continues to serve as an effective network for these interested citizens. In 2009 Preservation Alliance for Greater Philadelphia recognized the Historical Society of Frankford with its Community Action Award for its role in establishing and sponsoring the Center. In 2010 Center participants decided to spin off from the Historical Society and become an independent organization with a new name, the Northeast Philadelphia History Network. The NEPHN meets on a monthly basis and we encourage all who are interested in Northeast Philadelphia history to join us.
Bruce Conner had a longtime interest in the history of Bustleton (where he lived), Somerton, and Byberry and was an early and eager participant in the Center/Network. Over time, he would become its prime mover. At one of our early meetings we appointed him "Secretary." This was done somewhat in jest, since we were, and still are, a loose-knit group with no officers or formal membership. But Bruce took on the role with relish. He soon became the lifeblood of the group, maintaining the contact list, planning meetings and events, sending out notices of history events in the area, forming alliances with other history organizations, and – one of his keen interests – mobilizing the local history community when a historic building was threatened. The latter role is, unfortunately, one that he found himself fulfilling many times.
A few years ago he created the Friends of Lower Dublin Academy in an attempt to save this important 1798 building, one of the most historic – and endangered – structures in Northeast Philadelphia. Currently a burned out hulk at Academy and Willits Roads, the fate of the Lower Dublin Academy is uncertain at this point.
It was following a meeting to save another local treasure from the wrecking ball, the 300+ year old Heidelberg-Kerlin farmhouse in nearby Cheltenham Township, that Bruce had the accident that eventually took his life. The Heidelberg-Kerlin Farmhouse faces an uncertain fate as well, although Bruce's efforts have helped to at least delay its demolition for a while. In addition to all of these activities, Bruce served in leadership capacities in numerous organizations: Trustees of Lower Dublin Academy, Friends of Poquessing Creek Watershed, Historical Society of Frankford, Northeast Philadelphia Hall of Fame, and others. He wasn't just a warm body at these organizations either; he played an active role in their affairs, always looking for ways to help them better fulfill their missions.
As important as Bruce Conner's contributions are to Northeast Philadelphia history, they are only part of the story, and not really the best part. For Bruce's personal story is compelling. His life represents one of those quiet yet heroic struggles that remind us of the strength of the human spirit and the importance of persevering in the face of obstacles, even huge ones.
When Bruce was 16 he dove into a swimming pool whose water was too shallow and suffered a severe spinal injury. Paralyzed from the waist down, and with only limited use of his hands, he nevertheless managed to live an active life and to make a real contribution to society. With his motorized wheelchair and specially-equipped van – the console of which looked like the cockpit of a 747, with an array of levers and switches that allowed him to drive totally by hand – he had a remarkable degree of independence. He got a degree from Holy Family University, had many interests, was gainfully employed for years at the Naval Depot in Lawndale, and was able to go, on his own, pretty much anywhere that was handicapped accessible.
In my three and a half years of working closely with Bruce, often having extended conversations with him on a daily basis, he was unfailingly positive and upbeat, always pursuing some local history issue with enthusiasm. I am sure that it was often a tremendous struggle for him just to get through the day, and that he had constant medical complications to contend with, but you would never know it by talking to him.
It is ironic that many of the buildings Bruce worked so hard to preserve were places that he himself could not access. When History Network members would tour a historic building, Bruce would often have to wait outside because it was not wheelchair accessible. He would do so patiently, with no trace of bitterness, just a quiet acceptance of his circumstance. When I find myself getting overly upset with life's inevitable annoyances, I tell myself "if Bruce Conner can stay positive with all that he faces then I certainly can learn to be a little more patient."
He was a role model for me in that sense, and I suspect for many others as well. It is a testament to Bruce that those of us who worked with him regularly basically forgot about his disability and just considered him a colleague, someone who had physical challenges we had to work around, but who was in every sense an able partner.
With Bruce Conner's passing the Northeast Philadelphia history community has lost a great champion, while those of us who knew him have lost a dear friend. Hopefully, we can carry on the work that was so important to him and, what would be even better, adopt some of his spirit and determination. Jack McCarthy is Director of the Northeast Philadelphia Hall of Fame and former Archivist for the Historical Society of Frankford. For more information on the Northeast Philadelphia History Network visit its website or send an email to nephillyhistory AT gmail.com.
WHYY is your source for fact-based, in-depth journalism and information. As a nonprofit organization, we rely on financial support from readers like you. Please give today.