Gunman targeted Philly cop but we still don't know why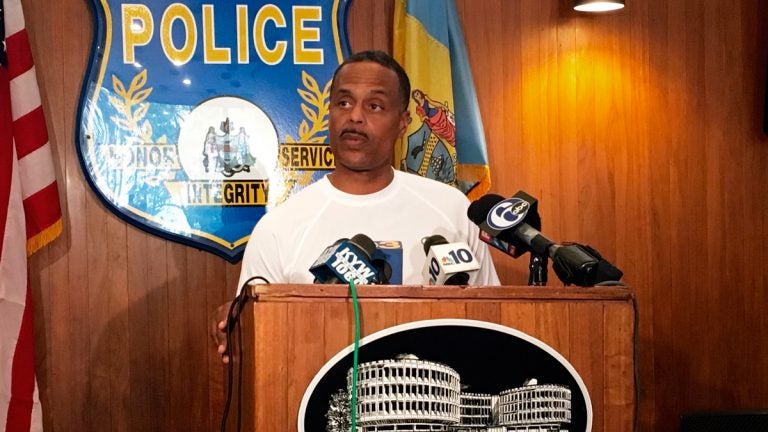 Late Friday night a 25-year-old man ambushed a Philadelphia police officer and then went on a shooting rampage that left one bystander dead and injured four others, authorities said.
Police identified the shooter as Nicholas Glenn and said he has an extensive criminal history. They did not name a motive, but said they found a letter on his body that indicated he wasn't "particularly fond of the police department," according to Philadelphia Police Commissioner Richard Ross.
Sequence of events
The bloody assault began around 11:20 Friday night when Glenn approached Sgt. Sylvia Young's squad car at 52nd and Sansom Streets in West Philadelphia and opened fire without warning or provocation, police said. Glenn, carrying a 9 millimeter semi-automatic pistol and a plastic bag stuffed with live rounds, fired 18 times at Young. Two shots struck her service weapon while others hit her arm and torso. One or two bullets lodged in her bulletproof vest, Ross said.
Young, 46, survived the hail of bullets. Ross called the officer's survival "miraculous."
After shooting Young, Glenn fled east down Sansom Street, stopping at bar called the Maximum Level Lounge. There he spotted a 41-year-old bar manager and a 41-year-old barmaid standing in an open doorway. Glenn fired five times, wounding both.
Continuing east, he came upon a white Nissan traveling toward the corner of 49th and Sansom Streets. He fired on the two people inside the vehicle, striking a 36-year-old man and 25-year-old woman. The man was originally listed in critical condition, but is expected to survive. The woman died from her injuries.
Glenn's spree ended in a nearby alleyway where he exchanged fire with responding police officers, authorities said. He hit one officer, a University of Pennsylvania policeman named Edward Miller. Miller survived wounds to his hip and leg.
Glenn was eventually killed by police at the scene. In all, he fired 51 times before he was pronounced dead, according to police.
The shootings happened just a mile from a similar incident that took place in January. Edward Archer, a man who allegedly pledged allegiance to ISIS, ambushed Philadelphia police officer Jesse Hartnett, according to authorities.
'Rambling' letter hard to decipher
Ross indicated that Friday's shooter had no known affiliation with terrorist organizations and appears to have acted alone. Glenn isn't connected to the victims, Ross said, and it's unclear why he acted.
The only clue police have discussed publicly so far is a note found on Glenn's person after police killed him. The note was tucked inside an envelope that read "doomed," according to Ross. A later police press release said the envelope was titled "doomed people."
Ross described the letter as rambling.
"I've been told repeatedly that it was a bunch of rantings that was tantamount to nothing but rambling," Ross said at a press conference. "Apparently it wasn't the most lucid letter and so it's very difficult for investigators."
Ross did say the letter mentioned a grudge the shooter had with his probation officer and expressed dislike for the police department. Asked if the letter mentioned race relations or community-police relations, Ross said he didn't believe so.
Long criminal record
Glenn was "well known to the police department" because of a "significant" criminal past, Ross said. Ross didn't detail Glenn's history with law enforcement. Court documents for a man named Nicholas Glenn–who is listed in the documents as 25 years old–detail a laundry list of allegations dating back to 2009. They included charges of rape, sexual assault, robbery, and kidnapping–many attached to a single arrest in November of 2009. He was also arrested at least nine other times, according to court documents. Many of the charges were related to drug possession and distribution.
His initial target, Sgt. Young, is a 19-year veteran of the Philadelphia police department. She's assigned to the 22nd police district–which covers part of North Philadelphia west of Broad Street–but was in West Philadelphia because the police had identified the area as a crime hotspot that required extra patrols.
The other officer injured, Edward Miller, 56, had been on University of Pennsylvania's police force for two years. Prior to that he spent 33 years with the Philadelphia Police Department.
The police have yet to release details about the civilian victims beyond their ages and genders.
What neighbors heard
Andrea Whitefield, owner of the Maximum Level Lounge, said the bar's manager, who she identified as Marty Washington, was one of those wounded. She said he was hit in the leg, but as of Saturday morning was in good spirits.
The bar door at Maximum Level Lounge normally would have been closed, said Whitefield. But the bar was hosting a "dashiki party" that night and wanted guests to enjoy the pleasant weather.
"If the door had been shut like we always keep it shut it might have been different," she said with a shake of the head.
Bacia Clark lives on the 5100 block of Sansom, in between where Glenn allegedly shot Sgt. Young and the Maximum Level Lounge. She said she heard the gunshots and ran to her front door, only to have passing police urge her back inside.
On Saturday morning, about 12 hours after the carnage, the sidewalk outside her home and the nearby lounge was still splattered with blood. To help clean up she carried buckets of soapy water from inside her home and tossed them onto pools of blood that had collected in the gutter.
"It shouldn't be like that," she said. "I don't even want my son out here now."