Gov. Carney's State of the State speech focuses on economy, education
Listen
1:51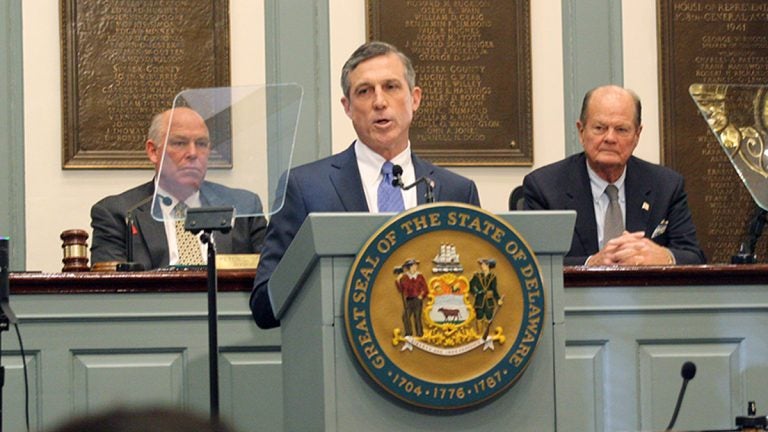 Gov. John Carney, D-Delaware, delivered his first State of the State speech (you can read the full speech here) on Thursday, which focused on jobs, education and how to address the state's budget shortfalls.
Last year, the governor gave his first address to the General Assembly, which was tasked with addressing a $400 million deficit.
Carney began his State of the State remarks reminiscing on those first days in office — and the steps taken since.
"I knew that if we worked hard and worked together, we could make our state stronger, and better prepared for the future. And we have," he said.
"I said then, and believe today, that more work needs to be done to ensure our long-term financial sustainability."
Much of Carney's speech focused on the importance of blue-collar jobs, as well as the need to make the state more business-friendly.
He touted progress over the past year to improve the economy, such as creating a new state division to provide resources to small businesses and modifying the Coastal Zone Act to allow for the redevelopment of abandoned industrial sites — a task that was highly controversial.
Carney said he hopes the General Assembly will pass the Angel Investment Tax Credit, which aims to increase capital for Delaware startups and help entrepreneurs grow their businesses.
He said in the coming weeks, his administration will present a plan for a new public-private partnership to invest in the port, including a new port facility at Edgemoor.
"These good-paying jobs stabilize families, and the neighborhoods where they live," Carney said. "Creating more port jobs is key to the economic success of our state."
He also honed in on the importance of skills training in schools, colleges and communities, so Delawareans are better prepared for well-paying jobs that are readily available.
"When employers are deciding where to locate, we know that the No. 1 thing they're looking for is a highly skilled workforce," Carney said. "And the states with the strongest workforce are the ones that will win in the years ahead."
State Rep. JJ Johnson, D-Wilmington, said he was hoping to hear more about the state's commitment to criminal justice reform.
"One of the reasons why we had instances like the one last year at James T. Vaughn is, in a lot of instances, we have the overcrowded prison system, we have mass incarceration, and we need to address that," he said.
Carney expressed pride in efforts to provide opportunity grants to low-income students, English language learners and students afflicted with trauma.
He said he wants the state to direct more funds for the opportunity grants that will more than triple the number of grant recipients.
In addition, Carney said his recommended budget will include funding to the STARS program, which works to improve the quality of education for low-income students, and a plan to hire close to 200 new teachers statewide to match enrollment growth.
The governor's recommended budget also will include resources to improve issues at schools in the Christina School District.
The district's school board has not yet approved his plan to close three Wilmington elementary schools, and place those students into a separate elementary school and a middle school, which will serve kindergarten through eighth-grade students.
In his speech, Carney said he's rallying for smaller class sizes, more professional development opportunities and an early learning center.
"Our budget will target resources where they're needed most — in the classroom," he said.
State Sen. Margaret Rose Henry, D-Wilmington, said she was pleased with the governor's commitment to education.
"This is my 23rd budget address, and I'm so excited that our governor understands the importance of putting an emphasis on education and services for children of Wilmington," said Henry who, retiring after this year, was thanked for her service.
"That's been my passion since I've been in office, which is to serve my community, and the children in Wilmington have suffered a long time academically."
The governor's speech also plugged the state's efforts to increase correctional officers pay, something Carney promised to do when he first took office.
He also said the state is working to improve conditions at prisons, including installing security cameras at James T. Vaughn in Smyrna, where a February prison riot resulted in the death of correctional officer Lt. Stephen Floyd.
"I made a commitment that the Independent Review report will not collect dust on a shelf. It has not. And it will not," Carney said.
When discussing the state of Delaware's financial affairs, he said more work is needed to address concerns about the state's long-term growth rate for state spending is two times the growth rate of its revenues.
"The budget-smoothing task force is considering several good ideas to bring more fiscal discipline to our spending patterns. For the long term, we need structural spending reform, just as we need structural revenue changes," Carney said. "And, this is important. We cannot build new ongoing spending on top of one-time revenues. It's just not responsible, and we can't allow it, no matter how compelling the cause."
The state spends 30 percent of its budget on healthcare costs, and Carney said it will more than double over the next decade.
"Here's the bottom line. We're spending too much money on healthcare, and not getting the best results. We all need to come to the table — state government and hospitals most of all — and be part of the solution," he said.
"The hospitals and other providers have been laying the groundwork for this effort for years. Now it's time to make some hard decisions, and change the way we deliver healthcare."
State Rep. Mike Ramone, R-Middle Run Valley, said he agrees with Carney that education and improvements at the Smyrna prison should be top priorities for the state.
He said he remains positive about the state's financial situation, despite last year's experience of coming to a consensus on the budget after the state deadline.
In December, the Delaware Economic and Financial Advisory Council found the state will have about $24 million more to spend next fiscal year, but those are one-time funds.
"The governor has the experience, he's been here before in other capacities, so he knows what needs to be done and how it needs to be done, and I believe the optimism that we have a little bit more income to work with, and we have an environment where we can do some really good things was positive," Ramone said.
"I think he did a nice job of not trying to be partisan, I think he was inclusive, and quite frankly, we got to start this year off working together much better than we finished last year off."
However, State Sen. Greg Lavelle, R-Sharpley, said he's concerned how the state will be able to pay for all the new programs mentioned in Carney's speech.
"I certainly won't miss next Thursday when the budget presentation is done," he said.
"What I heard, was control spending, get spending under control, no one-time dollars into ongoing programs, and they all are worthwhile programs, and then rolling out probably six to 10 new programs, including what I heard was a state-employee pay increase, so I don't know how you do that given our fiscal situation. Maybe the governor has some ideas how to do that. And I look forward to hearing that next Thursday."
The governor also spoke of the importance to combat the heroin epidemic, reducing violence and poverty in Wilmington and improving the work environment and diversity in state jobs.
"This past year, we were faced with our fair share of challenges. But they did not shake our resolve to get things done. And they will not going forward," Carney said.
"We won't always agree on the solutions, but we can all agree on the goals. To make our economy stronger. Our health care system more effective. Our communities safer. Our state workforce strong and stable. Our children more ready to compete for the future. Working hard and working together, we can and we will get this done."
Staff reporters Mark Eichmann and Nichelle Polston contributed to this report.