GoFundMe benefit scheme: Couple charged, homeless man in custody
It's not exactly clear what happened with the money, though Bobbitt's attorney has said it's all gone.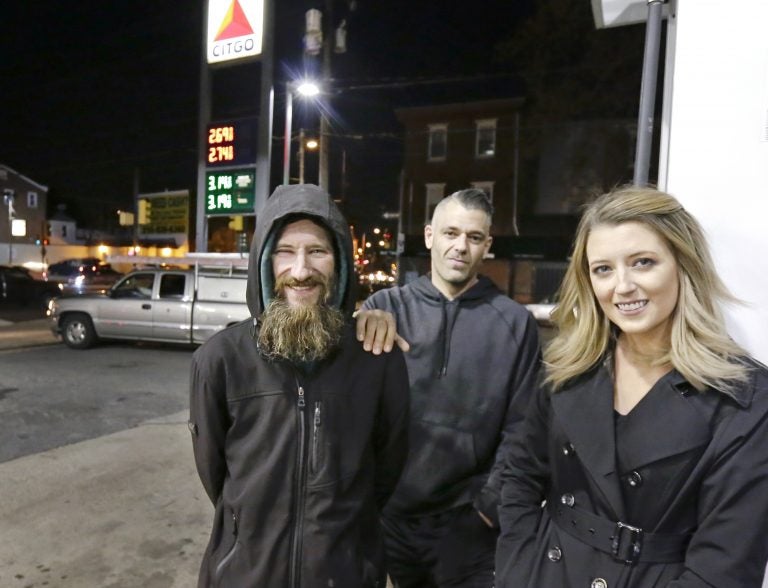 Updated: 3:43 p.m. EST
A homeless man who benefited from a GoFundMe page set up by a New Jersey couple who said he helped them with a disabled car has been arrested, and a prosecutor announced developments Thursday in the criminal investigation of the couple.
BREAKING: Burlington County prosecutor charges Mark D'Amico, Katelyn McClure and Johnny Bobbitt Jr. with theft by deception and conspiracy for concocting bogus feel-good story that fueled a $400K GoFundMe campaign @WHYYNews

— Joe Hernandez (@byJoeHernandez) November 15, 2018
Instead the couple used the money to buy a BMW, pay for a New Year's trip to Las Vegas, and buy high-end bags among other items

— Joe Hernandez (@byJoeHernandez) November 15, 2018
During a press conference, Burlington County prosecutor Scott Coffina announced that Mark D'Amico and Katelyn McClure were charged with theft by deception and conspiracy.
"D'Amico, McClure, and Bobbitt conspired to pass off a fake, feel-good story that would compel donors to contribute to their cause. And it worked, in a very big way. But it was fictitious and illegal. And there are consequences."
"This type of case can damage the psyche of the public. A case like this can make generous people skeptical and a little more hesitant to help someone else in need. I urge you not to let that happen."
A Philadelphia prisons spokeswoman said Johnny Bobbitt was brought in Wednesday night by U.S. marshals and remained in custody Thursday on probation detainers and a $50,000 bond.
Investigators searched the Florence home of  D'Amico and  McClure in September after questions arose about what happened to the money they raised through a GoFundMe page they set up for Bobbitt, a homeless man they claimed helped McClure get gas with his last $20 when she became stranded on Interstate 95 in Philadelphia last year.
McClure has said that in an attempt to thank Bobbitt for his help, she set up the fundraising page, which brought in more than $400,000 and landed them in the national news. Bobbitt later sued the couple, and prosecutors began investigating.
It's not exactly clear what happened with the money, though Bobbitt's attorney has said it's all gone.
The couple's attorney, Ernest Badway, has said that Bobbitt got about $200,000, but his lawyer said it was only $75,000. Badway has said he thinks it's likely they would be indicted.
D'Amico has said Bobbitt spent $25,000 in less than two weeks last year on drugs, as well as paying for overdue legal bills and sending money to family. Bobbitt's attorney said last week Bobbitt was entering a residential program for drug treatment.
The couple also claimed they bought Bobbitt a camper with some of the cash and parked it on land McClure's family owns in New Jersey. But Bobbitt became homeless again after D'Amico told him in June he had to leave.
The couple have denied any wrongdoing.
Coffina said "there's a good chance" the trio would have gotten away with the scam if D'Amico, McClure and Bobbitt hadn't started fighting about the money,
—
This story will be updated.
WHYY is your source for fact-based, in-depth journalism and information. As a nonprofit organization, we rely on financial support from readers like you. Please give today.