George W. and Laura Bush honored for their work with returning veterans
The National Constitution Center erected a tent on its lawn to keep out the cold during its annual Liberty Medal ceremony, which was pushed from October to November so it could be held on Veterans Day.
But the tent could not keep out the noise of a couple dozen protestors using whistles and megaphones in an attempt to drown out the proceedings, chanting, "No Awards for Endless Wars," and "Shame."
On Sunday night, the Constitution Center honored former President George W. Bush with its 30th annual Liberty Medal, in recognition of the work he and his wife, Laura, have done post-presidency on behalf of returning veterans.
As the protestors did not want anyone to forget, Bush started a war with Iraq, under threat of weapons of mass destruction, that lasted more than eight years.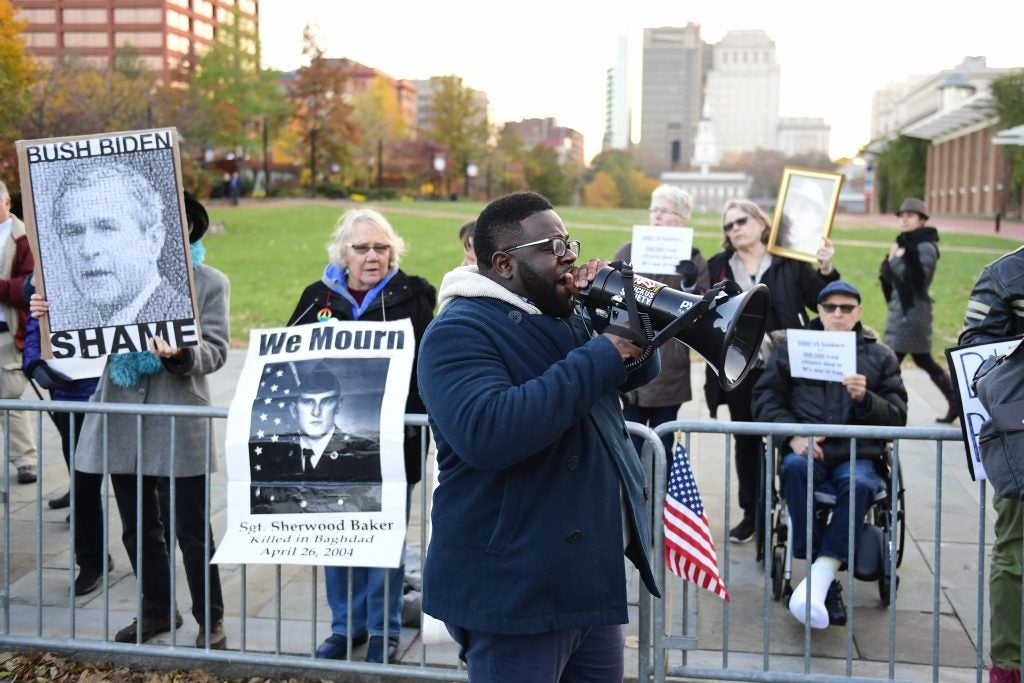 Since leaving the White House in 2009, the Bushes founded the Military Service Initiative, a series of programs and partnerships that help returning soldiers transition into civilian life with job training, health care, and counseling for post-traumatic stress disorder. The initiative is geared particularly to veterans serving post-9/11.
"The message isn't just how honorable and heroic these men and women were in the past," said Bush, on receiving the medal. "It is that this new generation of veterans has the gifts to shine in whatever they do. They number in the hundreds of thousands, and no group of citizens is more vital to the future success of our country."
Laura Bush stressed the importance of helping the families of veterans. She spoke about a wife of a soldier who suffered through every deployment her husband made for 25 years.
"This is the reason it's so important that while our service men and women receive the support they need when they come home, that we support their spouses and families, too," she said.
The Bushes were presented with their Liberty Medals by former Vice President Joe Biden, who also praised their work during the Bush administration for AIDS relief in Africa, citing that 14 million people in Africa have access to treatment for the disease.
During Bush's presidency, then-Senator Biden chaired the Foreign Relations Committee, and said he and Bush did not always see eye-to-eye.
"As president, Bush was my opposition as chairman of the foreign relation committee," said Biden. "He was never my enemy. Think about how demeaning our politics has become in terms of how we talk about one another. It was opposition, not enemies."