Fringe Festival review: 'In the Pony Palace'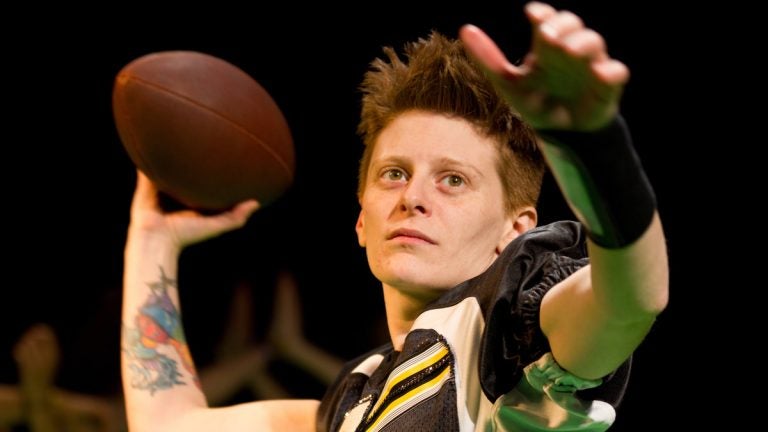 I feel good! I feel mean! I feel strong! That's the mantra of the football team called the Owls. (Not the Temple Owls, another Owls.) They're indeed a group of athletes who are mean, strong and everything else a high school football player might be.
Except male.
"In the Pony Palace/FOOTBALL" takes a historically males-only sport and puts it – all of it – in the hands of an all-female cast. That includes the players, who pose and one-up and out-tough each other, just like guys; the coaches, whose faith in competition means no prisoners; the costumed mascot and even the cheerleaders, who act very much like high-school girls but walk with the swagger of wise-guys everywhere.
The Brooklyn-based, six-year-old Half Straddle is sponsored here by FringeArts, the Philly Fringe Festival overseer. The theater company is composed of theater artists who perform and design plays, videos and music, all written and directed by their leader, Tina Satter. She was moved to create "Pony Palace" because, she says, football is an all-male sport "so that's totally weird." Satter says she was drawn to the uniforms, the rough language, the general toughness, and not necessarily the political statement that such a show might make.
In fact, "Pony Palace" is not an overtly political show. It has abstractions that people associate with outré theater: Satter's football players toss around vacuous phrases that keep their egos on edge, and break into a melancholy song that's germane only for its feel. She provides a combo to back them up with appropriate football-game music. The costumes (by Satter and Michael De Angelis), lighting and unattributed choreography add greatly to the production.
The show stands out mostly as a demonstration of what it's like when women adopt the uber-macho characteristics of constantly pumped-up men – hardly an illumination, but a well-performed display. "Never say 'I'm sorry,'" says the coach with finality, and the words sound as stupid coming from a woman as they do from a man. Says a forlorn team member, thinking about the most unpleasant things in her tightly-focused life: "I hate lost yardage."
Some of it's worth a good chuckle, and the physical theater the show demands — especially in scenes of football games — is impressive to witness. The 70-minute display seems slow at times, possibly because its bare-bones plot is hardly a story. Satter is clearly more interested in the collective personal style that defines these people than in a narrative arc about them. "Pony Palace" is what we might call a theatrical behavioral study.
"In the Pony Palace/FOOTBALL," from Half Straddle, runs through Sept. 19 at Christ Church Neighborhood House, off Second Street north of Market and to the side of Christ Church.
Philly Fringe Festival runs through Sept. 21.
WHYY is your source for fact-based, in-depth journalism and information. As a nonprofit organization, we rely on financial support from readers like you. Please give today.