Fringe Festival review: '100% Philadelphia,' really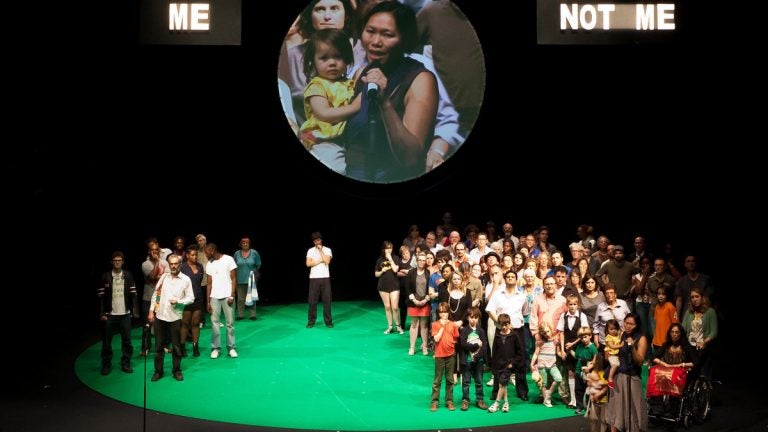 It may not be everyone's idea of "theater," but the final Philly Fringe-produced show of the festival is nevertheless a dramatic event that can be touching, moving and at times, revealing. It's called "100% Philadelphia," from a Germany-based theater company called Rimini Protokoll, and it paints a living picture of who we are as a city.
That's a daunting question — one for which demographers, politicians, executives and mover/shakers are always trying to find answers. As a former writer about demographics, I was struck by the way the numbers tell us something about ourselves – but almost never more than just a little.
"100% Philadelphia" manages to tell a lot, and in perhaps too much time; the two-hour show would be better off if some of the fat were cut and it lasted 90 minutes, given there's only so much information we can process from a stage before we begin to numb. But this is more of a whine on my part than a real complaint, because the show is an impressive undertaking and by the time it's over you feel you know the 105 people on stage – all Philadelphians — and you have a richer understanding of our collective city brain.
Here's how it works: Directors from Germany's Rimini Protokoll invited many Philadelphians to be the participants in the show. Some invited their friends or participate with their children. By the end of the process, the directors had a representative sampling of people who live in the city, as recorded in the latest census: Each person stood for 15,531 Philadelphians. Out of 100 people, for example, there had to be precisely 53 females and 43 males, and 12 had to be divorced or separated. Six had to be over age 70, and seven had to be toddlers. There must be one Native American, 43 black participants, 41 whites, 12 Latinos and six people of Asian ethnicity, and so forth.
Once assembled, the directors added five more people representing those who may be undercounted or not represented by categories in the census – the homeless, for instance. "100% Philadelphia" puts them all on a large stage, gives each person a few seconds for self-introduction, then proceeds to pose questions about how and what they think. As the people go to a designated part of the stage set aside for their specific answers – "me" and "not me" – we see them both on the stage and in an image from an overhead camera. In that image, we can easily see proportions for the answer to each question.
As the show proceeds, the methods for answering the questions change. At one point, the participants hold up colors of paper – each color represents a different multiple-choice answer. At another, they regroup for each answer on stadium seats and lights shine on the middle section that represents "yes."
Who thinks religion has too much place in government? (All but about a dozen.) Who trusts their bank? (A broad question that draw a good number of "I do" responses, but not a majority.) Almost everyone thinks the U.S. is suffering from climate change, and when the stage lights are killed so the respondents can't be seen, a large number of them flip on a flashlight to admit to a little accuracy-stretching on tax forms.
It's compelling – you can't help but mentally place yourself in your own preferred answer field and take note of who's with you and who's not. At one point for me, "100% Philadelphia" showed the double edges in our lives in a striking way I'd never witnessed. A question was asked about who lives in a gentrified neighborhood. The respondents appeared about evenly split. Then, a participant approached a microphone and told us how he and his family moved up from housing into a better and newly popular neighborhood and how for him, it was a beneficial leap, yet he saw the way longtime residents were leaving because of rising living prices. When the next question came, about whether gentrification can make a neighborhood worse, he joined the group that agreed.
Nick Stuccio, who has run FringeArts since the first festival 18 years ago, spoke this past summer to a group of reporters about the different upcoming shows. When he came to "100% Philadelphia," Stuccio said that "in my whole career as a presenter, this is what I'm most excited for." He did not elaborate, except to explain the structure of the show, which Rimini Protokoll has assembled in London, Melbourne and other cities.
Now, I understand his excitement. "100% Philadelphia" is a live snapshot – a demographic selfie about what really makes Philadelphia uniquely Philadelphian.
"100% Philadelphia" runs through Sunday (Sept. 21) at the Temple Performing Arts Center at 1837 N. Broad St., between Montgomery and Norris.
Chris Satullo, WHYY/NewsWorks vice president of news and civic dialogue, will lead a roundtable discussion after the 3 p.m. show Sunday.
WHYY is your source for fact-based, in-depth journalism and information. As a nonprofit organization, we rely on financial support from readers like you. Please give today.