Franklin Mills drug arrests net men from Pa., NY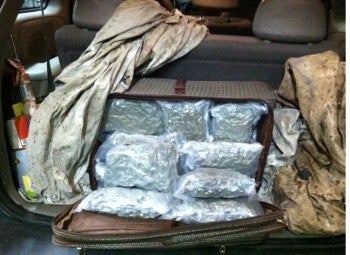 Men from Luzerne County, Pa., and New York state have been arrested and charged for selling drugs to undercover officers at Franklin Mills Mall.
It happened Thursday around 10 p.m., according to the Philadelphia District Attorney's office, when 39-year-old Anthony DeRosa of Wilkes Barre, Pa., and 47-year-old Eric Boehm of Goshen, N.Y., tried to sell 20 pounds of high-grade marijuana in the parking lot.
Both are charged with possession with intent to deliver a controlled substance, possession of a controlled substance, use of communication device and criminal conspiracy.
"Their arrests are part of an ongoing investigation into narcotics trafficking from the Wilkes Barre/Scranton area into Philadelphia," according to the DA's office. Twenty vacuum-sealed plastic bags filled with marijuana were found by agents in a brown and tan suitcase. The suitcase was hidden under painter's tarps and tools, and was discovered via a search warrant. The marijuana has a street value of approximately $100,000.
The men face a hearing later this month to determine that money for used for bail does not come from illegal activities.