Frankford Y's new owner promises he won't bring opioid recovery center to historic mansion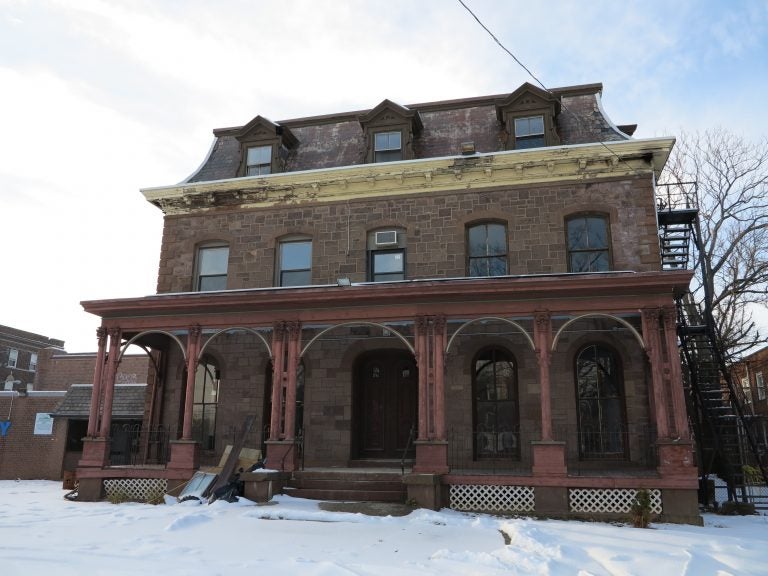 This article originally appeared on PlanPhilly.
—
After a decade of vacancy, a new owner has taken control of a neglected 19th century Northeast Philadelphia landmark.
The brownstone mansion at 4704 Leiper Street, which most recently operated as Northwood Frankford Community Y, was bought by Steve Ostroff, a local lawyer.  The 23,000-square-foot Second Empire-style landmark turned 1970s athletic club was listed on real estate databases as sold for $135,000 on Dec. 31. Ostroff, who declined to comment on the sales price, does not have specific plans for the property, which is also known as the Garsed-Bromley Mansion.
"I don't know [what I'm going to do with it]," Ostroff told the crowd at a Northwood Civic Association meeting in December.  "I'm going to fix it up, make it look more presentable than it looks now, but I'm not going to try to change the structure or anything."
The Y closed during the Great Recession. Ever since, neighbors have fretted obsessively about its fate, fearing the grand building designed in the same style as City Hall and the Union League could become an opioid recovery house.
Those anxieties were made aggressively at the Northwood Civic Association meeting, where Ostroff, who owns other property in the area, introduced himself to the room as the purchaser of the property.
The crowd immediately began to pepper him with questions about his intentions. It is zoned for residential uses with a variance that would allow for a daycare serving up to 99 children.
"Frankford is being looked at for opioid recovery or potential shelters to address opioid issues," said Quetcy Lozada, a neighbor. "We need to know you aren't going to put something in there that's ultimately going to hurt us. We need to get a commitment from, you, sir that whatever you put there isn't going to bring negative activities to our neighborhood."
Ostroff said that while he doesn't know exactly how he will repurpose the former community center, he hopes to use it as a school or a daycare.
He promised that he would not turn the structure into a homeless shelter or a recovery house for those trying to transition from opioid addiction
At one point, he tried to lighten the mood in the tense room.
"Maybe if things don't work out, I'll put in a strip club," Ostroff said to both laughter and disapproving glares. "I'm joking, I'm joking."
Because of the current zoning, the lawyer would need a variance to pursue commercial renovation of the building. Any development will be costly. The designated historic landmark is in dire disrepair. A sales listing pitched it as $199,000 "as is"  fixer-upper. Abandoned cars full the parking lot while toppled trees clutter the yard, and graffiti covers the building.
Ostroff said taxes on the building are $20,000 a year and he got an insurance quote for $12,000.
He said he purchased the building in part because he admires the 19th-century architecture and wants to fix it up. He said he harbors no desire to make any changes to the structure, which would be difficult to do anyway because it is a protected listing on the Philadelphia Register of Historic Places.
Built in 1866 as a home for a wealthy mill owner, the mansion became Young Women's Christian Association recreation center in 1941. During World War II, military hostesses went there for training. It continued to change with the times. In the 1960s, it became home to an activist community paper called the Northeast Liberator, according to the Preservation Alliance for Greater Philadelphia.
Ostroff's purchase marks the second recent attempt to reclaim the empty manse. In 2015, community activists tried to take control of the building. Resident Frank Bennett purchased it for a dollar and tried to renovate it himself, putting $80,000-to-$100,000 into it, said Northwood Civic Association president Joe Krause.
"The money ran out; we got nothing from the city, we tried fundraising and not a dime came in so finally he just had to wash his hands of it and put in on the market," he said.  "We just want to make sure the right person is buying it. [Ostroff] actually showed up on his own tonight. He wasn't asked to be here. I wish some of my members were a little more calm with their questions."
Ostroff, too, was taken aback by the fierce tone of his neighbor's questioning. He imagined the meeting would be limited to introductory pleasantries.
"For some people, I think I could have said my name is Steve and they would have disagreed and wanted to throw snowballs at me," said Ostroff.
WHYY is your source for fact-based, in-depth journalism and information. As a nonprofit organization, we rely on financial support from readers like you. Please give today.