Frankford woman killed by boyfriend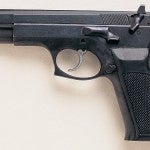 A 40-year-old woman was killed in Frankford Tuesday night by a jealous boyfriend who suspected her of cheating.
Linda Ellison was shot in the chest by her boyfriend David Bowen in his home on the 1100-block of Overington Street. According to reports, Bowen called a coworker of Ellison after the shooting, and the coworker then called 911.
Bowen, 49 has been arrested.