Fox29 reads NEast Philly, and apparently likes our story ideas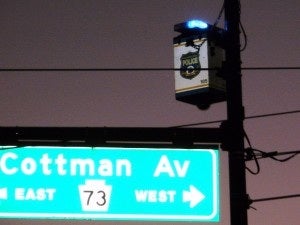 More than a month ago, we ran a story about Mayfair residents' thoughts on the flashing blue light and accompanying police camera at Cottman and Frankford.
Fox 29 ran the same a similar story yesterday.
The original NEast Philly story was written by Temple student Maria Konidaris for her Philadelphia Neighborhoods class. She interviewed several residents, got the history of the light and talked to the presidents of the Mayfair town watch and civic associations. FOX29 reporters talked to a couple of the same people.
In their defense, our story was not an exclusive, Fox is free to interview whomever they want and the blue light is an ongoing issue on Philadelphia Speaks.
But really, we find it coincidental that a news organization that has such a difficult time with neighborhood and street names has taken a sudden interest in the Northeast — writing a story remarkable similar to one we ran Feb. 4.
Nice to know they're reading.