For newest Rhodes scholar, a journey tied — in many ways — to Philly's school system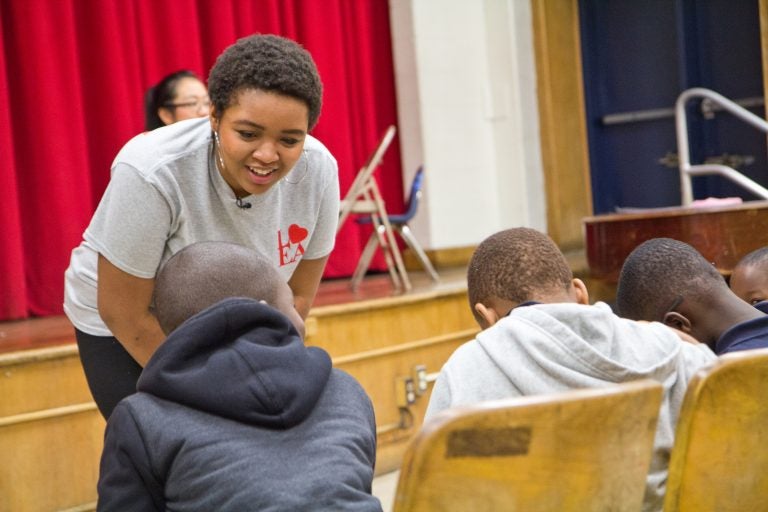 When Anea Moore was in seventh grade, she gave her mom an ultimatum.
For years she'd bugged her parents to let her apply to Masterman, one of Philadelphia's premier public magnet schools. Her parents worried it was too far — and maybe too challenging.
Moore needed her mom's signature to complete the Masterman application.
"I don't know where I got these guts from, but I said, 'Mommy, either you sign it or I forge your name on this paperwork,'" Moore said. "But either way, it's going out."
Moore thought Masterman could push her in ways her neighborhood school, Penrose, couldn't. Though the teachers there tried to nurture her talent — even sneaking her into advanced math classes — she wanted to learn with the "best of the best."
She also thought at Masterman she'd finally fit in with students.
The kids at Penrose bullied her for her bookish ways. She wasn't rich, but she was "the richest kid in the 'hood." She had two loving parents, who between them always earned at least one stable income. Many of her classmates had neither, and they peppered her with taunts of "teacher's pet" and "goody two shoes."
When the application went out, and Masterman said yes, Moore eagerly accepted.
From Masterman, she headed to the University of Pennsylvania. And, on Saturday, she reached one of the highest highs in academia, earning a prestigious Rhodes scholarship to attend England's Oxford University.
Moore's journey, in broad strokes, looks like one of linear ascendance. But it's more complicated than that. It's been a push and pull between where she's wanted to go and where she's come from. And it is a story tied — in so many ways — to Philadelphia's sprawling, stratified education system.
When Moore arrived at Penn in the fall of 2015, she felt alone.
To some extent, it was the same type of isolation she'd felt at Masterman, which lived up to its academic promise but never met her social expectations. If being a brainy kid at a neighborhood school had its problems, so too did being a poor, black kid at a predominantly white and Asian magnet school.
She still remembers a classmate who said "you need to fix your grammar" when she slipped into her neighborhood vernacular.
Campus life at Penn presented similar social hurdles, but by then Moore was also reeling from two personal tragedies. During her senior year, her dad died from a chronic illness. Months later, in October of her freshman year, her mom died of a heart attack.
The same month her mom died, Moore "stumbled" into a public school in West Philadelphia. Through a program at Penn's Netter Center for Community Partnerships, Moore wound up as an assistant choir teacher at the Henry C. Lea School just west of campus.
Reconnecting with her past

It was the same type of neighborhood school she'd tried so desperately to escape in seventh grade. But now it felt like an anchor. The kids there reminded her of her parents. They reminded her of home.
"They were the reason why I got up some mornings, during my toughest of mornings," she said. "They were the reason I got up."
Moore dug into the school. While keeping her gig as a choir teacher, she became the school's assistant family and community engagement coordinator. She organized family game nights, monthly cooking classes and aided a program that clues in parents about the content their kids are learning in class. She's working on two theses at Penn related to her family engagement work at Lea and assisting a doctoral candidate who is doing a four-year study about the school's community efforts.
When she had to write a 1,000-word essay for her Rhodes scholarship application, she knew Lea would be at the heart of it.
"It was somewhere where I was connecting with people who were from my community," Moore said.
Now, she's headed off once again to unfamiliar terrain. At Oxford, she'll study family welfare policy, and hopes to earn a doctorate with the three-years' tuition covered by her new scholarship.
Among her Lea family, the Rhodes news brings pride and a bit of pain. They know they're losing one of their brightest stars.
"She's a smarty pants now," said Salome Asfaw, a Lea eighth-grader who describes herself as Moore's "favorite."
"I don't want her to leave," said third-grader Asia Rivers.
Principal ShaVon Savage said that some of the Lea kids "see themselves in her," and she hopes Moore's success will leave an aspirational imprint on the students she's leaving behind.
"I don't think that we as a city often think about the good that comes out of our schools," said Savage. "But there is a lot of good that comes out of our schools."
Leave, learn and return
For someone who has so successfully scaled the city's education landscape, Moore is candid about its shortcomings.
She's queasy with the notion that, at 18, she was allowed to walk into a Philadelphia public school with little training and start teaching. It's an indictment of the broader system, Moore said, that Lea has to rely on the help of nonprofit groups to maintain a choir program or a community engagement office at all.
She has qualms with Penn, too. She thinks her university should make regular payments to the city in exchange for the real-estate-tax exemption it receives as a nonprofit. And she's worried Penn's rise has spurred gentrification in the West Philadelphia neighborhood surrounding Lea.
Those are the types of problems she wants to study at Oxford before going to law school — under the auspices of hopefully another prestigious scholarship — and eventually returning to Philadelphia to work as a public interest attorney. From there she'd like to run for City Council, and someday, perhaps, mayor.
The goal, this time, isn't simply to leave her home in pursuit of a better opportunity. The goal is to leave, learn and return.
"It's about gaining the knowledge and getting the credentials so I can come back and help my community," Moore said.