Finnegan's Wake proposal back before council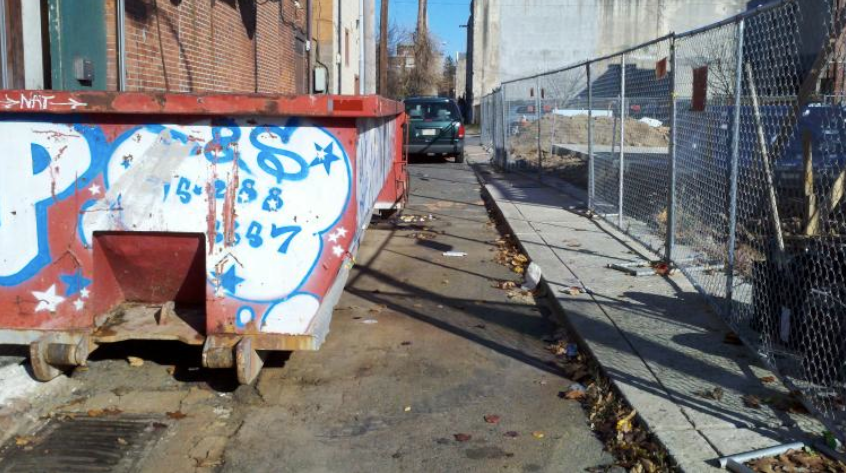 A bill related to the Finnegan's Wake plans to build balconies over Spring Garden Street and close a section of Bodine Street to vehicular traffic is back before City Council, and the Philadelphia City Planning Commission says council should not approve.
If you thought City Council already voted on bills allowing Finnegan's to proceed, you're right. Council approved two bills clearing the way last year.
But a section of the bill council approved over the mayor's veto in September 2012 required Finnegan's owner Northern Liberties Auction, Inc. to pay $200 to cover the administrative costs of preparing the ordinance within 60 days of passage, and said the ordinance would not be effective unless that happened.
First District Councilman Mark Squilla, who introduced the original legislation, introduced a new bill on January 31 that amends only the payment section, with new language that gives Finnegan's owners until March 31 of this year to pay.
That amending bill went to the planning commission so it could make a recommendation to city council on whether it should pass it or not. Not, the PCPC says.
When this issue was before planning last time around, the commission recommended approval, with a proviso. The commission was fine with closing off part of Bodine Street to vehicles, because Finnegan's plans to create a green space there, with a pedestrian path. Planners did not like the fact that the planned balcony will project more than 14 feet out from the building, leaving less than two feet of sidewalk uncovered. The Northern Liberties Neighbors Association was opposed to that aspect as well.
So the commission recommended council say yes to the Bodine Street proposal, but no to the balconies. Council did not take that recommendation. Mayor Michael Nutter vetoed the legislation, but council overrode his veto.
This week, Planning Commission Executive Director Gary Jastrzab told commission members that planning staff handled the matter administratively, and recommended that council say no. Planners are still fine with the Green Street proposal, Jastrzab said, but because it was only the time-extension amendment that came forward, there was no way to separate closing part of Green Street off from cars and building balconies. So staff's only recourse was to recommend against the entire bill, he said.
Squilla's legislative assistant, Sean McMonagle, said the bill is set for a hearing before the Streets and Services Committee on Feb. 28. "This bill is at the request of the City Law Department to fix a clerical error, so we are not expecting there to be a problem with passage," he said in an email.
When asked if the mayor would veto the legislation, Nutter spokesman Mark McDonald said it was too soon to say.
"We don't generally comment on a bill except through testimony in Council. If this gets to a hearing, we'd offer testimony," McDonald said. "As to what we'd do if it passed Council, we don't discuss that until we send a message to Council at the appropriate time."
Part of the controversy over these bills and previous incarnations is that Finnegan's Wake owner Mike Driscoll is a Democratic committeeman. A patio and new green space on Bodine Street would span the space between the bar and new Democratic committee headquarters. Driscoll was not available for comment Wednesday, but has said in the past that his position with the party has had no influence in this situation. He has also said that the outdoor space the balconies would create was essential to his plan to shift his business more toward catering and away from the bar.
The Squilla bills were not the first legislative attempt to allow the changes. A previous version of the legislation was introduced by Squilla's predecessor Frank DiCicco. DiCicco let the bill die because Finnegan's and the neighbors had not reached an agreement. The original DiCicco bill would have made Bodine completely private between Spring Garden and Green streets, and the balconies were to be over Bodine.