'Everyone is special to someone': Philly artist enlists others to draw portraits of COVID victims
The 150 drawings now on display at InLiquid Gallery in Kensington form a formidable wall of grief and memory, even if most viewers can't name the people they see.
One corner of the InLiquid at gallery, inside Kensington's Crane Arts building, is filled floor to ceiling with hand drawn portraits of unidentified people who have died in the last two years from COVID-19. About 150 drawings spread out 20 feet on either side.
The tight cluster of portraits in "The Trouble I've Seen: Drawings from the COVID-19 Portrait Project, USA," form a formidable wall of grief and memory, even if most viewers will never be able to name any of those people.
"I didn't want the families to feel that we were treading on their privacy by identifying the people. I didn't know how they would feel about these drawings coming up in a search engine if they Google someone's name," said RA Friedman, the artist behind the exhibit and many of the drawings in it.
"The other thing was, I wanted it to be very democratic. I didn't want anyone to be seen as being more important than anyone else," he said. "Some of the some of the people that I drew were people that were fairly high profile, and I didn't want I didn't want people to say, 'Oh, yeah, that's blah blah blah.' I didn't want that to get in the way of the experience of: look at what's going on here. We really need to think about these lives that have been lost."
Almost two years ago, Friedman started The COVID-19 Portrait Project, wherein he, by himself, drew portraits based on obituary photos. When he started in June 2020, roughly 1,270 people had died from the virus in Philadelphia. The city's death count now numbers over 41,000.
In the United States, more than 900,000 people have died from COVID-19.
Realizing the toll of the pandemic far outpaces his ability to draw, Friedman took the portrait project to an international level, asking artists across the country and around the world to contribute. So far, 28 artists have taken up the task, submitting hand drawn portraits of people they had never met in life.
Friedman supplied each artist with an image he pulled from online obituaries, but would not give them any other information. He keeps a database of all the portrait subjects so he can identify them if he has to. Wanting to represent all regions of America, Friedman randomly searches for COVID-19 deaths by state and selects the first images that pop up.
Friedman said the process of drawing can be slow, very detailed, and involve looking very carefully into a person's face, taking days or weeks to finish. As such, a drawn portrait can carry more emotional weight than a photograph.
"It was usually the ones where it was just ordinary people, there's just the sadness that would come over you," he said. "I'm working on these people who are just mothers and fathers. Just ordinary, everyday — whatever that means. We always say 'ordinary, everyday people.' I don't think there really are. They don't exist. Everyone is special to someone."
Friedman says it's a common reaction to see another human's face and try to figure out who they are. Looking at the wall of unidentified people in the exhibition, a visitor's eye wants to pick out details that might reveal something about the person's life — a military uniform, a piece of jewelry, a proud cock of the head, a smile or a frown. One woman is holding an accordion. A man is holding a dog.
This reporter settled on hats. There is a fedora, a flat cap, a beret, a straw boater, a baseball hat with an "L" on it, a church hat, a doctoral graduation hat, a wedding veil, an EMT's helmet with a face shield, a yarmulke.
It is still impossible to know who you're looking at.
"Maybe it is a little unsettling and we still want to know who? Who are they?" said Friedman. "It wouldn't really change. I think it would probably diminish the impact of the images."
That impact is the effect of seeing all of them together: a wall full of victims of the pandemic representing close to a million people we will never know, rendered by artists' hands.
"A big part of the project is really about generosity. It's about all these artists saying, 'Hey, this is a really, really, really rough thing that the families are going through. It's a really rough thing with the country and the world is going through. But we, as artists, we're giving our best,'" said Friedman. "We're going to give our time and our talent and whatever we can bring to the table to memorialize these people. And that, to me, makes me happy."
The show at the InLiquid gallery, which runs until March 5, is the first time the portraits have been hung together. Friedman hopes to make this a traveling show, with a still-tentative agreement to show it in Manhattan next.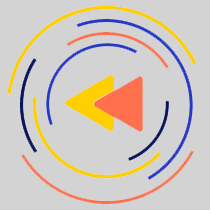 Saturdays just got more interesting.
WHYY is your source for fact-based, in-depth journalism and information. As a nonprofit organization, we rely on financial support from readers like you. Please give today.