Sometimes you have to tell fear 'I'm going anyway'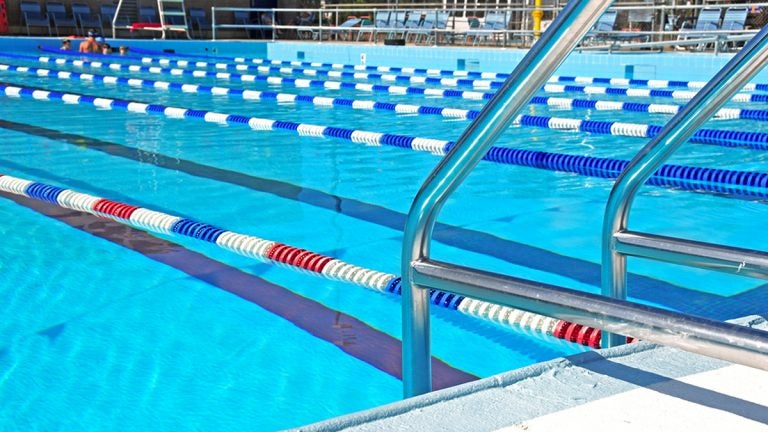 Last year I decided to finally take swimming lessons. I never learned how to swim because I'm black. No that's completely not true. My brothers both surf. And in high school my eldest brother was on the swim team. Okay, he was the only black guy on the team, but whatever. I just never learned.
Last March I signed up for a four- to six-week swimming class at the YMCA. I have a very real fear of drowning and dying in general, but I do love the water and know how to hold my breath and go under. I freak out when I can't get my feet on the ground fast enough.
My teacher was an older lady who had been swimming for 100 years. Or 50. Her voice and her attitude reminded me of Wanda Sykes. I love Wanda Sykes, but she's also kind of intimidating. So after the class was over, Wanda encouraged me to continue to come to the class, because it really didn't matter if you signed up or not.
Well, I didn't. I would go to the pool during the times that most kids were not at the pool. I'd go to the far corner to swim to the wall and practice how to accurately push down and tuck to stand up.
Around this time a group of my friends decided to take a weekend trip to the Jersey Shore. My friend's parents own a very large house on a bay. There were 11 adults, one baby, and one dog all staying comfortably at the house. It was beautiful waking up in the morning and sitting on the back porch watching the sun rise and nature awaking. The house came equipped with paddle boards, kayaks, and one of those two-person paddle boats that looks like a romantic date but is actually pretty terrifying and a lot of work. Basically it was a dream house.
My friend's dad took us out on the boat, and we cruised the bay one day and checked out the ocean another. That was my absolute favorite part of the trip. It was so relaxing.
I'm an adventurous person — to a limit. I'm not going to jump off of buildings, but I will try new things. So I tried to get on the paddleboard but, uh, no. Then my friend said kayaking is fun. I wanted to try kayaking the whole weekend, but I was always doing something else. So after lunch on Sunday, our last day there, my friend and I took the two-person kayak out.
Here's the thing. I know nothing about water sports. I don't do them. And, although my friend had participated in many water activities, as we started going out into the bay, my confidence in her began to wane. As we left the dock, there was a lot of wind, and the water was choppy. There was no white water, so I'd assume it might not have been bad for professional kayakers.
We got about half way to the marsh across the bay, and my friend asked if I'd like to turn around because it was really hard to get anywhere.
Even as I type this, I feel my heart racing a bit.
So we tried to turn the kayak around, but it wasn't working. The direction we wanted to move in was not where the wind and the choppy waters wanted us to go. We drifted closer and closer to the marsh and still could not turn.
Then one of us — I don't know who exactly — made the wrong move, and we capsized. I was under the boat and underwater freaking out.
I came up, probably because of my life jacket. It came half-way off when I went down, but it still did its job. Then my friend tried to flip the boat over so we could climb back on. But no, I flipped under the water again.
I freaked out even more at this point, because we were in the bay, I couldn't touch the ground, and I had already taken in water. I screamed for help. I was crying, praying, doing everything you do in panic mode.
So my friend decided it was probably better to get closer to the marsh, because at least there was some kind of land there. My feet touched the mud, and we held onto the boat for balance, as I cried and screamed for help.
Apparently no one saw us flip, but because most of our group was outside, they saw our kayak had capsized, and they immediately sprang into action. They got in the real boat and came out to us. They tossed us a rope. Thankfully my friend let me go first — because that's what friends are for. They pulled me up to the back of the boat, and I climbed in. I went immediately silent. After everyone and our oars and kayak were retrieved we went back to the house.
I walked past everyone who was still at the house and said nothing and went straight to my room and showered. It was an extra long shower, because I needed to cry it all out before returning to my friends.
I didn't into the ocean, or even a pool again, until this summer. I spent 10 days in Costa Rica, with a beach directly outside the gate of my brother's home, but I avoided that water.
I decided to take a free swim class that started in July at a local outdoor pool. Even preparing for that brought on anxiety. I can still feel the tension in my body and mind every time I push off of the wall into the pool where there is nothing but me to depend on. I can adequately float and flail my arms and legs in somewhat of a swimmers motion to move about the shallow end.
Summer swim is over now, and fall is approaching. I will be no black Olympic swimmer named Simone, but as we go back inside for lessons, I will conquer my fears.
Sometimes you just have to tell fear "I'm going anyway." I live by those words. I went, and I'm still going.
WHYY is your source for fact-based, in-depth journalism and information. As a nonprofit organization, we rely on financial support from readers like you. Please give today.