Erika dissipates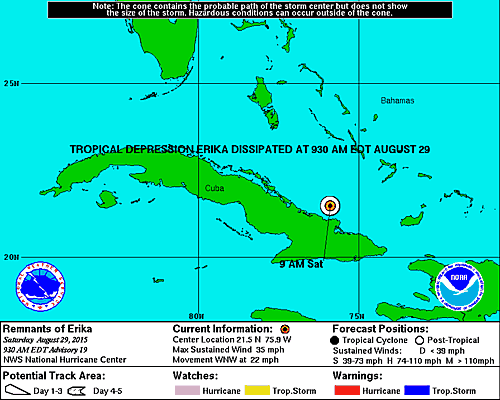 Erika has dissipated as a tropical cyclone this morning.
According to a 9:30 a.m. National Hurricane Center bulletin, Erika's has degenerated into a trough of low pressure, with its remnants located near the north coast of eastern Cuba.
Forecasters expect the remnants to move west-northwestward near the northern coast of central and eastern Cuba for the next 12 to 24 hours, reaching the southeastern Gulf of Mexico in about 36 hours.
After the remnants reach that area, the forecasters expect a more northward motion over the eastern Gulf of Mexico.
But modeling suggests conditions could become more favorable when the remnants reach the Gulf of Mexico, possibly allowing Erika to regenerate.
"Regardless of regeneration, locally heavy rains and gusty winds should spread across portions of Cuba, the Bahamas, and southern Florida during the next couple of days," the bulletin says.