ER doctors worked without pay for weeks as three Philly area hospitals changed management
Listen
2:20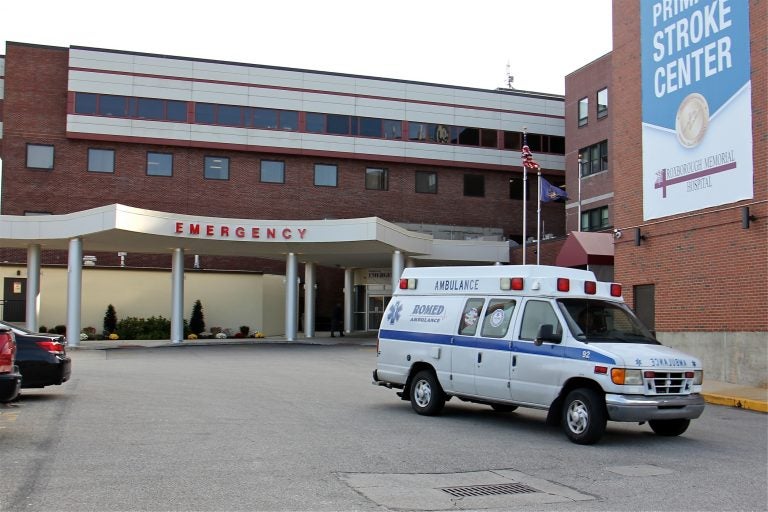 At the end of October, Lower Bucks, Roxborough Memorial and Suburban Community hospitals abruptly ended their contract with the staffing agency that employed their emergency room doctors. Called Legacy Physician Partners, it was that company's job to pay the doctors. But payday has come and gone, and now nobody's sure who — if anyone — will issue those paychecks.
It's common for emergency departments to outsource their staffing to third-party agencies. Prime Healthcare, the network that runs the three hospitals in question, had been contracting with Legacy since early this year. In September, Prime told doctors it would be ending its contract with Legacy.
"We said, 'OK, that sounds fine, this hospital has a reputation of changing out staffing companies the way some people change underwear,'" said Dr. Gerald O'Malley, who worked in Lower Bucks Hospital's ER in Bristol until recently.
"Things are usually seamless. The new agency comes in, they negotiate some contracts, some people stay, some people go, new people are hired," he said. "It's kind of like the circle of life."
This time was different.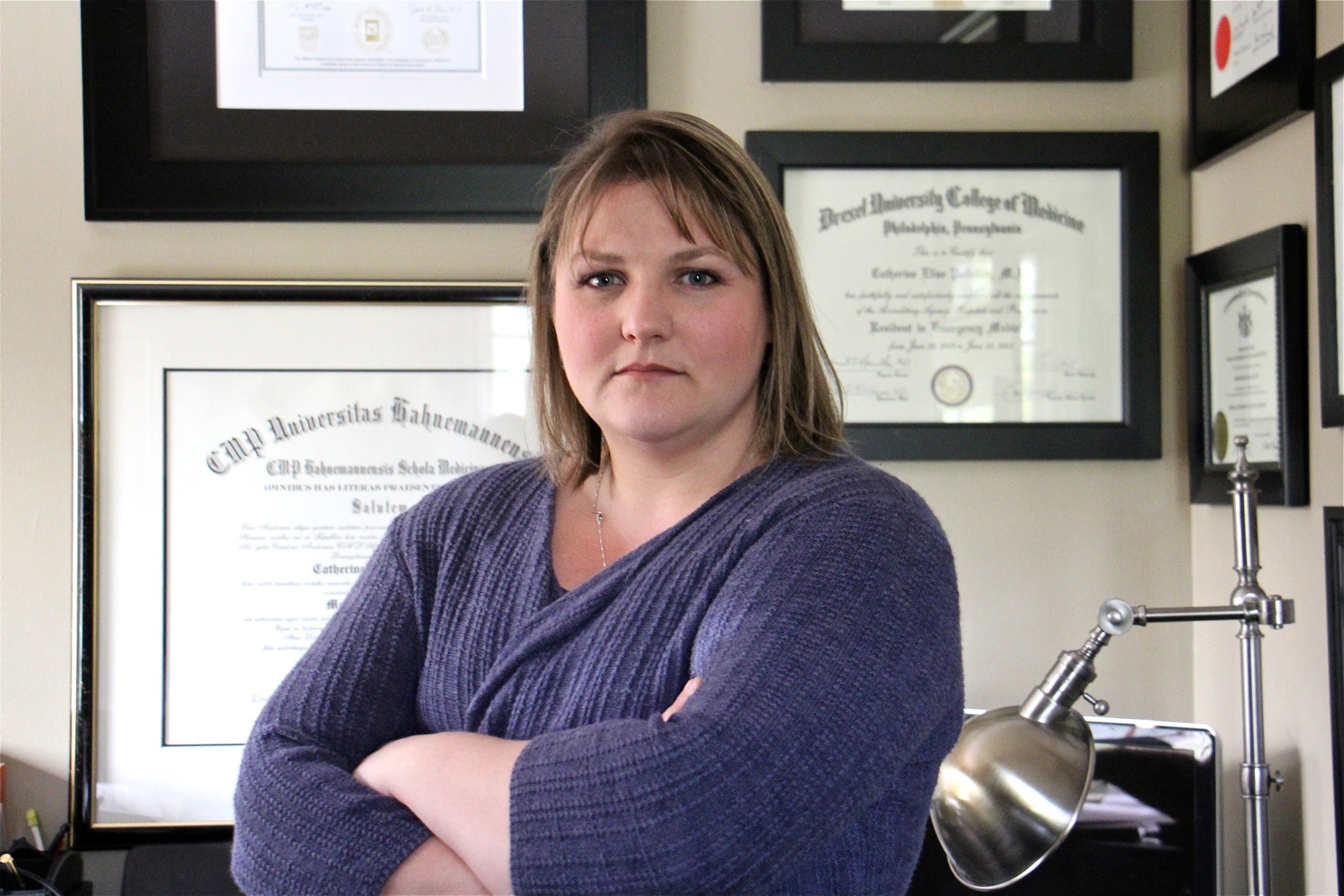 Last month, doctors at Lower Bucks got an email from medical director James Frederick, explaining that Legacy had declared bankruptcy and, in fact, had not paid him in September. The director assured his staff that the two companies — Legacy and Prime — plus the staffing agency that would replace Legacy, were working out a payment plan. He instructed them to continue showing up for work.
In a follow-up email, doctors were encouraged to be patient and continue working. It also said Legacy had not gone bankrupt.
Meanwhile, Dr. Catherine Pelletier, who works in the emergency departments at both Roxborough and Lower Bucks, heard from the medical director at Roxborough that Legacy had defaulted on its medical malpractice insurance, and doctors were currently being covered by a grace period. It was another sign that the company didn't have the financial solvency to cover its costs.
That's when doctors began to worry that they wouldn't be paid for the time they were working. But they still kept showing up for their shifts. The stakes were too high not to, said Pelletier.
"If we don't show up, then the ER is not viable, and patients aren't seen," she said, adding that she felt it was her obligation as a physician to keep the department open and operating.
"I feel like the right thing to do is show up for work — to be professional, because that's what I've done for the last 16 years of my life," she said.
Usually, doctors said, they would receive a statement from Legacy a few days before payday notifying them that a direct deposit was coming. This month, they received no such statement. On Thursday, their expected payday, no doctors who spoke with WHYY were paid.
Back pay with strings
Meanwhile, Prime had signed on with a new staffing agency for the ERs — Progressive Emergency Physicians. Four doctors who spoke with WHYY said Progressive representatives told them that they would cover their October wages if they signed on to a long-term contract with Progressive.
Pelletier said she felt duped.
Progressive "admitted that they were essentially using the fact that we hadn't been paid as a leverage towards having us sign a contract that had significant changes in it," she said
Pelletier didn't like the Progressive contract for a few reasons. She objected that money she had already earned was framed as a "retention bonus," which she would get only if she worked more shifts per week than her current schedule allowed. She also disliked the new department's plan to run on 12-hour shifts for doctors, which research has shown can make for riskier emergency care and higher burnout rates.
O'Malley didn't like the contract either. It reduced his hourly wage by 20 percent and included a clause that would allow Progressive to fire him at will during the first six months without any notice. He said he met with Progressive CEO Andy Sama about the contract to discuss its provisions. O'Malley said that Sama told him Progressive promised Prime it would take care of the back pay as a way to be more competitive in the bidding for Prime's new staffing agency.
Progressive "made a calculated decision to use the money that was owed to us as a bargaining chip or a way to sweeten the offer," said O'Malley.  Progressive Emergency Physicians did not respond to repeated requests for comment.
O'Malley and Pelletier plan to absorb their losses. O'Malley estimated he's owed about $20,000. Pelletier said that by the time she finds a new job and gets admitting privileges at a new hospital, she could be out up to six months worth of wages.
A usual practice
Emergency departments often contract out their employment services to third-party companies. Lawton Robert Burns, a professor of health care management at the University of Pennsylvania's Wharton School, said it's expensive for hospitals to staff emergency departments. Especially with a shortage of ER doctors, doing the hiring and salary negotiations on their own can be time consuming, he said, and cause doctors to bid up their wages. Using an outside group is more efficient.
"The hospital will typically employ primary care physicians, maybe a handful of specialists, maybe some hospitalists, but it can outsource the staffing for other specialties to these physician groups or companies," he said.
Tennessee-based Legacy Physician Partners was less than a year old when its contract with Prime ended. In that time, it had gone through at least one major leadership change. All attempts to reach the company went unanswered, and its website no longer exists.
Already unsure of how they would be paid for their time, the doctors who spoke to WHYY had another concern: their medical malpractice coverage, which Legacy was also responsible for providing. Normally, with what's called occurrence coverage, the doctor's employer covers any malpractice claims made while a physician is employed as well as afterwards, in case a former patient files suit after the doctor and hospital part ways. Once a doctor finds a new job, that employer will generally pick up the coverage. This extended insurance is commonly called a "tail."
On Wednesday, Prime told ER doctors it had decided to cover the tail — roughly $25,000 each — on Legacy's behalf.
O'Malley, Pelletier and other doctors said that, among the 50 or so physicians working in the three emergency departments, they only know of a handful that were planning to sign on to work long term with Progressive. Some have signed temporary, at-will contracts with per-diem rates to ensure payment and keep the emergency rooms open.
"I would really want to know, who's working in that ER now," O'Malley said. "They don't have enough people to staff to cover all the shifts in the schedule. They don't."
O'Malley said the medical director at Lower Bucks has been pleading with doctors who haven't signed on with Progressive to do so, at least temporarily, to cover empty shifts at the hospital.
Another doctor said he knows of doctors from other Prime Healthcare hospitals being brought in to staff the ERs on short notice.
Representatives from Roxborough, Lower Bucks and Suburban hospitals say that their ERs are open for business. They would not comment on whether they are having trouble filling shifts.