EPA presents plan to clean up South Jersey site with decades of chemical contamination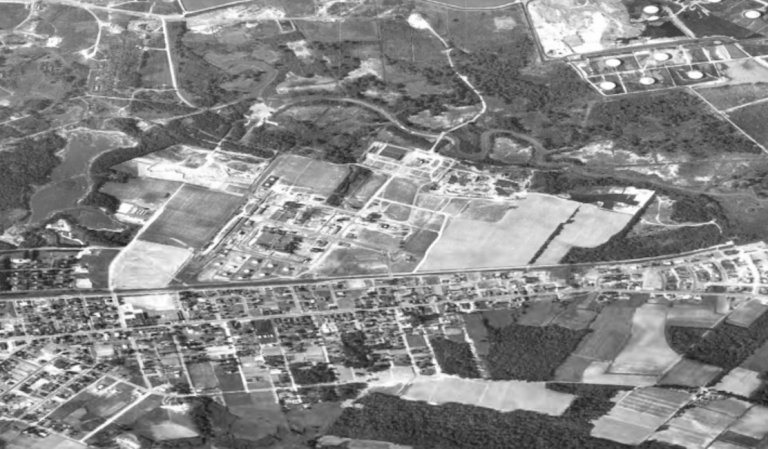 The U.S. Environmental Protection Agency is planning to clean up soil and groundwater contamination at a Superfund site in Gloucester County, New Jersey.
In 1952, Hercules, Inc. bought the 350-acre property — previously owned by  DuPont, which used it as a dump for tar waste and lead — and continued to contaminate the area with chemical compounds for 50 years. 
The EPA presented the cleanup plan Thursday at a public meeting in Gibbstown, Greenwich Township, where the former Hercules plant was located. 
The plan calls for excavating and treating the uppermost 4 feet of contaminated soil "using naturally occurring micro-organisms to destroy or break down the contaminants." That cleansed soil would eventually cap the underlying dirt after it was treated with chemicals. The plan also propose also dispose of lead-contaminated soil and treat polluted sediment from Clonmell Creek, which drains into the Delaware River. 
Green groups are criticizing the plan. The EPA proposal stops short of a long-term solution, said Jeff Tittel, director of the  New Jersey Sierra Club. 
"As long as you have these pits filled with tons of toxic materials, the groundwater is going to keep contaminating," he said. "You can keep pumping and pumping all you want, but you're not going to end up solving the problem there."
The former Hercules Higgins plant manufactured chemical compounds including phenol, acetone, cumene hydroperoxide and dicumyl peroxide. Those chemicals were sold to produce plastics, flame-retardants, detergents, herbicides, nail polish remover, and paint thinner. 
In 1983, the EPA found volatile organic compounds — known as VOCs — which are potentially harmful contaminants that easily evaporate into the air, as well as heavy metals, in the site's groundwater. It placed the site on the Superfund National Priorities List. Temporary remediation of the site began in 1984 to prevent off-site contamination and protect wells that provide drinking water to area residents. Two billion gallons of contaminated groundwater have been treated so far, according to the agency. 
In 1996, the New Jersey Department of Environmental Protection presented a remediation plan for an area of the property used for solid waste disposal. The contaminants  included lead fragments, tar waste generated from aniline (a chemical used for polyurethane manufacture and for dyes and pigments) dumped by DuPont, as well as waste materials from the Hercules plant until 1974. The DEP's remedial action was completed in 2014 and is being maintained and monitored, according to EPA.
In 2010, Hercules stopped operations and most of its facilities were demolished. 
The site drains into the Delaware River and is prone to flooding. Tittel and residents of the surrounding area worry the contaminants could seep into the river or into neighboring properties. Earlier this year, an investigation by The Record and NorthJersey.com revealed a toxic plume of groundwater contaminated with cancer-causing solvents migrated off a DuPont's property in North Jersey and under 400 homes in Pompton Lakes in the late 1980s.
In 2011, EPA detected VOCs vapors, which can cause headaches, nausea and cancer, in neighboring homes, but the agency said the VOCs were "within the acceptable risk range" and that no additional monitoring was necessary.
EPA is accepting public feedback on the plan until Aug. 28.