El gobierno mexicano honra un centro comunitario en Norristown por su impacto local
El inmigrante mexicano Obed Arango cuenta que un día, en 2006, sintió un momento de gran nostalgia por su país cuando caminaba por Norristown con su familia. En ese momento prometió crear un centro comunitario para la creciente comunidad latina del condado de Montgomery.
"Una tarde de invierno, extrañando profundamente a México, señalé un edificio abandonado, y les dije: 'Niñas, un día fundaremos allí un centro cultural, para que todos y todas podamos lograr nuestros sueños, para que la comunidad inmigrante podamos existir," dijo.
Doce años más tarde, el martes por la noche, el gobierno Mexicano presentó su más alto honor para personas y organizaciones fuera de México, al Centro de Cultura, Arte, Trabajo y Educación, "CCATE," que Obed  y su familia habían fundado en 2011. Otros premiados notables incluyeron a la organizadora laboral Dolores Huerta, a la actriz Eva Longoria y al grupo de ayuda legal para inmigrantes RAICES.
Con solo dos empleados, la organización CCATE ahora ofrece 32 clases a 350 personas cada semana. Aunque está abierto a cualquier persona, el centro atiende principalmente a la creciente comunidad latina  de Norristown; Según los datos, aproximadamente uno de cada cuatro residentes del condado es hispano.
Alicia Kerber Palma, cónsul general de México en Filadelfia, le otorgó a CCATE el Premio Ohtli, llamado así por la palabra náhuatl que significa "camino," por el trabajo del grupo que ayuda a crear oportunidades para la comunidad mexicana fuera del país.
"La misión de CCATE ha sido empoderar a la comunidad", dijo Kerber Palma, porque crea un espacio para que cada persona contribuya con "lo mejor de su talento para crear un efecto multiplicador en la comunidad local."
Ubicado en el tercer piso del edificio The Center Theatre en Norristown, CCATE toma el modelo típico de centro comunitario y lo transforma. Los que vienen a la organización, no son vistos como clientes, sino "como personas con habilidades, talentos y sueños que desean compartir," dijo Holly Link, directora de programación educativa e investigación en CCATE.
El centro se basa en las enseñanzas del filósofo de educación brasileña Paulo Freire, que exhorta a  los estudiantes a que participen activamente en su aprendizaje, disolviendo la línea entre el maestro, el voluntario y el estudiante.
En CCATE, eso significa tomar en cuenta los intereses de los participantes y convertirlos en clases o grupos, lo que ha llevado a crear programas que incluyen cerámica, fotografía, preparación para el examen SAT, clases de violonchelo y guitarra.
"La educación tiene que ser un diálogo," dijo Arango. "Y luego la educación puede ser significativa, y entonces la educación puede ser amor."
Diana Lugo es una persona que ha prosperado bajo este modelo. Ella vino por primera vez a CCATE cuando su hijo de 15 años era un niño. Llegó para participar en un círculo de lectura de adultos y para estar con otras personas en la comunidad mexicana. Ahora, ella es la coordinadora de programas de voluntarios del centro y sueña con llevar las clases de GED allí.
"Para mí, es una segunda casa, es una motivación, una inspiración, el aprender de todos, desde profesional que tiene título y con mucho trabajo lo ha logrado obtener, hasta de personas que como yo que ni siquiera terminamos la preparatoria," dijo.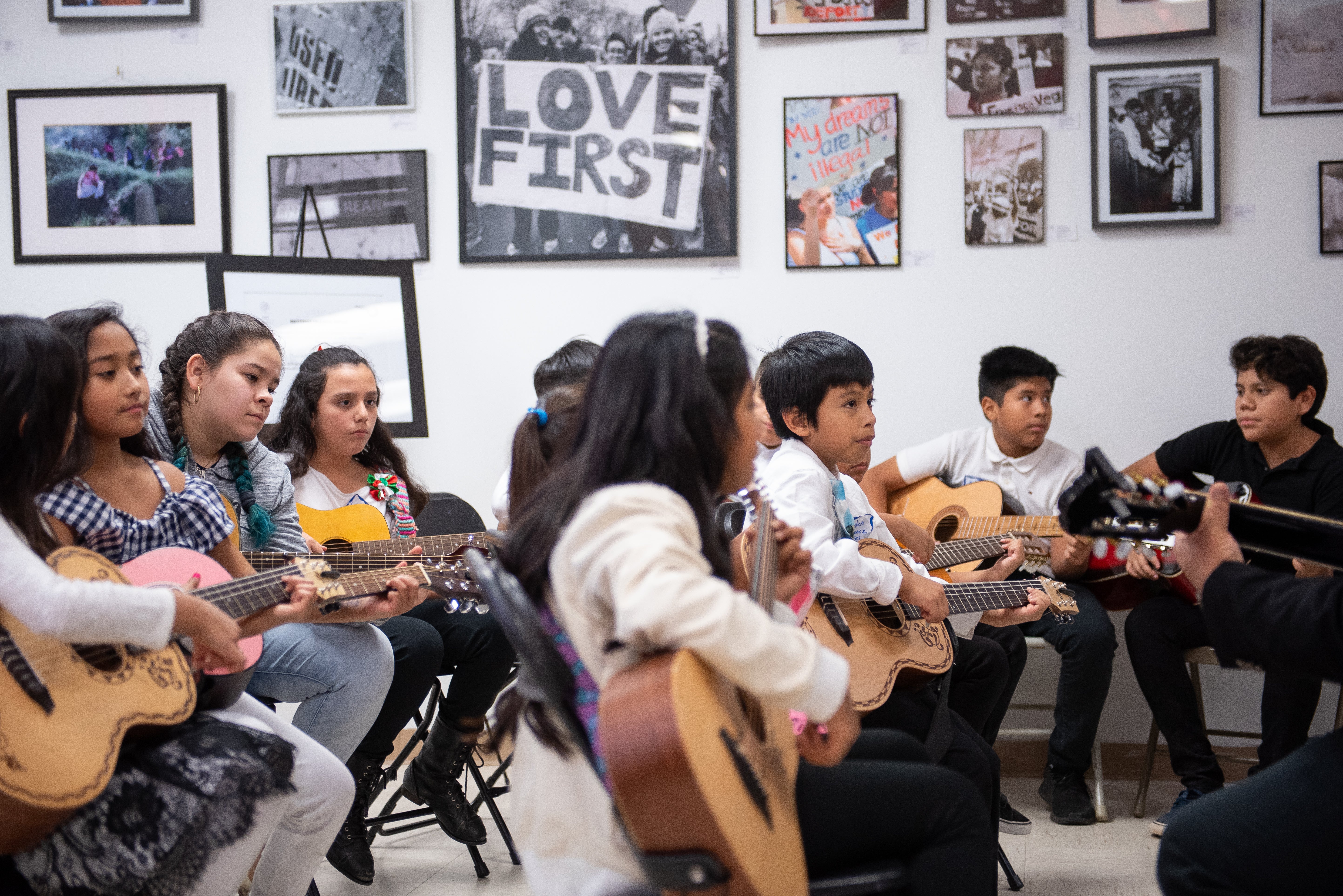 El Ohtli es solo el último de más de 20 premios para el centro, que ha sido reconocido por organizaciones locales y estatales por la obra de arte producida por sus miembros y por su impacto transformador en la comunidad.
Otra forma de reconocimiento ha sido cuantitativa. El Distrito Escolar del Área de Norristown  sigue el progreso de sus estudiantes en algunos programas después de la escuela, y ha encontrado que la participación en CCATE ha tenido un impacto medible.
"CCATE es uno de los de alto desempeño en el distrito escolar en términos de mejorar las calificaciones de los niños ", dijo Link. "Lo que estamos haciendo funciona."
El  estudiante de bachillerato Alexis Flores vive en Norristown y dijo que comenzó a venir a CCATE en el verano, y principalmente trabaja con estudiantes más jóvenes para ayudarlos a editar películas.
"Uno se siente seguro … es como una familia aquí," dijo.
El dia del premio, Kerber Palma le entregó a Arango una pequeña medalla de plata en una cinta verde, roja y blanca, y un diploma. Al estilo de CCATE, Arango dijo que el premio pertenece a la comunidad.
WHYY is your source for fact-based, in-depth journalism and information. As a nonprofit organization, we rely on financial support from readers like you. Please give today.