Editorial: Danza should remember where he's teaching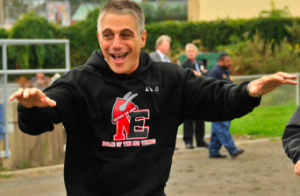 It started about a month ago. Or seven months ago, depending on where you think the story really begins.
It was hyped for months: Tony Danza would be teaching at a high school in Philadelphia for his new reality show. And then we come to find out, he'd be spending the semester at Northeast High. Even those who aren't Danza fans, who didn't spend their childhoods watching him on the small screen, were excited that something big, something of national interest, would be happening in the Northeast.
Danza began teaching at the start of the 2009-2010 school year, using his teaching degree to educate hand-picked students from Northeast High, as the cameras rolled for his A&E reality show Teach. Since then, he's helped raise money for the school, and been seen out and about around the Northeast and other areas of the city.
But he's been pretty tight-lipped when it comes to speaking with the press.
Last month, Northeast Times staff writer Diane Prokop published a letter to Danza in the weekly paper, expressing her wish to interview him — despite the run-around she'd been given by the people over at A&E — and an interest in seeing just what he's been up to in the classroom. After all, he's educating the young minds of the Northeast.
But the next issue of the Times didn't feature an interview with Danza. Instead, we saw another, more aggressive (and rightfully so) article from Prokop, who received what we think is nothing more than an unprofessional response from A&E spokeswoman Emily Spitale, who told Prokop: "you haven't helped your cause."
Spitale cited the network's wanting to keep Danza's profile low, thus making him more of an average teacher, as the reason for declining the interview request. We're not sure how many other teachers at Northeast are filming a reality series, but I think any one of them would be happy to discuss with the local newspaper what's going on inside the classroom.
And then there was the small matter of this: the three-page interview with Danza that the Inquirer ran yesterday.
Maybe we should send our Right NEast/Wrong NEast stats over to Spitale, Danza and the rest of the crew, because it doesn't make any sense to us why Danza would agree to interview with the Inqy, which seems to often forgets where the Northeast is, and not the Times, which is dedicated to covering the very region the A&E staff has been camped in since late summer.
We don't mind that Danza gave an interview with the Inquirer. In fact, we think it'd be nice if he could do some more high-profile interviews and put the Northeast on the map. But to bypass the Northeast Times? That doesn't sit well with us, and it shouldn't sit well with any of you.
Prokop did her job and went through the proper channels in pursuing Danza, and kudos to her for seeing it through. We hope to see an interview with Danza in this week's edition of the Times.
*Editor's note: NEast Philly has also contacted A&E in an effort to interview Danza. We haven't yet been denied, though we haven't been granted one, either. (We don't expect this editorial will help our case.)